By Jennifer Smith, News Editor
June 28, 2018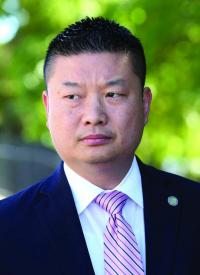 Boston Public Schools Superintendent Tommy Chang will resign this week, leaving the post he has held for the past three years. In a statement issued late Friday afternoon (June 22), Chang said, "I am in active negotiations with the Boston School Committee for a mutual parting of ways."
Several contentious budget cycles marked Chang's time as superintendent, as have controversial moves like attempts to overhaul school start times and the closure of the Mattahunt Elementary School — now an early education center with a dual-language Haitian Creole program.
The BPS system made headlines again on Thursday when civil rights and student advocacy organizations filed a lawsuit against Chang, citing school officials' refusal to disclose the frequency with which they share student information with federal authorities.
Mayor Martin Walsh said in a statement that, "after several conversations with Tommy Chang about the future of Boston Public Schools, we have mutually agreed that there needs to be a change in leadership at BPS."
During Chang's time as superintendent, BPS made strides to expand enrichment programs and offer extended learning time. The 10-year facilities plan BuildBPS launched, assessing school capacity and building integrity across the district.
Chang was a local instructional superintendent of an innovation center within the Los Angeles Unified School District prior to arriving in Boston.
In his farewell letter to the BPS community last Friday, Chang highlighted advancements in the school system over his tenure. He told the Boston Globe in an interview that he does not have another job lined up.
"It has been my great honor to serve the youth of Boston and I am proud of the work we've done together," he wrote.
Walsh, too, applauded the "unprecedented levels of investment" in the schools, and noted his efforts to implement expanded pre-K and extended learning time.
"However," he said, "in order to successfully implement our education agenda, we need a long-term education leader with a proven record in management who can gain the confidence of the community on the strategic vision for the district and execute on the many initiatives that have been identified as priorities for our students and schools."