By Maddie Kilgannon, Reporter Correspondent
March 8, 2018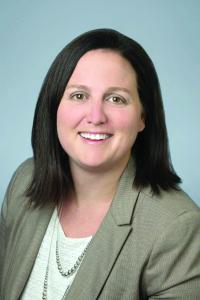 Katie Forde of West Roxbury is mounting an electoral challenge to Steve Murphy for the Suffolk County Register of Deeds seat that he won two years ago. Murphy, a former at-large Boston city councillor, bested Forde in a crowded field in the 2016 election. Murphy topped the ticket with 11,030 to Forde's 9,203 in a contest that also included 3,544 blank votes cast. Five other candidates - Stephanie Everett, Jeffrey Michael Ross, Douglas Bennett, Paul Nutting, Jr., and Michael Mackan - collectively pulled in nearly 14,500 votes.
The county position is a largely administrative role that supervises land records in Boston, Chelsea, Revere, and Winthrop. But Forde— a self-identified progressive Democrat— sees the office as an opportunity to create more home ownership and to close the wealth gap. 
"I'm not okay with what it is now, which is just this figurehead position that has basically been this landing pad for politicians who are finished elsewhere," Forde said in an interview with the Reporter this week. "You need someone in there who's not just in there for a retirement plan."
"There are parts of Dorchester that are thriving, but they've been over-gentrified and I think that if we can save some of the neighborhoods from what's happening as far as the un-affordability and everything else that's going on, that's what people want," she said.
Forde is a Texas native who moved to Massachusetts in 2005 to work for MassEquality, the national civil rights organization that successfully campaigned to protect equal marriage for all people. She now works mainly as a paralegal doing bankruptcy and family law. She lives in West Roxbury with her husband and twin girls. 
In addition to challenging a well-known incumbent, Forde faces the additional hurdle of rallying public interest in a seat that few people likely know exist. The register serves a six year term and after a pay hike in 2017 now receives a $142,000 annual salary. This year's primary election will be held the day after Labor Day — Sept. 4— and could result in even lower turnout numbers than 2016.
"When I ran in 2016, we didn't even have a register for a year and nobody noticed. So the registry kind of just runs itself," said Forde. "It needs to be a launching pad type position where we're promoting homeownership within Suffolk County."
On Tuesday, her campaign noted that Forde had turned in 1,120 certified signatures, which will assure her a position on the September ballot. She is plugging endorsements of other Boston politicians including City Councillor Matt O'Malley, State Representative Liz Malia and State Senator Sonia Chang-Diaz.
"There's been a lot more enthusiasm about the race because they understand that these down-ballot races matter," she said. "You need a register that is actively working with the federal government and working with the state government to come up with better protections for consumers."
Murphy's office has held office hours for homeowners in the last year across the county, including one held at the Leahy Holloran Community Center last September. The Reporter reached out to Murphy for comment, but could not reach him for this article.