By Daniel Sheehan, Reporter Staff
April 5, 2018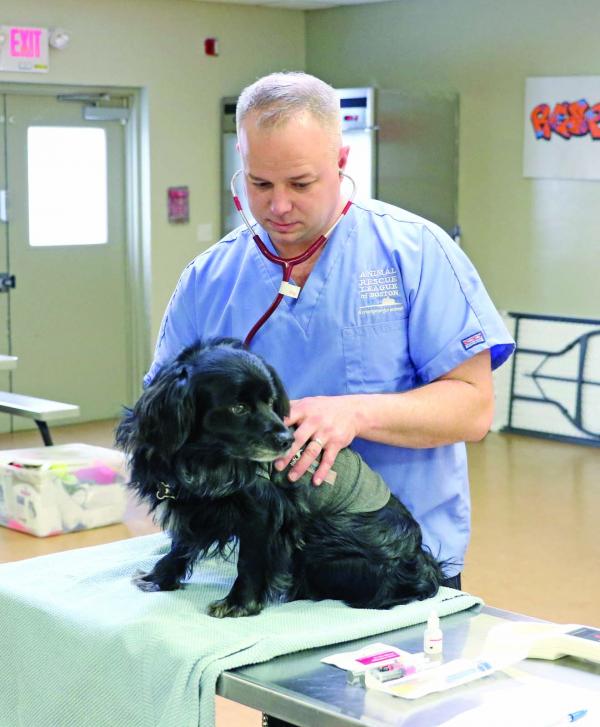 Dorchester residents struggling to provide care for their pets have a new affordable and conveniently located option: the Pet Wellness Clinic at the Dorchester YMCA.
Launched last week by the Animal Rescue League of Boston, the clinic will be open on Friday mornings from 9:30 a.m. to 12:30 p.m. For a flat fee of $10, the clinic's professionals will check out your dog or cat and provide various types of care, including vaccinations for rabies and distemper, flea treatment, implementation of a GPS microchip, antibiotics, treatment for heartworm, and referrals for any other procedures.
Mary Nee, president of ARL Boston, said the clinic is part of a an initiative aimed at communities where pet owners struggle to afford costly veterinary expenses.
"Our goal is to help people keep their pets," she said. "They provide important psychological support and comfort to people, and we don't want a lack of resources to prevent that."
After the ARL noticed a high abandonment rate and recorded a number of animal rescues in Codman Square and surrounding neighborhoods, the organization decided to address the issue preemptively by providing localized support to pet owners.

Community Initiative Coordinator Sam Fincke summed up the clinic's mission: "We want to bring the care to them."
According to Fincke, a survey conducted last summer revealed that the three main struggles for local pet owners were veterinary care, behavioral issues, and day-to-day care. The clinic at the Y aims to offer solutions for all three by giving owners and their pets access to animal care professionals.
"We want it to be an open forum where people can ask questions about their pets and where we can have input from the community," said Fincke. "There's no risk, no judgment."
Nee noted that the affordable clinic seems like an unprecedented step, but it's one that she expects will be successful. The ARL's "Spay Waggin," a mobile service that provides affordable spaying and neutering services to communities in Cape Cod and the South Shore, served in part as inspiration for the localized clinic. She hopes the collaboration with the Y will be a stepping stone to other neighborhood treatment options. "We hope that this is the first of many," she added.
Mildred Ramos brought her dog Shadow to the clinic launch, and he was given an exam by veterinarian and ARL Medical Director Kyle Quigley. According to Ramos, the five-year-old dog had never been given vaccines or checked for diseases."This was his first time for everything," she noted, adding that securing vet appointments for Shadow had been difficult because of exorbitant prices.
"It was easy, it was convenient," she added. "We'll definitely be back."
The Pet Wellness Clinic is available to Dorchester residents only and is limited to 10 spots per week. Appointments are strongly encouraged and can be made by calling 857-413-5964.