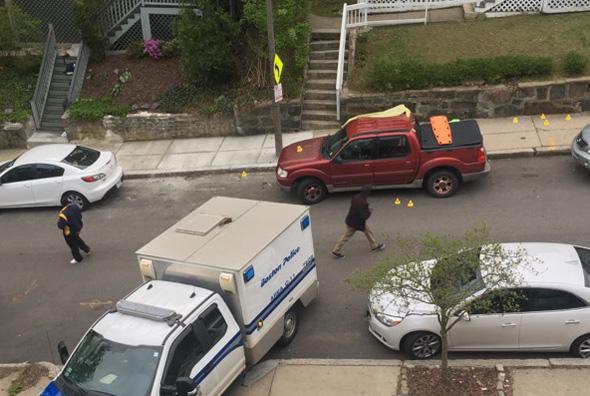 The Boston Police Department is investigating a shooting on Windermere Road around 6:30 p.m. on Wednesday that left three people wounded and one man dead.
The shooting happened about midway between Stoughton Street and Cushing Avenue.
A Windermere Road resident reports hearing at least a dozen shots: "Seems like someone went down the sidewalk and fired into the truck on the passenger side and then at the dudes on the porch on the right, who are always out there."
Police say the four victims were sitting in a vehicle on Windermere Road when they were shot. A male victim was pronounced dead at the scene, Boston Police Commissioner William Gross told reporters late Wednesday night.
The three others were transported to area hospitals with injuries not believed to be life-threatening.
"At this point, we don't believe that this was a random act of violence," Gross said.
Gross and Suffolk County District Attorney Rachael Rollins said investigators were "conducting a canvass" of the area Wednesday night to try to find any possible video footage of the shooting, as well as to connect with any witnesses. Detectives will do a "day canvass" on Thursday, too.
Rollins said she and Gross spoke to the family of the deceased, whose identity was not released.
They both encouraged anyone with information to contact the Boston police at 1-800-494-TIPS or 617-343-4470. Gross said trauma unit workers would also be in the area Wednesday night and Thursday to offer help.
A WBUR report contributed to this story. The Reporter and WBUR have a partnership in which they share content and resources.