By Alena Kuzub, Reporter Correspondent
October 17, 2019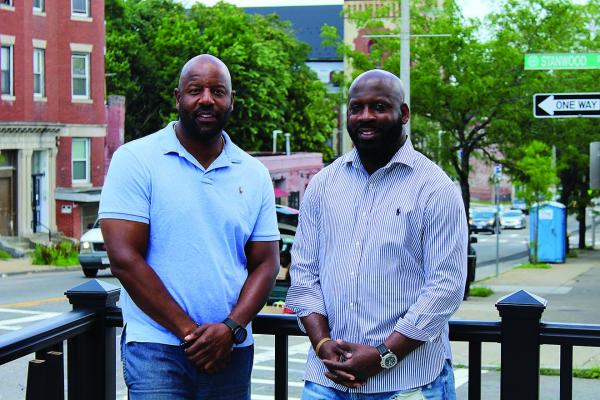 Boston's first recreational marijuana retail store – Pure Oasis – is preparing to welcome patrons to its Blue Hill Avenue location in Grove Hall by the middle of next month, according to its proprietors.
Ever since the city began to slowly roll out the licensing of recreational operators in the summer of 2018, many entrepreneurs have expressed interest in going into the cannabis business in Dorchester. Over the past year, the city organized at least eight community meetings in the neighborhood with different potential investors to discuss siting cannabis establishments at various addresses.
Pure Oasis LLC is one of only two applicants in Dorchester that have to date succeeded in securing a hosting community agreement from Boston. The other applicant is NS AJO Holdings, Inc., which wants to relocate its medical marijuana treatment center using a provisional certificate from Fitchburg to 50 Clapp St. near South Bay.
But Pure Oasis will be the city's first recreational cannabis store to actually open— if all goes according to plan over the coming weeks.
The 3,000-square foot retail space is located at 430 Blue Hill Ave. Customers will have to provide IDs at the entrance to prove that they are over 21 and will move in a single direction from a waiting area into a retail space and eventually out through a separate door.
Currently, the business holds a provisional license, meaning that it will have to pass additional inspections after the interior and exterior finishings are completed to secure the final permit from the state's Cannabis Control Commission.
Kobie Evans, a Boston native and a second-generation real estate broker from Roxbury, partnered with Kevin Hart, a Dorchester native, to build the business. Evans told the Reporter that construction work should be finished around Oct. 20.
Pure Oasis, whose partners have invested hundreds of thousands of dollars into the establishment, plans to employ 20 people for daily operations. Evans said he is planning to hire from the community and ask neighborhood organizations to help identify possible candidates. He is particularly interested, he said, in seeking employees who might have marijuana-related offenses on their criminal record.
The store will not make any of the products itself but rather purchase them from other manufacturers and suppliers. The site has both on and off-street parking available.
The partners' investment "is low compared to other businesses in the industry," Evans said. A vertically integrated corporate business might spend about $3 million on cultivation and about $1.5 million on retail. We are on a tight budget. I count everything down to not a penny but a dollar."
Evans is also waiting to hear back from the city of Boston about Pure Oasis's interest in opening another location on River Street in Mattapan.
As of late last month, the cannabis industry in Massachusetts had generated almost $300 million in gross sales since the beginning of the year while employing more than 3,000 people. Weekly sales in September grossed almost $11 million, with an average of $44 spent per unit, according to the Cannabis Control Commission's public online database. Boston's community host agreements bound cannabis businesses to pay 3 percent of gross sales revenue.
Alexis Tkachuk, the director of the Office of Emerging Industries of Boston, said that the city has taken into consideration the characteristics of the different applications, including appropriateness of the site, whether there were traffic or parking concerns, what the community feedback was, and quality of the applicant's relationship with the community.
The diversity component and the Economic Empowerment designation from the state were important as well since Boston puts emphasis on having an inclusive local entrepreneurial focus, Tkachuk said.
In the case of Pure Oasis, she praised Evans and Hart for their outreach to the community. They held extra meetings with various civic associations to talk about their proposed business, the site, and to find out about possible concerns.
They were also proactive in reaching out to elected officials in the area and appearing at city council hearings in case anybody wanted to ask any questions there, she said.
Tkachuk reported that the community felt good about additional security and the 24/7 video monitoring, with people saying that it would actually be safer than another type of business in that location.
Pure Oasis's host community agreement with the city requires them to hire qualified Boston residents and create diversity among people participating in the development of the site. Evans wants to honor his Economic Empowerment designation and make sure that more people, contractors, and employees would benefit from it.
"There is a need in Massachusetts for as many people as possible to benefit from these opportunities directly and indirectly," Evans said. "So, it's important for us to maintain those core values of giving back."