By Daniel Sheehan, Reporter Staff
March 14, 2019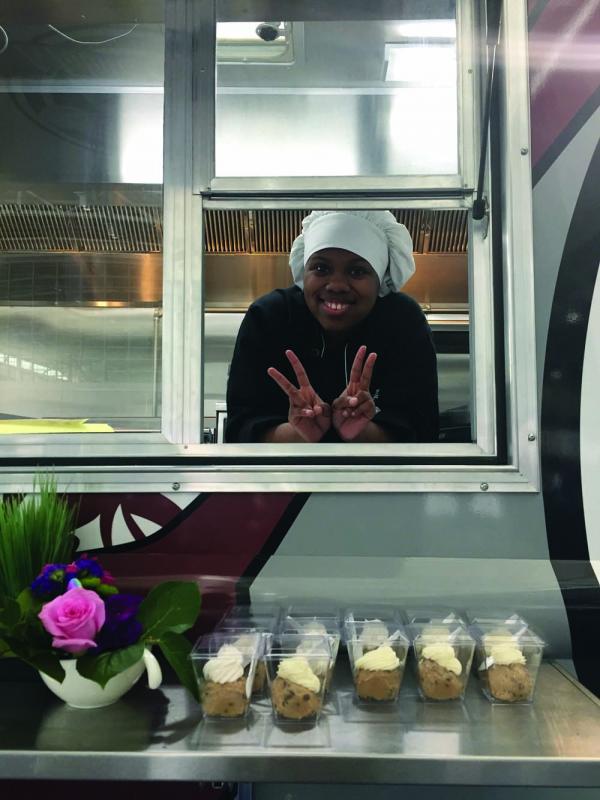 Roxbury's Madison Park Vocational Technical High School, the only public school in the city that offers a culinary arts program, recently became the only school in the region to open a restaurant on wheels.
The latest addition to the Madison Park culinary program, a shiny new 18-foot-long food truck, made its first public appearance last Tuesday at the New England Food Show at the Boston Convention and Exhibition Center (BCEC).
The custom-painted truck, acquired by the school with the help of a state grant, is a tool that instructor/chef Tonia Larkins hopes will provide new opportunities for her students.
"The idea for the truck is to have something supplemental for the kids," said Larkins, who plans to have students serve breakfast and lunch out of the truck beginning this summer.
While a crew of five Madison Park students doled out cookie dough at the food expo, the truck is equipped to cater a much wider menu; it's decked out with an oven, a griddle, a sink, deep fryers, and a refrigeration system.
With the popularity of mobile kitchens on the rise in recent years, Larkins saw an opportunity to teach students in culinary skills in a new setting, one that will ideally provide them with plenty of hands-on experience in coming years. And since they can park the truck on campus and also take it on the road, she can integrate the mobile kitchen operation into her coursework. "There's no curriculum for food trucks anywhere in the state, so I was like, all right, we're gonna create our own,'" she said.
Larkins has taught at Madison Park for 15 years. Students who take her classes know what they are in for — one described her approach as "tough love." But the demanding nature of her classes produces results. A Madison Park team is regularly among the top participants at ProStart, a statewide cooking competition in which high schoolers are judged on a three-course meal they whip up with little more than gas burners and coolers as equipment. To train for the competition, students practice six days a week.
According to Larkins, most graduates of her program don't pursue careers in the food industry, but those who do are successful, finding work at esteemed local kitchens like Bistro du Midi and the Sheraton Hotel. Recently, the success of the program and its strong alumni network caught the eye of Bob O'Shea from the Massachusetts Convention Center Authority (MCCA).
"They're one of the only schools with a culinary program in the area, and we're the biggest hospitality and culinary employer in the region, so for us it was a natural fit," he said.
Over the past two years, MCCA has partnered with Madison Park and Levy Restaurants to create a paid internship program that allows a small contingent of students from the culinary program to gain experience working in kitchens at the convention center. With booming growth in the Seaport and across greater Boston, O'Shea sees a plethora of opportunities for hooking up city kids with jobs. "The casino needs to hire," O'Shea said, offering as an example Encore Boston Harbor, the $2.5 billion gambling complex set to open in Everett later this year. "Not enough kids know what's going on in this field. There are dishwashers at [hotel and hospitality workers union] Local 26 who make $60,000 a year. And of course, here at BCEC, there are a ton of other opportunities in event management."
Among those manning the food truck, only one or two said they intend to continue working in food service. But all of them say they've learned a great deal from the Madison Park program.
Eighteen-year-old Justin Palmer of Codman Square hopes to one day work in a bakery and "make it to the top if I can." He was drawn to baking by its emphasis on precision— the slightest changes in measuring utensils or equipment can make a difference."This business is harder than it looks," he said.
Another senior, Fields Corner's Micael Wilkerson, intends to pursue his passion for becoming a lawyer after he graduates. But, he said, a lot of what Larkins taught him can be applied to a law setting that stresses preparation.
"Some of the regulations, you know, like, the timing, the cleanliness, the sanitation on the preparation side of culinary, all these are small parts that lead up to making food," he added.
If a chef misses just one of these steps, he reasoned, it could greatly affect the quality of the dish. "It's all preparation."
Shaunice Roussel, a senior majoring in accounting, agreed.
"Even though some stuff seems harsh, it will help us for when we go out in the real world," she said of Larkins' strict teaching style. In her culinary coursework, she linked calculating food costs and managing budgets to her work in accounting. "It prepares me for what I might have to deal with after I graduate," she said.