By Daniel Sheehan, Arts and Features Editor
September 18, 2019
The site at 120 Savin Hill Avenue that for years was the "Hole" in the ground is set to feature the neighborhood's newest place to go to for a taco or a cocktail.
Ghost Pepper Taco and Tequila Bar, a Latin kitchen with plans to serve tacos, small plates, and drinks, will open "very soon" according to owner Ken Osherow of Savin Restaurant Group, the team that owns nearby Savin Bar and Kitchen and McKenna's Cafe.
In addition to filling the long-uninhabited space across from the Savin Hill T stop, the new eatery will also look to fill a void of Latin food in the immediate environment in the form of a stylish bar-centric restaurant.
"This has been a long time coming," Osherow told the Reporter. "We thought about this concept ten years ago when we opened Savin Bar and Kitchen...it's been a process years in the making."
The plot of land that once housed Doyle's Market sat as an unused foundation for upwards of a decade before becoming home to a mixed-use housing and commercial development. Osherow says a waiting list has already formed for the 14 units above the soon-to-be taqueria. 
"This area is really on the up and up," said Osherow. "It's really growing and people want to be here...This corner is like a village now."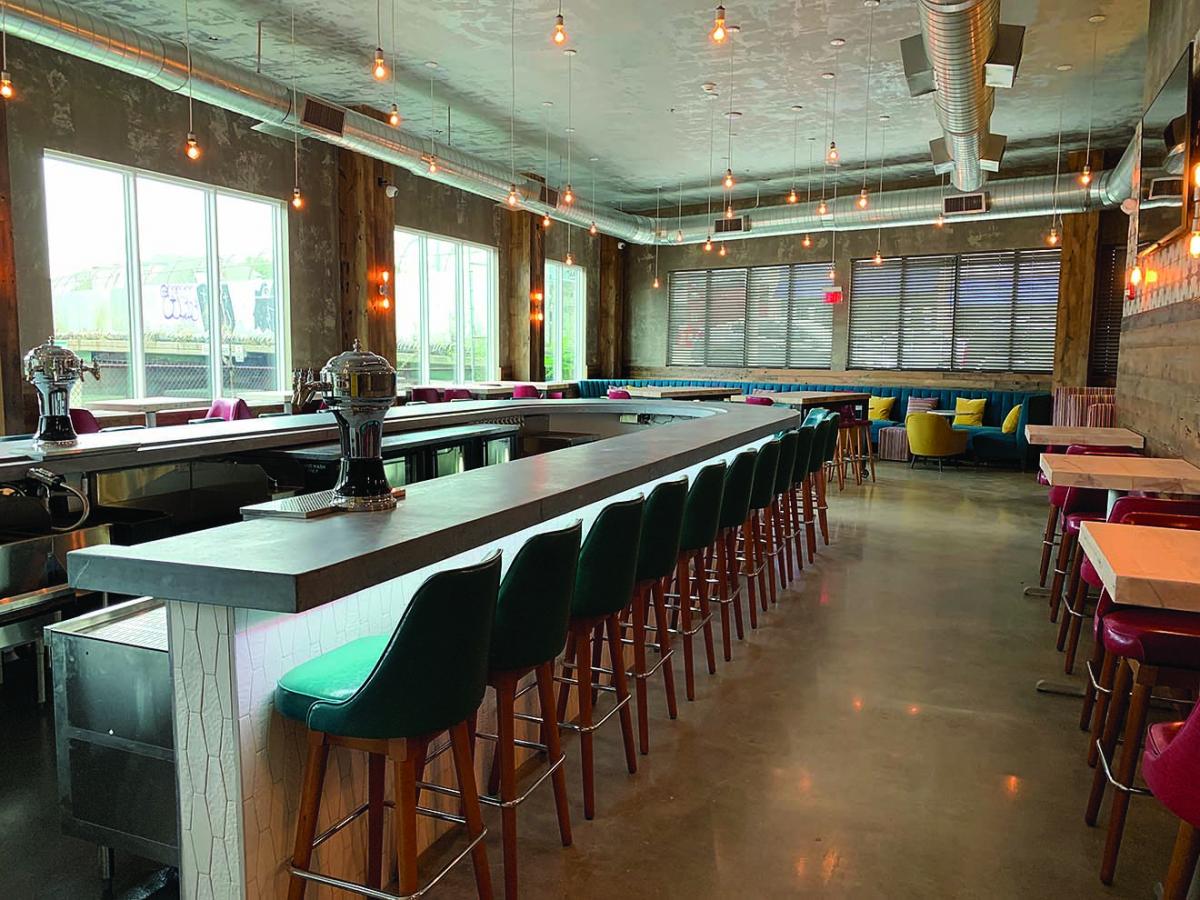 A view from the inside of Ghost Pepper Taco and Tequila Bar. Dan Sheehan photo

The layout of the space, which Osherow described as "light industrial," is anchored by a horseshoe-shaped  poured-concrete bar and a lounge area that ownership hopes will distinguish the eatery from others in the area. Above the bar, a projector will play "old black and white movies from the golden age of Latin cinema." 
Helming the kitchen will be Chef Dante Funes, who previously oversaw culinary operations at Masa in the South End. Funes, a chef trained in classical French style cuisine who hails from Honduras, plans on serving an array of flavors from Latin America, including pupusas and Peruvian-style ceviches in addition to tacos, salads, and tapas.
"I'm not looking to do any gimmicks," said Funes. "I want to keep it as traditional as I can without scaring people off...I want there to be a lot of variety, a lot of playfulness."
While tacos can often be protein-heavy, Funes also plans to feature several "well-thought-out" vegetarian and vegan options on the menu. An Ashmont resident, he and Osherow represent the Dorchester-based team at the heart of the operation.
Behind the bar, SBK bartender Bill Krott will work his magic, crafting a cocktail menu heavy on tequila and mezcal that favors "savory over sweet" and "function over form." While his adventurous approach to mixology will mirror Funes's creative vision for the kitchen, the focus will remain on quality, homemade ingredients rather than flashy presentation, he said.
"A good drink's a good drink," he said. "There's no pretentiousness in drinking."
To start, Ghost Pepper will open for dinner only, beginning at 3 p.m. on weekdays and noon on weekends. Brunch is an option that will potentially be phased in later, said Osherow. The eatery is aiming for an opening late this month pending the completion of some final inspections.