By Katie Trojano, Reporter Staff
October 30, 2019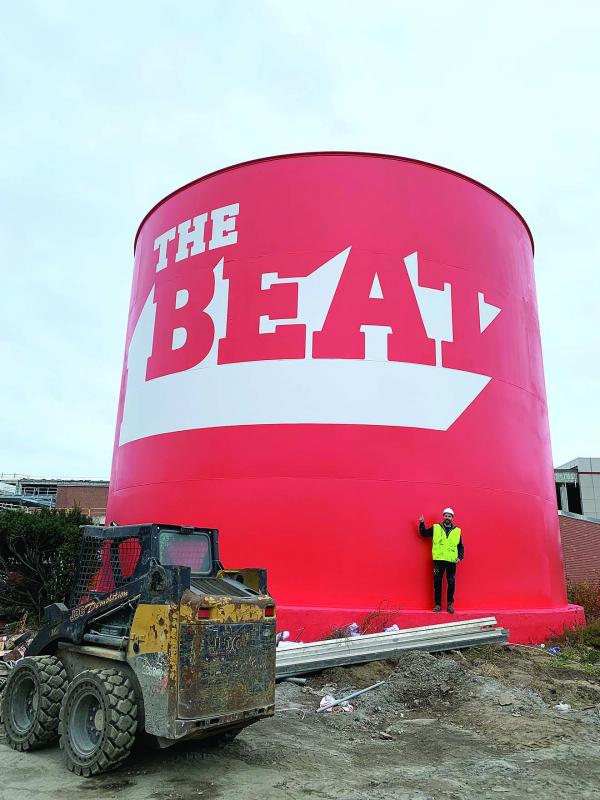 Work to re-purpose the old Boston Globe site at 135 Morrissey Blvd. hit another milestone last week, according to the owner of the property that will be called The BEAT when it opens sometime next spring.
All the new structural steel is in place, said managers with the Nordblom Co., and new naming signage has been painted on the project's massive water tank.
The $300 million-dollar "gut-rehab" of the property will also include new windows and a brick facade that are ready for installation.
Over the last year, the building has been retrofitted into a 700,000 square-foot modern campus meant to house work on robotics and life sciences and space for advanced manufacturing, and creative office users. 
"The recent focus has been on the user experience," explained Todd Fremont-Smith, senior vice president for development at Nordblom. "Like any desirable town or city, what draws new companies to relocate or establish a headquarters there begins with the offerings for employees."
"The BEAT will feature a dramatic four-story public atrium tying together the building's main entrances," he said, "and serving as the setting for central gathering spaces, including multiple food and beverage offerings."
 Amenities for tenants at the BEAT will also include a fitness center, a common roof deck, indoor basketball mini-court, conference center, a golf simulator, 865 on-site parking spaces, and an indoor bicycle storage and repair facility.
The BEAT has close access to, and visibility from, Route I-93 and is aligned with the JFK/UMass station on the MBTA Commuter Rail and Red Line on Morrissey Boulevard.
Additionally, a new multi-use bike and walking path will be created to improve access to and from the site. Nordblom has previously announced that it has entered into an agreement with the state's Department of Conservation & Recreation that allows the team to connect to and maintain an adjacent Patten's Cove public park.