By Yukun Zhang, Reporter Correspondent
March 20, 2019
It's Friday night at the Devine Memorial Rink near Neponset Circle and the kids from Dorchester Youth Hockey's Squirt A and B teams are blazing across the ice. It's their last practice after a championship season — both teams won state titles the weekend before— and it shows.
"This is not like our normal practice. This is just kids having fun," said coach Neil Janulewicz, whose son plays in Squirt B.
Two other Youth Hockey teams – Bantam A and B – also won division crowns in the Massachusetts Hockey tournament earlier this month.
The flurry of title banners has solidified Dot's reputation as a hockey powerhouse, and enhanced the standing of Dorchester Youth Hockey— now in its 50th year— as perhaps the leading youth hockey program in the state.
After practice, there were celebratory pizza slices for the Squirt players, all between 8 and 10 years of age, who posed for photos at the edge of the rink and talked excitedly about their championship wins after taking off their helmets and skates.
"I'm on the A team. We won every single tournament that we played in. We won the Waterville Mayor's Cup and the States," said Conrad Magoon.
"That was hard. It was stressful. We went into a triple overtime," Michael Chuairy said. Other players echoed his remarks almost simultaneously.
"We have bragging rights," they agreed.
Almost everyone involved in the program said it's the dedication of the players, the parents, and the coaches of this tight-knit community that makes Dorchester Youth Hockey so successful.
From September to the middle of March, the players were at the rink three days a week and competed in games on the weekends.
"The kids put the work in. That's what it is," said Janulewick. "They put the effort in, they became a team, they like each other, and they get along good. They want to help each other out and be there for each other on the ice."
DYH president Jeff Hampton emphasizes that everyone who works at the program is a volunteer, noting that it offers "the same if not more than those programs where parents will pay two, three, or four times what they will pay down here."
He added: "It's just a lot of fun to come to the rink every night to see the parking lot packed with cars and all the parents down here. Everybody helps with getting their children to the games and to practice. In the end, the program is reflective of the neighborhood as a whole in how we all support each other and help each other."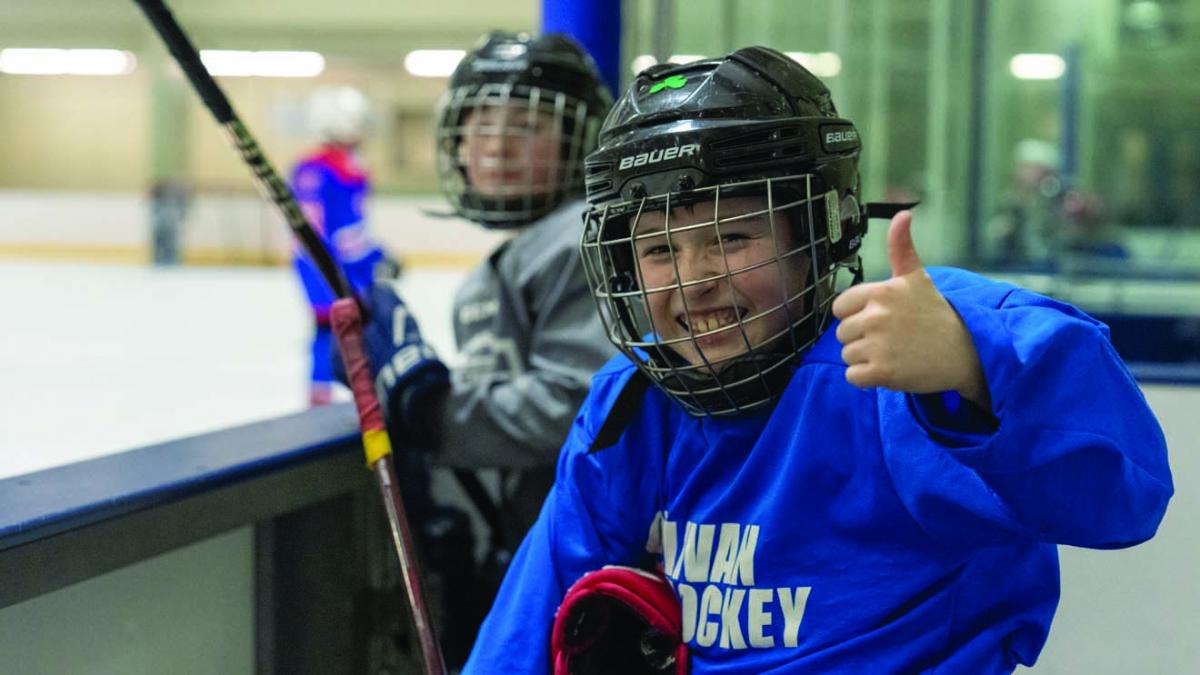 Jack Coppney gives the thumbs-up alongside teammate Kevin Fitzgerald. Both boys are on the Squirt A DYH team that won the Massachusetts Hockey title in their division this month. Yukun Zhang photo
Nancy Conte, whose husband coaches and whose son plays on a DYH team, said, "Three times a week, plus all their homework, and plus games in the weekend. They work hard."
Rosemary Fitzgerald, whose two boys played on champion teams, said the kids are friends, the coaches are nice, and "they still keep it fun." She added that her six-year daughter also wants to play.
Larraine Concannon, who took her grandson to the rink on Friday, said she has learned about hockey from watching her two sons play. Now, she teaches her grandson about the game at home.
Michael Misilo's son Thomas also practices at home—in the basement with a net, pucks, and shooting pads. "Practice makes perfect," the boy said.
All of which speaks to a program that's always on the go. Shaun O'Sullivan, DYH's vice president, said the program is one of the best in Boston, if not in the state, adding that it was designed to have different components in practice sessions, including competitions, expertise skills program and team practice and weekend games with other towns.
"Many of our players have gone on to play in high school, collegiate and at the pro level," he said.
O'Sullivan also teaches at O'Sullivan Hockey Academy with his sister and brothers, all of whom have been involved with the program since their childhood days, before the Neponset and Dorchester programs were merged to form the current Dorchester Youth Hockey.
Chris O'Sullivan, now 44, played Division 1 at Boston University and then in the NHL. He said he always wanted to play at the highest level possible, but it all sprang from the hours spent at the Devine Rink in Dorchester. He says he owes a lot to all the past presidents and coaches.
"Our coach at Neponset used to bring us to the college games," said Chris, "and we would look at this kid from Quincy, and that kid from Dedham, and say to ourselves: 'Why can't I do it?' "
He added that when the next generation of kids see them playing on TV, they know that that's a goal they can reach.
His older sister, Stephanie, also got her start with Dorchester Youth Hockey. She made it to the USA national team, and now splits her time between her work at the Boston Police Department and coaching hockey.
Stephanie started skating at age three in the 1970s, when the Big Bad Bruins were winning Stanley Cups, and every kid wanted to play hockey. "All the neighborhood kids—the kids that you go to school with—were all in hockey," she said.
"We've always pushed ourselves," she said. "We came home from school and we played street hockey. When we competed against teams from other places, we always wanted to win. It's a passion."
Over the years, Stephanie noted, the hockey program has changed and developed, but Dorchester has always been a "very close-knit" community.
Added Michael Misilo as he sat next to Thomas on a bench, "This community is so small, everything is so close. Right near the house we have a hockey rink. He can do one-on-one with his friends."
When asked if he wanted to keep playing hockey, the son said: "A couple more years. Maybe, forever."

Photos by Yukun Zhang