By Daniel Sheehan, Arts & Features Editor
April 24, 2020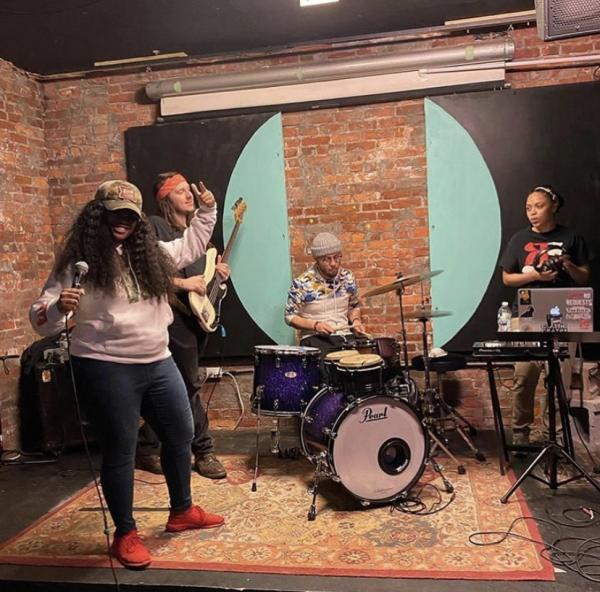 In the days, weeks, and months since the outbreak of the COVID-19 pandemic, countless music performances, art exhibitions, and cultural conferences have been cancelled. And that is precisely the reason why organizers of this year's Arts Equity Summit decided that their event needed to go on as scheduled.
The annual three-day summit hosted by Arts Connect International convenes creatives from across the region for live performances, workshops, and conversations centered on the organization's core goal: To address the cultural equity gap by boosting the representation of artists of color in spaces such as arts management and academia.
This year's event, scheduled for the weekend of April 24-26, will now take place in an interactive online virtual format, featuring streamed live performances, web seminars, and a Zoom open mic segment.
Allegra Fletcher, executive director of Arts Connect International, told the Reporter that the decision to go virtual rather than cancel was made with artists in mind. "We made the decision in March, so we had about a month of leeway to turn this around," she said. "We saw that this [containment effort] is taking months, and looking at that trajectory, we knew there was no way we'd be able to have a 250-plus gathering at the end of April.
"When you look at people living in precarity, artists and gig workers, they tend to be people whose income is the least stable. Something like a canceled event can mean you don't make rent. So we were trying to figure out, how can we, as an organization committed to supporting the arts sector and knowing we are a source of funding, respond to this? In the end, we decided that we can be one event that doesn't cancel, one paycheck that doesn't get lost. That was a huge motivating force behind why we decided to restructure instead of cancel the summit."
The event is slated to kick off Friday evening the 24th with a round of music performances that will feature Dorchester rapper Red Shaydez as well as a collective of students from the Boston Arts Academy in Fields Corner. The pre-recorded performances will be available to livestream via a link on the Arts Equity Summit website. A litany of local visual artists will also display their work via Prezi throughout the day. Following the musical performances, Boston-based multifaceted creative Amanda Shea will host a community open mic discussion and art share.
The summit will continue Saturday with a series of panels and artist-led conversations that will present examples of organizations engaging in arts equity work, examine the experiences of arts managers, and explore the importance of youth empowerment in the arts, among other subjects.
On Sunday, the event will conclude with a period of reflection and virtual drop-in sessions focused on mental health and well-being that will continue throughout the day.
Fletcher said she hopes people will see the summit as a welcome respite from the monotony of quarantine. "When people are in isolation, there are less opportunities for real interaction with others, not to mention artists putting on live performances. So I think people are excited because they're looking for opportunities to come together and build community. This is an opportunity to go deep and have conversations about things that people thought were important before this all happened, and are still important now."
The pandemic has forced organizers to restructure parts of the summit, first by adding the open mic session "to create another touch point for interaction." Sunday's programming, which was originally intended to highlight the indigenous perspective on the 400th anniversary of the Mayflower landing at Plymouth Rock, will now instead focus on health, safety, and economic resilience in the wake of the ongoing crisis.
"There will be one person leading meditation," said Fletcher, "there will be an open conversation about how to access relief funds and the current state of relief funds, and also an Asian American student will host conversations about what that identity means, and how to navigate the world in an Asian American body right now, and making choices about being an artist in doing so."
Noting how the COVID-19 pandemic has reframed many of the conversations that will be held during the summit, Fletcher noted that the theme of the AES20 –"Creating Culture Shifts" – remains pertinent.
"We already knew there were structural inequities, and what corona has done is put into sharp relief examples of who are the most vulnerable communities, and who is disproportionately affected when things happen," she said. "It also shows what institutions are failing because when things are not sustainable, they cannot withstand disaster. So all of those conversations are still relevant, if not more so since the virus has hit. Now it's even more clear what needs to be addressed."
To register for the Arts Equity Summit, view the full schedule of events, and access live stream links, visit artsequitysummit.org. Archived sessions will be uploaded to the AES YouTube page following the summit.