By Reporter Staff
July 9, 2020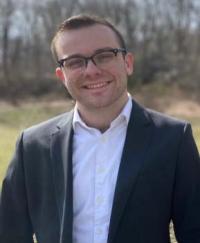 Cam Charbonnier, one of four candidates on the ballot for the September 1 election for state representative in the 12 Suffolk district, suspended his campaign today, citing the dynamics of the pandemic and the "inspiring" civil rights movement. A long time aide to Mayor Martin Walsh and the only white candidate in the field to succeed Representative Dan Cullinane, said that "upon further reflection and conversation" he realized "that this is not my moment."
Charbonnier's full statement follows:
STATEMENT FROM CAM CHARBONNIER ON DECISION TO SUSPEND HIS CAMPAIGN
The 12th Suffolk District is an exceptional place. Over the course of this campaign, many of you have heard me say that the diversity of communities, cultures, and ethnicities that make up our district are what makes this such an incredible place to live. Our diversity is our strength, and that's why I've been proud to call this district home my entire life.
I decided to run for State Representative because I was excited by the opportunity to serve my community in the Massachusetts House of Representatives. It was not a decision I made lightly. I had many conversations with family, friends, and residents across our district, and reached my decision to run after careful consideration. I felt then, as I do now, that I am a strong candidate, and ultimately if the voters decided, would be a great advocate for our community on Beacon Hill.
Issues felt across our district are at the center of my campaign: making our transportation system more accessible and equitable; advocating for more investment in education, for the resources our teachers need, and for students to have every opportunity to succeed, regardless of their zip code; and working to solve our housing crisis, by both ensuring more affordable units, and by expanding access to first-time homebuyer programs, so that everyone can have an opportunity to own a home.
But at the end of the day, what underscores these issues is the long-standing scourge of systemic racism and racial injustice that our nation has yet to reckon with. These issues, once again, have been brought to the forefront in recent months after the horrific murders of George Floyd, Breonna Taylor, and Ahmaud Arbery. They have ignited a national conversation and while we've been here before, this time must be different. And all of us have a responsibility to look inward and ask what we can do to make this moment different. These conversations and the actions that will come of them will require all of us to work together in good faith and in solidarity, and we will emerge stronger as a nation, as a Commonwealth, and as a people because of them.
I have been asked several times over the course of this campaign how a white man such as myself would represent a district made up of 70 percent black residents. My answer was that voters always deserve a choice, and if elected, I would fight every single day for all the residents of this district, and that I would never give up until the progress we make is felt equally by everyone who lives here, especially in communities of color. That's what I truly believe, and that's what my campaign has always been about.
But running for this seat in the midst of a global pandemic and during a modern and inspiring civil rights movement, I've gained a new awareness — of my place in this unique and consequential moment in history and in this district, of the commitment that we must make, and my role in the work that must be done to ensure a more just and equitable society for all. This is a time for all of us to be asking ourselves what we can do to make change for the better. As I navigated this potential opportunity by focusing on coalition-building, I had to revisit my answers to the two most important questions of any campaign: Why me? Why now? And while I stand behind my original conviction that I could be a strong and effective representative for this district, I realize that this is not my moment.
At the time I declared my candidacy, I knew I would need to amass a coalition of voters from every neighborhood in the district and that's what I began to do. At first, I felt that this was a decision to be left up to the voters and no one else. However, upon further reflection and conversation, I also realized that this campaign was taking place during extraordinary times, in a district where communities of color make up the overwhelming majority of the district's residents. As I engaged with more and more voters throughout the district, one thing became very clear: the appetite to have a State Representative who was not only fighting for the issues I discussed, but who also personally reflected the overwhelming diversity of this district -- and I took this to heart.
Our outgoing State Representative, Dan Cullinane, serves as a reminder that while no person can ever truly understand the lived experience of another, they do have the ability to work hard every single day to fight on behalf of their constituents and deliver real results for their communities. While I have been honored by the support I've received from residents across our district, it has become clear to me that at this time and in this district, I may not be the right candidate for this seat. In these extraordinary times, and in a district where communities of color make up an overwhelming proportion of its residents, I have decided, in consultation with voters and loved ones alike, that the best way that I can serve this movement is by stepping aside as a candidate. Therefore, I am suspending my campaign for State Representative of the 12th Suffolk District.
This is not about winning or losing, or any change in my commitment to serve the district I love and have lived in for my entire life. I don't know what the results of this election would have been, but I do know that I wouldn't want them to lead to further division within this community, when what we need most right now is to come together.
Ending my campaign for State Representative does not in any way diminish my commitment to fight for the issues I have talked about throughout this campaign ,and I will continue to do so in my everyday life, in my work at City Hall, and in the future. There is a right time and a right place
for every dream. In the meantime, I have promised to listen, to learn and to act. And that's what I intend to do.
Thank you from the bottom of my heart.
***
Charbonnier's announcement cuts the 12th Suffolk District field of candidates down to 3 to determine a successor for Rep. Dan Cullinane, who announced last year he would not seek re-election. The remaining candidates are Stephanie Everett, Jovan Lacet, and Brandy Fluker-Oakley.
Fluker-Oakley, a former teacher and public defender in the Boston Municipal and Chelsea District Courts, issued a statement to the Reporter on Thursday.
"Running for office is one of the most challenging things I have ever taken on, and I applaud anyone who answers the call for public service. Cam has been a great and respectful candidate and has exemplified his commitment to this district throughout his campaign and I look forward to working together on behalf of our community," she wrote.
Everett, a Mattapan-base attorney who formerly worked at the state house as deputy chief of staff for Sen. Sonia Chang-Diaz and chief of staff for the Department of Transitional Assistance, said she was "disappointed" to hear that Charbonnier suspended his campaign.
"I am disappointed to find out that Cam has suspended his campaign for State Representative. As we virtually campaigned together on neighborhood groups and ward committees, I found Cam to be a thoughtful and committed candidate who brought a unique perspective to this race as a City Hall staffer and life-long Dorchester resident," she said.
"I have appreciated his voice in this race and I will continue the work to bring our district together as we go into the final month and a half before the Democratic Primary on September 1st. I look forward to seeing what Cam does in the future as he continues his commitment to Community."
The Sept. 1 primary will, in effect, pick the next state representative for the 12th Suffolk, which includes parts of Dorchester, Mattapan, Hyde Park, and Milton. The general election is scheduled for Nov. 3, the same day as the presidential election.