By Daniel Sheehan, Reporter Staff
September 17, 2020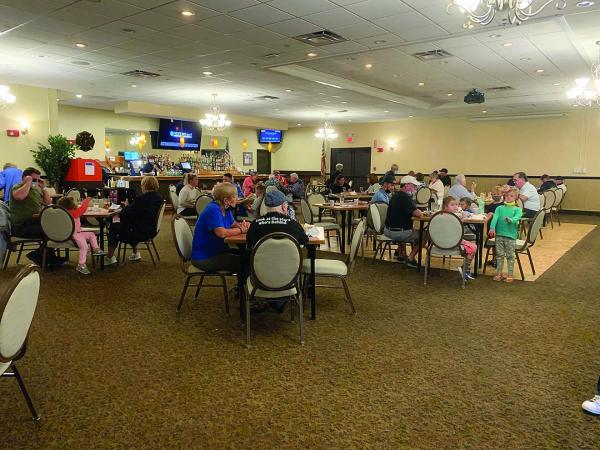 Florian Hall, the iconic multipurpose union hall and event space on Hallet Street, welcomed customers back to its restaurant last week for the first time since last March. The building is home to the Boston Firefighter's Union Local 718 and serves as a gathering space for other unions based in the neighborhood.
Locals know it as a polling station, as a site of countless fundraiser "times," and as a reliable lunch spot for favorites like baked scrod and chicken parm. But with large gatherings on hold for the foreseeable future, a part of the hall's identity has been stripped away.
"It's been a big impact because our main source of revenue is those big events," said Mary Ellen Strum, Florian's banquet/function manager. "Christenings, birthday parties, funerals, office Christmas parties, political fundraisers, annual banquets — any function you can think of, we host it here."
For now, Florian is pivoting to food service full time, expanding its normal lunchtime-only hours to an 11:30-8 p.m. window. Restaurant regulars rejoiced when, after months of checking in by phone and email, and knocking on the doors hopefully, they received word that Florian would be serving food once again.
"We have a very loyal customer base," said Steve MacDonald, Local 718 executive assistant. "We get a lot of regulars coming from the Keystone Apartments just across the street, as well as active and retired firefighters. The [firefighters] credit union is right across the street, too, so a lot of fire, police, and EMS workers do their banking over there and then come here for lunch."
A few safety-driven changes have somewhat altered the dining experience: there's no bar service, tables have been spaced out, patrons must wear masks until seated, and customers' names are taken down upon entry for contact tracing measures. Some larger round tables, which can seat up to 10, have also been removed, prompting some regular groups of retirees to split up into two parties.
But so far, said Strum, business has been "very steady. News got around pretty quickly by word of mouth, and a lot of people have been coming in saying, 'We're so glad you're back!' Plus we have KENO, which is a big draw." Last Friday around lunchtime, only two or three tables in the dining hall were empty. 
"It's good to be interacting with people again and putting everyone back to work," said John Sarro, union vice president. "We have a really unique situation here to have a union overseeing a restaurant...it's an iconic place for people that have their big moments here. I think this reopening really benefits the community."
Buddy Murphy, a retired firefighter, said he enjoyed the familiar atmosphere at Florian. "It feels like normal, almost," he said. "I come all the time for lunch because the food's good, it's close, there's plenty of parking...I hope people keep supporting it because we need a place like this."
Joanne Scialdone, who said she's been coming to Florian for "many years," didn't mince words about finally getting to dine again with her friends at her favorite restaurant: "It's the best thing that's ever happened!"