By Daniel Sheehan, Reporter Staff
November 26, 2020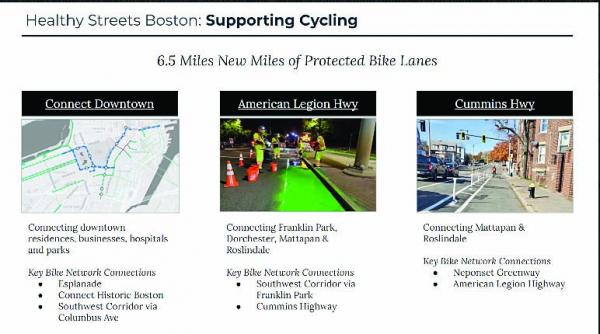 Officials from the Boston Transportation Department last week outlined a handful of recent infrastructure changes during a virtual "six-month update" about the city's Healthy Streets Initiative.
The targeted improvements include newly installed protected bike lanes and traffic calming measures on American Legion Highway in Dorchester and Cummins Highway in Mattapan, two stretches of road that in the past have been notoriously dangerous for cyclists and pedestrians.
Mayor Walsh launched the initiative last May with the dual focus of supporting safe travel during the pandemic for essential workers and transit-dependent residents and addressing some of the long-term goals laid out in Boston 2030 to make roads safer and more reliable.
In the last six months, the city has added new bus lanes, 6.5 miles of pop-up protected bike lanes, and calming measures including lane reductions at multiple targeted throughways across the city that were in the top 3 percent of streets with the highest number of vehicular crashes.
"The Healthy Streets initiative outlines our goals to support a safe reopening and equitable recovery in Boston, and I'm pleased to see substantial progress made on these important projects," Walsh said in a statement. "Safe and reliable transportation, especially for our essential workers and commuters, is one of our top priorities as we respond to the COVID-19 pandemic."
Chief of Streets Chris Osgood outlined the slew of recent modifications during a Zoom meeting, noting that the changes reflected feedback compiled through community engagement processes and collaboration with neighborhood groups like Livable Streets. 
"We placed a huge emphasis on pedestrian safety, given the history and the data we were looking at," said Osgood, "with the goal of not just a safer biking experience, but making it great for pedestrians as well."
Speeding motorists were the main source of worry for residents in a Livable Streets survey on American Legion Highway conducted over the summer: 66 percent of the roughly 500 respondents listed speeding and drag racing as top concerns, while a traffic study revealed that between Morton Street and Walk Hill Street, 59 percent of cars drove faster than 40 mph. The city intervention introduced lane reductions in targeted stretches (including in that span between Morton and Walk Hill, which has seen lanes reduced to one in each direction) and improved pedestrian crossings.
In a survey of design options for Cummins Highway, 71 percent of respondents supported interventions that calmed traffic and reduced speed— and some of those modifications are already seeing results.
When transportation officials measured speeds on the roadway over a two-day span in October 2018, they found that between 35 and 39 percent of drivers traveled 35 mph or faster. But when measuring speeds at the same location in August 2020, they observed only 10-11 percent of drivers traveling faster than 35 mph. 
Beyond pedestrian safety, the new protected bike lanes seek to provide greater connectivity between the neighborhoods of Dorchester, Mattapan, and Roslindale by creating key network connections linking Franklin Park to American Legion and the Neponset Greenway to Cummins Highway. 
While most of these "pilot program" interventions have been made through temporary infrastructure such as plastic barriers, transportation officials said they are working to make those changes permanent in the coming months.
For a more detailed breakdown of modifications made through the Healthy Streets initiative, visit boston.gov/healthy-streets.