By Erin D. Caldwell, Special to the Reporter
September 23, 2020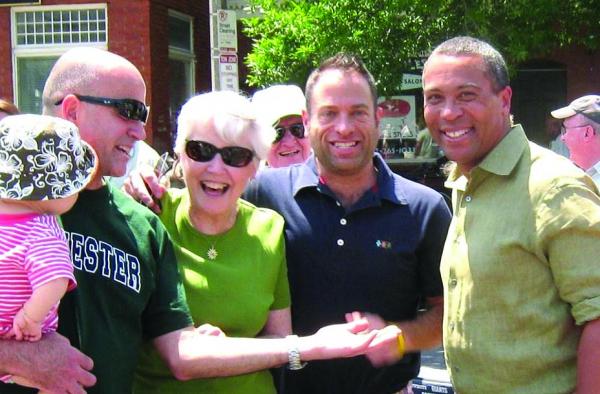 It has been five months since the Ashmont Adams Neighborhood Association lost its longtime civic leader, 80-year-old Patricia "Pat" O'Neill after a battle with cancer. In the meantime, the national mood has been grim. Natural disasters are impacting large swatches of the country, racial justice protests have swept the nation, and last week's passing of Supreme Court Justice Ruth Bader Ginsburg has infused an already contentious election with an additional shot of urgency and partisanship.
It can be tempting as an average citizen in a sizable American city in a state that holds little surprise in federal elections to feel powerless. But that's not the way Pat O'Neill would have looked at things. She understood that change doesn't only happen at federal or state levels, that often the most important progress takes place in your backyard.
Her passing, say her friends and neighbors, has left a void in the community where that sort of understanding made a difference, a space that can best be filled by a new generation stepping up to carry her mantle.
Andrea Baez, who served as the executive director of the Dorchester YMCA for five years, and worked closely with Mrs. O'Neill during that time, summed it up this way: "It would take five people for every one Pat O'Neill to fill that void," she said.
Still, members of the Ashmont Adams Neighborhood Association are trying. New leaders have stepped up to help deliver masks, check in with residents, drop off loaves of bread, and provide a consistent touchstone to community members.
"We regularly ask ourselves, what would Pat do?" said Gail Ravgiala, who serves as the Ashmont-Adams secretary. "During Covid-19, we've tried to act as a beacon of light that some things are still as they were. The pandemic has reinforced why organizations like ours are so important."
O'Neill's example stretches far beyond the boundaries of the neighborhood. Her tireless promotion of local needs regularly reached City Hall, particularly during her 20 years as president of the association, her admirers said in interviews.
"Elected officials had a hard time saying no to Pat, and they are always in attendance at our meetings," said Mary Kelly, treasurer of the association. "It gives us a voice that City Hall and the State House listen to, and a lot of visibility about who we are."
City Councillor Andrea Campbell initially met O'Neill during her first run for office. She was challenging a 32-year incumbent and didn't get a lot of support from the community, she said, until she met her "Irish mother," Pat O'Neill. 
"Pat believed in me, and that created joy," said Campbell, "because there was something about an older Irish woman attaching herself to a Black woman and believing that regardless of what separates or divides the City of Boston, we can solve problems by being open-minded and coming together."
In changing neighborhoods, the role of civic organizations in influencing policy and working with leaders at the city and state level is significant. To elected officials, community leaders like Pat O'Neill are their eyes and ears on the ground.
"If government truly wants to have an impact in communities, it has to engage residents to hear their thoughts and solutions. They are the connection to the community," said Campbell. "Voting is absolutely important, but civic engagement is bigger than voting. You can have an impact every day by participating in these organizations."
Councillor Frank Baker, who represents District 3, said he leaned on people like O'Neill to provide historic context for neighborhoods that are changing rapidly.
"The negativity these days is palpable. It's important that people come together and work toward positive outcomes," he said. "Pat's example was that of an advocate; she would work with everybody and represent the neighborhood holistically, even when there were differences of opinion."
Retiring state Rep. Dan Cullinane, who has represented parts of Ashmont-Adams since 2013, worked closely with O'Neill. "There was always a full room at community meetings when Pat ran them," he said. "She made everyone laugh, but she also asked pointed, focused questions that moved business forward. People wanted to be there because they wanted to be with Pat. People like her were cornerstones of the community. In no small way, it is because of her example that people want to live and stay in Ashmont-Adams." 
Cullinane knows firsthand the value of being involved. He joined the Cedar Grove Civic Association at 15 and the experience influenced his career path as well as how much he cared about the world he lived in.
"These organizations are not simply about day-to-day issues; they build community over decades," he said, noting that the regular meetings also provide a built-in level of accountability for elected officials. "If you talk to a constituent one month, you have to get it done or have an answer for them by the following month."
Those who knew Pat O'Neill well have a suggestion for those who would like to remember her life through action. Make a difference in the world by taking a page from her book— and start right here in Dorchester.
"Pat was really into promoting community and making Ashmont-Adams a cohesive place where everyone felt included, accepted, welcomed," said Stacey Monahan, a close friend and neighbor for many years. "She modeled that civic engagement. How I treat my neighbors matters; how I act in my community matters." 
Residents who are interested in getting involved are encouraged to attend the Oct. 1 meeting of the Ashmont Adams Neighborhood Association. [Details on time and location are still to be determined; see the group's Facebook page for updates]. The civic group is commissioning a memorial to Pat O'Neill. Donations can be sent through Mary Kelly at mlk9647@comcast.net.