By Bill Forry, Editor
September 29, 2020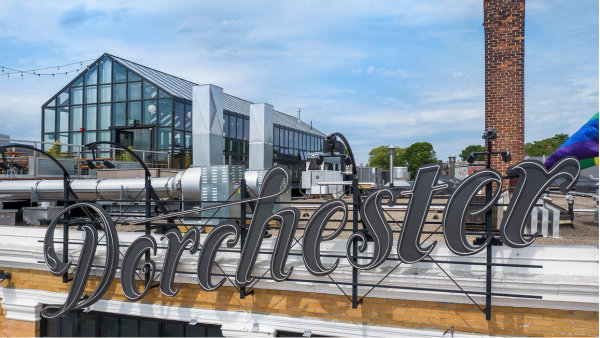 The American Institute of Architects (AIA) New England Regional Council last week selected the Dorchester Brewing Company (DBCo) and RODE Architects as winners of a 2020 design award for its facility on Massachusetts Avenue, which has become a "gateway" landmark for the neighborhood.
The juried award was announced at the group's annual conference, which was held virtually. There were more than 160 nominations for the award, which brings national attention to a handful of winners each year.
"This is one of the coolest things that I can imagine happening," said Kevin Deabler, principal at RODE Architects, which he co-founded with Eric Robinson. "I think they were drawn to the idea that it's an incubator for craft beer creators, but also for its tie into this community and to social justice. It's a great moment for Dorchester and a chance for us to celebrate what has gone into making this project."
DBCo opened in 2016 and was revamped again in a "phase two" build-out in 2019, which added a distinctive glass and steel solarium, dubbed "The Hopservatory." The rooftop greenhouse and surrounding roofdeck offers sweeping views of Boston and Dorchester. The $4 million build-out added roughly 8,000 square feet of dining and drinking space and an enhanced gaming area.
The AIANE award notes the successful conversion an old warehouse into a hub of community and business in a multi-cultural neighborhood. The latest phase of renovation created new kitchen space for the popular M&M BBQ—a Black-owned eatery— which opened last year.
Matt Malloy, the co-founder and CEO of DBCo, said that the validation of the team's effort is a morale boost after a particularly challenging year.
"I think this build-out represents two years of hard work," said Malloy. "It's a recognition that we have built something of quality for the community and it's super wonderful for our community. This is a New England award that says our building is one of the best things that these architects have seen in the region. It really sets the bar for other places around Boston."
Malloy saluted the team from RODE Architects. Like Malloy, the RODE team lives in Dorchester— which he says was critical to making the project so successful.
"It was clear that they had a sense of where we wanted to go. It was highly collaborative. They understand Dorchester and all of those nuances of all the weird, wonderful things," said Malloy. "We built this specifically to bring everyone together: Black, white, straight, gay, Vietnamese, Cape Verdean. We wanted to create a place where people can come and commune and that celebrates diversity. To have a third party validate that is great."
DBCo is currently hosting a week-long Oktoberfest celebration through Sat., Oct. 3 complete with festive beer, food, music, and a decorated beer hall. The brewery's DBCo Fest Bier, a Marzen Lager brewed with Vienna and Pilsner malts and German Hallertau Tradition hops, will be available by the stein in the tap room and by the four-pack to take home, while M&M BBQ will serve beer-braised bratwursts, hot dogs, pretzels, and sauerkraut along with their regular menu. An accordian player will provide ambience throughout the week. Guests who show up in traditional German attire of lederhosen and dirndls will receive special prizes.
Social distancing and current COVID safety guidelines will apply at all times at the brewery. Reservations and walk-ins will be accepted. More info available at dorchesterbrewing.com/private-events/