By Daniel Sheehan, Reporter Staff
August 6, 2020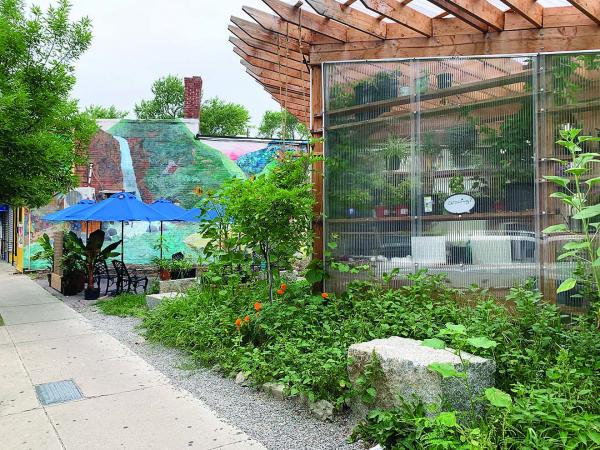 On Monday, Mayor Martin Walsh announced the official opening of the Hero Hope Garden, a new community space brought about through collaboration with the Boston Food Forest Coalition (BFFC), the Farmers Collaborative, and local residents that fills what had previously been a vacant lot at 424-428 Geneva Ave. in Dorchester.
The Hero Hope Garden includes a "food forest" with fruit trees, plants, and raised bed gardens; a greenhouse for community and educational use; and a community meeting and gathering space with a handful of tables, chairs, and umbrellas.
Walsh noted that residents and non-profits were key drivers for creating the new green space, having maintained the parcel for years until it was officially designated a community space.
"This is a shared effort and would not have been possible without the support from the neighborhood and our partners," said Walsh. "I am proud that through the DND Grassroots program and Community Preservation Act funding we were able to help add vibrancy and green space to this lot in Dorchester. Community gardening provides great physical activity, increases access to affordable healthy fresh produce, and brings the residents of our neighborhoods closer together."
BFFC, which was instrumental to the project's success, will continue to manage and care for the space.
"We could not have created this new garden without the support of the mayor, many neighbors and community members, neighboring businesses, local tradespersons, teachers, students from neighboring schools, Bowdoin Geneva Main Streets, Jones Hill Neighborhood Association, Department of Neighborhood Development, Community Preservation Act, MassArt & Wyly Brown, YouthBuild, and UFI," said Orion Kriegman, executive director of the Boston Food Forest Coalition.
"Farmers Collaborative has been a leading force on the establishment of this beautiful garden and gathering space. We are proud that our innovative design of this land will knit this community together."
The redevelopment work was paid for in part by $75,000 in Community Preservation Act (CPA) funding and a $50,000 grant from the Grassroots Program at the Department of Neighborhood Development, which provides funding, city-owned land, and technical assistance to neighborhood groups and non-profits that want to organize, develop, own, manage, and maintain community gardens and open space in Boston's neighborhoods.
Editor's note: The Hero Hope Garden was also made possible by local organizations Speak for the Trees and Epsilon, as well as HERO Nurturing Center, Inc., which originally proposed the idea for the project.