By Daniel Sheehan, Reporter Staff
December 10, 2020
After conducting an archeological exploration over the past few days, Boston city officials have concluded the sinkhole that opened up in Ronan Park last weekend is most likely a historic well dating back to the 19th century.
City archeologist Joe Bagley told reporters at a press conference in the park today that he and his team fashioned a camera rig by taping an Iphone and several LED flashlights to a paint roller and lowering it into the hole. They discovered a 6.5 foot deep cavity lined with cobblestones and topped with granite slabs. The city will be releasing footage of the interior of the well from that exploration process.
"Over the past day I've been doing historical research trying to determine who owned the well," said Bagley. "This area of the park remained undeveloped until it was purchased in 1818 by John F. Pierce, a cabinetmaker and pianomaker. On September 26, 1871 the Pierce estate was broken up, and Mary L. Pierce purchased the property. In that deed we found language saying that Mary needs to have access to the well...what we believe currently is that the well is either the well built in 1818 by John Pierce for his estate, or it is the new well that Mary L. Pierce built sometime between September 26, 1871 and May 1, 1872."
Bagley said recent heavy rains likely uncovered and pushed loose soil into the well, which had become exposed due to a failed stone or wooden cover. He called finding a historic open well in Boston "extremely rare," but noted that the discovery hints at the vast archaeological history buried under the city.
"For me, it makes for a very interesting day when I may have been in my basement working remotely," said Bagley. "I think we kind of accept the history of Boston as being everywhere but also not part of our daily lives, so when something like this turns up, it's shining a light on a story that may have been lost."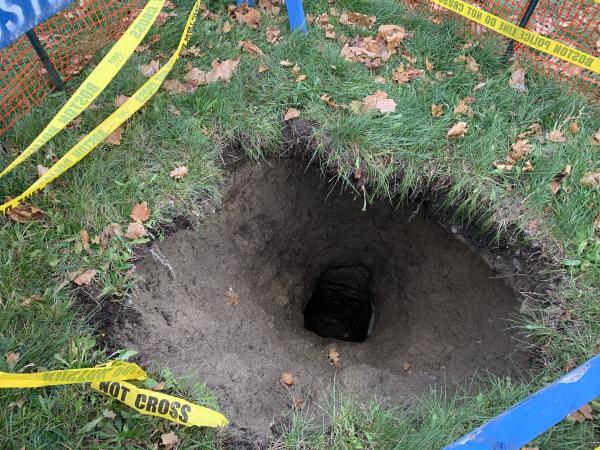 Going forward, footage of the well could prove valuable to researchers comparing different types of historic structures, he added.
"Wells are not typically well-documented as to how many were made and where they were placed, so this will actually help us identify where to look for wells in the future at other historic sites, and also tell us how these things are built."
While Bagley's team improvised this time in order to probe the well, he suggested a rig designed to explore similar holes could prove handy in the future.
"Holes pop up, so I think it would be really good to have a rig that would actually allow us to do something like that. I think it would be a great challenge for like a local high school to develop a small compact mount of lights and maybe a go pro to lower down into any future holes we find."
Parks Commissioner Ryan Woods told reporters he expects the hole to be repaired by the end of the month.
"Our plan is to make sure all the drainage is intact and make sure we scope through before we fill it, but it should be backfilled within the next two weeks, so by the end of this month it will be back normal, reseeded, and completely filled."

Get the Dorchester Reporter— the paper of record for Boston's largest and most diverse neighborhood—delivered to your door for just $50 per year.
That's 52 weeks of the Dorchester Reporter delivered by USPS for just $50.
Support our brand of community journalism AND get the print edition delivered to your door each week— the best deal in town!