By Reporter Staff
November 12, 2020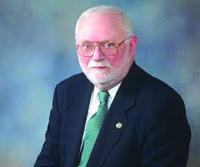 The New England Newspaper & Press Association (NENPA) has selected Edward W. Forry, who, with his wife, the late Mary Casey Forry, founded the Dorchester Reporter in 1983 and the Boston Irish Reporter ten years later, as its 2020 honoree in the field of community journalism.
Named after Bob Wallack, a longtime New England journalist and former New England Press Association executive director, the award annually recognizes an individual who has displayed an exceptional record of commitment to community journalism. Past award recipients faithfully served the community for which they are responsible and played an active, constructive role in contributing to its quality of life. 
The selectors took notice of Ed Forry's active and meaningful work over the last 37 years doing street-level, urban newspapering in Dorchester, Boston's largest and most diverse neighborhood in giving him the award. For many who know him and his work, the honoree is a latterday equivalent of the small-town newspaper editor memorialized in so many movies and histories:
He knows personally many of the Reporter's readers, he knows personally and appreciates many of its advertisers, he knows personally many of those the Reporter has covered since the Reagan years, and for over three decades he has never held back when he believed critical issues – local, state, and national – deserved attention in his editorials.
In announcing his selection, NENPA said, "We are looking forward to recognizing Mr. Forry at the New England Newspaper Conference, which will take place (virtually) on Nov. 17, 18 and 19."