By Colin A. Young, State House News Service
March 5, 2020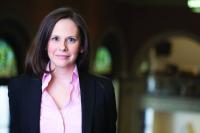 Boston Mayor Martin Walsh has picked a longtime State House staffer and campaign official as his next chief of staff, turning to Kathryn Burton to fill that position.
Burton worked as chief of staff to then- State Treasurer Steven Grossman beginning in 2012, after serving as his campaign manager. She has also worked as a senior official at the Barbara Lee Family Foundation and the Barbara Lee Political Office, and for the last four years has been director of operations for New Boston Ventures.
In the chief of staff role, Burton will oversee the more than 18,000 city employees in Boston.
"From her wide-ranging background across sectors, it is clear that she is someone who is smart and driven, and who has a keen sensibility of the opportunities and challenges we face as a city," Walsh said. "Her commitment to common sense solutions will be a valuable asset as we work together to carry out our wide-ranging and progressive agenda of bold initiatives to move Boston forward."
Burton has served on a number of community organization boards, including a stint serving on the Rose F. Kennedy Greenway Conservancy Board of Directors, where she was part of the negotiation that led to a multi-party funding model for the greenway. She lives in the North End and holds degrees from the University of King's College in Halifax, Nova Scotia, and Dartmouth College.
Walsh's office said Burton is a member of the Gesgapegiag Mi'kmaq tribe in Quebec and will be the first Indigenous person to hold a Cabinet-level position at City Hall. She will begin her job at City Hall on March 9, replacin David Sweeney, who left Walsh's administration in January to take a role as the new president and CEO of the Medical, Academic and Scientific Community Organization for the 210-acre Longwood medical and academic neighborhood.