By Katie Trojano, Reporter Staff
September 23, 2020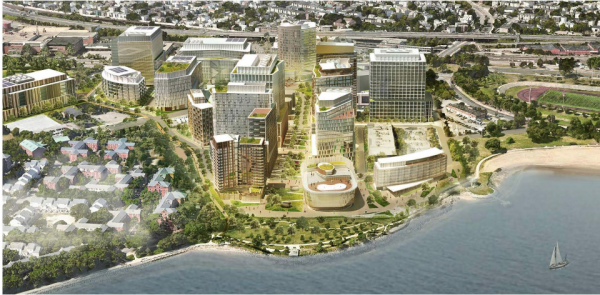 A 34-acre waterfront site on Columbia Point will be transformed into "Dorchester Bay City" — a new community with a mix of housing, retail and public space — according to new documents filed by Accordia Partners LLC with city officials today.
The Accordia team signed a 99-year lease with UMass Boston last year and will manage the build-out of the former Bayside Expo Center land in a deal that could net the university up to $235 million over the coming years. Accordia also controls the land at 2 Morrissey Blvd, now home to Santander Bank, across the street from the Bayside site.
Accordia has been engaged in a year-long planning effort that included community meetings prior to the onset of the covid-19 crisis.
"From the outset we have envisioned this project as more than just a collection of buildings and uses, but as an opportunity to create a real estate platform that drives economic empowerment and wealth creation for all through the creation of infrastructure improvement to connect a community, and through diversity and inclusion across all levels of the Project," Kirk Sykes, co-owner of Accordia Partners, said in a statement.
"The proposed project reflects the results of extensive community engagement and in-depth project planning that has been underway for more than a year already."
"Though a certain baseline of development is necessary to achieve the economic, workforce, housing, and other goals of this project, the biggest value is in the community benefits," said Richard Galvin, co-owner of Accordia Partners. "Every component of the project has been designed to feed into a series of public benefits that reflect the feedback we heard from the community."
Plans for both properties were bundled together in today's filing, known as a Project Notification Form (PNF), with the Boston Planning and Development Agency. All told, the plan covers approximately 5.9 million square feet (sf) of gross floor area containing a mix of uses in buildings laid out over 17 city blocks
"The Project envisioned in this text, named Dorchester Bay City (DBC), will be transformative for the Columbia Point peninsula and surrounding neighborhoods by creating a new destination that enhances the existing institutions on Columbia Point, and generates thousands of construction and permanent jobs," the Accordia team stated in the PNF. "By providing wonderful new public spaces with improved access to the Harborwalk, retail and open space programming available to all, and a mix of uses that ensures a 24/7 community that embodies live, work, and play, the Project will become a dynamic hub for all Bostonians."
Details released in the 187-page document show that the project would include 1,740 units of residential housing, along with retail shops, restaurants and public space next to the Dorchester Harborwalk.
Accordia plans to collaborate with Ares Real Estate Group to create jobs in the community.
"We are excited by today's submission to move Dorchester Bay City forward. Both Ares and Accordia will continue to collaborate with the community and with the city of Boston and state of Massachusetts officials on DBC, which we view as a model for inclusive, mixed-use urban development that will create long-term, full-time jobs within the community," Andrew Holm, a partner with Ares Real Estate Group, said in a statement following the PNF release.
The PNF details several potential benefits the team expects to explore based on the feedback offered during the Article 80 review process including climate resilience, infrastructure and public realm improvements.
In an interview with the Reporter on Wednesday, Galvin and Skyes talked about their vision for the project, benefits that it could have in the community, and how they decided on a name.
In terms of their visual approach, both said much of idea for the cityscape shown in the renderings comes directly from community input.
"I think it probably goes back to the community meetings and the charrettes we had back in October and November," said Sykes. "It's amazing how the vision of what you're seeing in three dimensions grew out of those 12 tables of 10 people putting their ideas on post-its."
"My favorite diagram of the whole project is the composite post-it map which has really translated into the master plan in terms of locations of open space, size of buildings, relationships to Harbor Point and Moakley, and connectivity to the train station."
Added Galvin: "Obviously we've got Chapter 91 setbacks that helped guide us with the height, but in terms of the unique opportunity of having varying architecture, all kinds of open space and public realms—all of these themes came out of these early meetings.
Galvin added: "But the things that haven't changed from day one was our thinking around a mixture of uses, residential life science, creative office, ground floor retail and civic spaces and obviously a lot of open space which has been entirely consistent with our proposal to U Mass since the beginning."
The pair said that while the onset of the covid-19 pandemic and shutdowns that followed in March did slow the process down-- they were able to get through it and submit their PNF.
"We filed our Letter of Intent on March 6 with the intent of filing our PNF about a month later, so clearly here we are Set. 22 filing. Until there was a lot of confidence in the ability to have the types of public meetings we are going to have, it didn't make sense to file," said Galvin.
"So we've been delayed for sure, but we're going to pick up as best we can with this process and I think everybody has adjusted to this new reality of how we are going to go about it. I commend the city and the state in terms of really being willing to work with us on that and I will tell you that the BPDA has been great and the community has been great in terms of us constantly doing Zoom calls to just keep working on the process."
One key point that came out of the team's community engagement last year was a shared desire for investments to public infrastructure and enhanced connectivity in the area and to the ocean front. Nearby road systems— including the notoriously dicey Kosciuszko Circle and an aging JFK-UMass MBTA station— are frequently raised as pressing issues for redevelopment on the peninsula.
Galvin said the project team has "been in discussions with not only our stakeholder neighbors but also the various agencies that are going to be involved in driving some of this," he added that "it's going to take some more time but we think there's momentum around the conversation."
"We know our main role is convening and really pushing the benefits of that kind of public investment that's going to really see long term great benefits for the community," said Galvin.
"We think between the Community Action Committee, the Point Partners group, there's some great platforms set up to engage the public and the agencies on a path to unlocking the infrastructure improvements we want here for the project."
Sykes said that improved infrastructure would be a key element in stimulating economic potential in the project and community.
"The infrastructure fix is the way we unlock the economic development potential for Dorchester. People have to be able to get here, tenants need to be able to get home and to work, people need to be able to visit venues and the retail," he said.
"That creates jobs. We are going to have a lot of partners in the training and capitalization. We've engaged with the Eastern Bank Business Equity initiative and the Boston Foundation to help us analyze and dissect the opportunity that this canvass creates in terms of the build," he said.
"We're going to carefully assess, build, capitalize, and grow everything we need to be inclusive."
Sykes said the team is confident that they'll be able to move forward with the project before nearby infrastructure improvements are underway.
"We're committed to this project. No matter what, we're going to design it to standards— just take the sustainability issue. We've committed to raise this to a level where it is resilient. We won't be waiting to design to that standard, we're already designing to that standard so as the pieces fill in and connect we're hoping we create this resilient infrastructure that is the peninsula."
"Climate resiliency is at the top of the list in terms of both our site as well as off site," added Galvin.
When it comes to the projects sites' status as a federally-designated Opportunity Zone, Galvin said: "There's still a lot more to be learned with the Opportunity Zone. It's not critical for us to be able to capitalize for the project but it does offer some interesting potential."
Sykes pointed out that the site has been ranked as the top Opportunity Zone in the city of Boston.
"It's such a great location," he said. "There's a moment in time here where we are a very desirable place for people to invest capital in and we need to capitalize on that, which is what opportunity zones are intended to do but don't always."
Galvin and Skyes explained that using the Dorchester name identity in naming their project felt authentic, and honored the wishes of many community members.
"We hired a branding company called Proverb. It was an exhausting process. What we kept coming back to was the place, the location. It just became evident, at the end, that this is what we're doing. It's Dorchester Bay, we're trying to build a city here, it's a new destination," said Galvin.
Added Sykes:"What's true of the market right now is that people want authentic they don't want synthetic. They don't want a place or a restaurant that could be anywhere. They want Vietnamese next to Costa Rican next to Jamaican-- and that is Dorchester. It's a place that's 72 percent diverse and we want to celebrate that in the programming, the food in the activities and in the name. That's really what this generation that's going to inherit this site wants."
District 3 City Councillor Frank Baker commended the group for their community engagement.
"The Accordia team has spent the past year doing an extraordinary amount of listening and engaging with the community," he said in a statement.
"The project outlined in the Project Notification Form reflects both the community feedback specific to this site and the many other public planning processes as it relates to transportation, climate change, housing and public space. I am confident that this project will provide important and much needed benefits that matter to local residents and businesses."