By Daniel Sheehan, Arts and Features Editor
October 22, 2020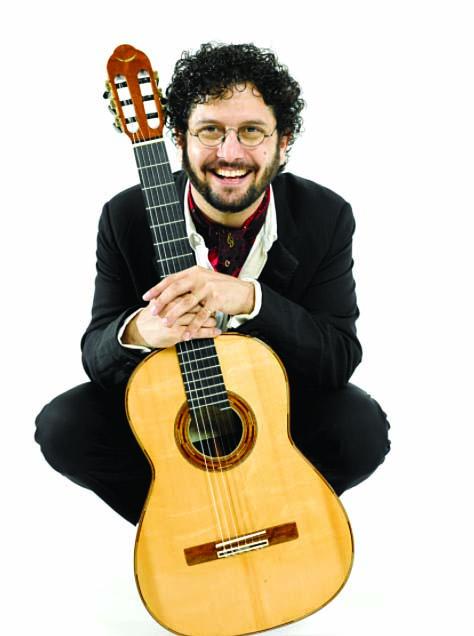 For the last several months, Uphams Corner-based guitarist Aaron Larget-Caplan has grappled with the new reality facing classical and chamber musicians who saw their lifestyles and performance schedules disintegrate before their eyes as the pandemic eliminated most live music opportunities across the region.
"I teach at UMass Boston, so I'm still teaching online, but as a performer, like every other performer of any style, everything just disappeared," explained Larget-Caplan. "We're all trying to stay relevant."
Still, Larget-Caplan said, he has found a "silver lining" to the Covid outbreak, which has given him ample time to work on his "New Lullaby Project," an endeavor that began back in 2007 and has since commissioned 60 lullaby compositions for solo guitar from composers around the globe.
Larget-Caplan recorded 14 of the compositions for the first album in the anthology back in 2010, and the submissions have kept on coming. Over the summer, after setting up a "small but functional" studio in his Uphams Corner home, he recorded 28 more tracks, which will be on a new album to be released in the coming weeks along with the anthology of scores.
He said he began the project in an effort to make contemporary classical music more accessible for people of all ages, using the universality of the lullaby as a foundation.
"Lullabies are thought of as children's music, but they're really much more than that," he said. "They're for parents around the world to put their kids to sleep, to soothe their worries, to teach an important lesson...even cultures that don't allow music have lullabies."
While some people can be intimidated by contemporary music, Larget-Caplan reasoned, nobody would be afraid of a lullaby. Sure enough, the project has been well-received; in past years, he has performed concerts in Boston, New Hampshire, Oregon, even Moscow, complete with pajamas, hot chocolate, and pillows for kids.
The widespread popularity of the format is also visible in the submissions he has received over the years, from local composers as well as those based abroad in France, Japan, Russian, Norway, Poland, Spain, Afghanistan, and Australia.
Having found his footing in recent months, Larget-Caplan said he has embraced a new type of "weird busy" in the form of virtual events, a few of which are on tap in the coming weeks as part of the Boston New Music Festival.
On Sun., Nov. 1 from 1:30-2:30 p.m., he will host a Zoom roundtable with a group of composers who will discuss the challenges of composing for solo guitar. The free and open-to-the-public event will be streamed live from Larget-Caplan's Facebook page. Larget-Caplan will then debut several lullaby pieces from the project at two virtual concerts during the second week of the festival: Tues., Nov. 10, at 8 p.m., and Sun., Nov. 15, at 1 p.m.
Attendees can register online for those events at his website, where they can make tax-deductible donations in lieu of tickets. You can listen to the New Lullaby Project here.