By Gintautas Dumcius, Managing Editor
September 13, 2021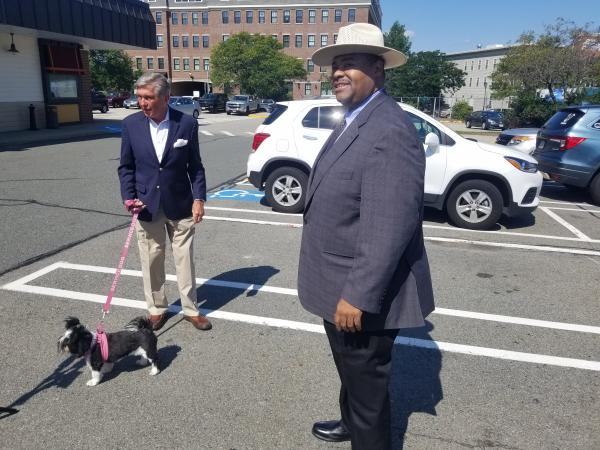 Former Boston police commissioner William Gross hit the road in Charlestown on Monday, the day before the mayoral preliminary, shaking hands inside a 99 restaurant after a press conference in its parking lot.
Gross, who abruptly resigned from his post earlier this year, had previously weighed running for mayor. But he has since come out for City Councillor At-Large Annissa Essaibi George's mayoral campaign, chairing a super PAC, "Real Progress Boston," that is funded by police unions and New Balance chairman Jim Davis.
On site to tout the super PAC's second TV ad, Gross was joined at the press conference by public relations mogul George Regan, who arrived with a shitzu named Levi Jean in tow. The super PAC is paying Regan's firm for media placement on TV, radio, and in print, including the Boston Herald.
Gross said he hasn't spoken to Essaibi George about the ads, noting that as the chair of the super PAC, he is prohibited from doing so. Super PACs can raise and spend unlimited amounts of money, but they cannot coordinate with the campaigns they support.
"She's that candidate that can help build trust betwixt the first responder families, Boston police, fire, and EMS, and the communities that we serve," Gross said of Essaibi George, who is one of five candidates running for mayor. "And she also considers first responders as a part of her constituency. I don't think others do."
Essaibi George told the Reporter last week she was unhappy with the super PAC listing a phone number in its initial regulatory filing that led to Red Curve Solutions, a Beverly-based Republican campaign finance firm. The firm worked in 2016 for the Trump campaign, whose candidate frequently attacked immigrants while on the trail.
"I'm the daughter of immigrants, I am a first-generation American, I am the daughter of an Arab Muslim," Essaibi George said. "So, this connection to the former president for me is one that is gross." She added that she was surprised to see him affiliated with the super PAC.
When asked about Essaibi George's comments, Gross said it was an "old" phone number that the super PAC has "corrected. I think we should stop focusing on Monday morning quarterback, trying to throw dirt and focus on the campaign issues at hand," he said. "I'm very proud of the race that's taking place. It's a very diversified race. I'm a student of history and I hope one day all-inclusive history will be taught. But look at the candidate, look at the field. It's very diversified; it's historic; this has never taken place in Boston."
Several candidates met with Davis, the top funder of the super PAC, earlier this year before the formation of the "Real Progress Boston" outside group. In addition to Essaibi George, they include former city economic development official John Barros and South End state Rep. Jon Santiago, who dropped out of the mayoral race in July. Gross and Regan were also at the meetings.
"The thrust was, what's your expertise and what can you bring to the table, quite frankly," Gross said about the meetings. "What makes you qualified to be mayor? There were tough questions at hand."
Asked how the meetings came about, Gross said, "I was reached out to to attend the luncheon and just speak to people since now I'm retired."
Added Regan: "The candidates always talk to us."
When the Reporter asked Gross about Davis's $395,000 contribution to the super PAC, Regan butted in and Gross said, "I'm not the treasurer."
Gross continued, as U2's song "Vertigo" blared out of the 99's outdoor speakers: "So whoever wants to contribute to our [super PAC], you're free to do so. Whether you give five dollars, ten dollars or more, that's your decision as an American to back who you think should be mayor. So, I'm not going to question that and I'm definitely not going to say, 'Hey, why did you give this? and 'Why did you give that?'"
Before the press conference got under way, an elderly man on his way into the restaurant passed by the scene and made a stabbing-in-the-back motion with his hands. "Marty Walsh," he muttered while grimacing at Gross, an apparent reference to the feud between the former mayor and the police commissioner he appointed. "You did."
Gross smiled and turned back to the cameras.