By Katie Trojano, Reporter Staff
January 27, 2021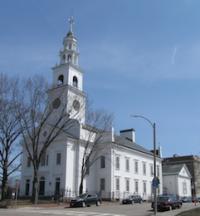 First Parish Dorchester on Meetinghouse Hill will become an "invitation-only" vaccination site beginning on Mon., Feb. 1. The clinic, managed by Beth Israel Lahey Health, will operate inside the historic Dorchester church seven days a week, 12 hours a day, according to Jenn Cartee, committee chair for Marketing and Outreach at First Parish Dorchester.
Jennifer Kritz, vice-president of communications for Beth Israel Lahey Health, said the appointments will be by invitation from Beth Israel Lahey Health only and will not be scheduled through the state website. The public should not show up at the church to seek a vaccine without an appointment.
"We are following Massachusetts' guidelines for vaccine distribution and will begin vaccinating our patients who meet the state's criteria for the beginning of Phase 2 (e.g. age 75 or older) on Monday, February 1," Kritz said. " Through our electronic medical records, we identified patients cared for by BILH and its affiliated providers who are 75 or older. With limited supply of vaccines available, we first reached out to eligible patients who live in communities that are disproportionately impacted by COVID-19 -- including Dorchester -- as well as all other eligible patients across Massachusetts on a randomized basis to invite them to schedule an appointment for vaccination."
Kritz added: "As vaccine supply levels increase, we will continue to invite additional eligible patients. We strongly encourage everyone who receives an invitation from us to schedule an appointment for the vaccine."
Beth Israel, which is affiliated with the nearby Bowdoin Street Health Center, is setting up extra lighting for entry and exit ways for additional safety.
"While First Parish Dorchester is worshipping remotely during the covid-19 pandemic for the safety of our congregants, we are thrilled that the Meetinghouse can be used by partners to meet critical needs in our community," said Cartee.
The news follows Gov. Charlie Baker's announcement Monday of a detailed plan to add dozens of new vaccine sites by Feb. 15, including three new mass vaccination sites. The governor directed people to the state's website where people can locate pharmacies and clinics closest to them on a map, check their eligibility and schedule an appointment.
Beginning Feb. 1, residents 75 and older will become eligible to be vaccinated for COVID-19 as the state opens the second phase of its vaccine distribution plan. Residents 65 and older have been bumped up in priority in Phase 2 and will join people with two or more high-risk conditions in the second group to become eligible in the next phase some time in February.
The number of vaccine clinics is expected to grow to 165 by mid-February, with the capacity to administer up to 305,000 doses of COVID-19 vaccine per week. That would include five of seven planned mass vaccination sites across the state, with the Double Tree Hilton Hotel in Danvers coming online Feb. 3 and the Reggie Lewis Center in Roxbury opening for vaccinations the first week of February.
For more information on other vaccine sites in the city, visit the state's website: mass.gov/CovidVaccineMap
Editor's Note: An earlier version of this article incorrectly stated that the First Parish Church appointments could be accessed through the state website. In fact, appointments are by invitation only through the Beth Israel Lahey system.