By Gintautas Dumcius, Managing Editor
September 8, 2021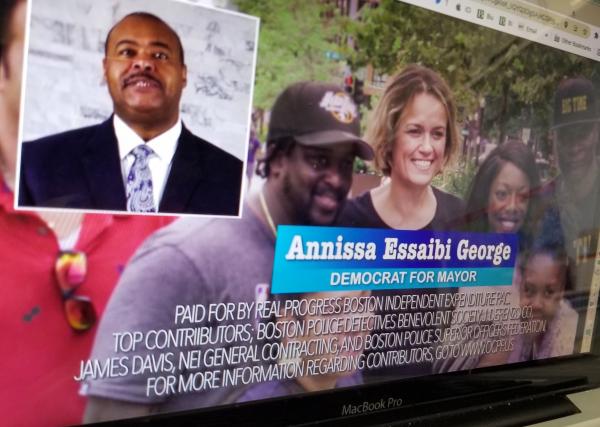 The super PAC led by former Boston police commissioner William Gross is up on TV with an ad that touts Annissa Essaibi George for mayor. The ad lists police unions and New Balance chairman James Davis among its top donors.
The "Real Progress Boston" super PAC this week jumped into a mayoral race riven by five contenders and multiple outside groups burning through millions to support their candidate and defeat rivals. The super PAC, which can raise and spend unlimited amounts of money but cannot coordinate with the campaigns they support, formed last week with Gross as its chair.
The top contributors to the Gross super PAC, according to the ad, include the Boston Police Detectives Benevolent Society; general contractor J. Derenzo Co.; Davis, chairman of the New Balance footwear company; NEI General Contracting; and the Boston Police Superior Officers Federation. Super PACs are required to list top donors in their political advertisements.
The Gross-led super PAC is one of two backing Essaibi George, a city councillor at-large and one of five major candidates for mayor. Each mayoral candidate has at least one super PAC supporting their campaign.
Gross, who considered a mayoral run earlier this year, was the first Black man to serve as Boston police commissioner. He was appointed by Mayor Marty Walsh in 2018 and abruptly announced his retirement in January.
Gross did not respond to a text sent to his cell phone seeking comment. The organizations listed in the ad also did not immediately respond to a request for comment.
"For 37 years, I worked to make our neighborhoods safer for all members of our community," he said in the ad, which shows him walking into Mike's Pastry shop. "Annissa Essaibi George grew up here and understands the challenges facing our first responders, and also understands how we can better serve our community."
The super PAC has not yet filed its fundraising and spending report with state campaign finance regulators.
Another super PAC backing Essaibi George is also advertising, though it's kept its presence to the Internet. Going by the name "Bostonians for Real Progress," the super PAC recently spent $50,000 on digital ads.
Sixteen companies tied to Elias Akiki, a Hyde Park businessman who owns a towing and auto repair company, have donated to the super PAC, as has John Foley, a financial analyst in Wellesley.
Its more recent donors include Kemon Drywall, a Quincy-based business; Salem, New Hampshire-based Marquis Management LLC;, Quincy-based Rowlandstown Plastering Inc. and South Whitney Development LLC, which is based in Brookline. Those companies have donated a total of $85,000.