By Seth Daniel, Reporter Correspondent
September 15, 2021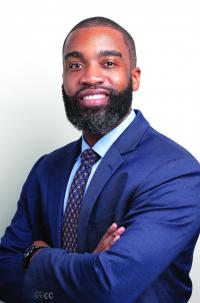 Voters in District 4 picked two men out of a field of nine candidates on Tuesday to advance to the Nov. 2 final election to replace Andrea Campbell as their city councillor.
First-time candidate Brian Worrell posted a strong showing on with 2,498 votes — or 25 percent of the vote— by an unofficial city tally. He will face off against former state Rep. Evandro Carvalho, who finished second with 1,835 votes or roughly 19 percent.
Worrell, who works in real estate, started his campaign for the seat very early – with his yard signs appearing as early as late 2020 – and he ended the first leg of that campaign on Tuesday night very late. It was 3 a.m. to be exact, he said.
"This is the neighborhood I was born in, raised in and where I've lived my entire life," he told the Reporter on Wednesday. "I have a big family here and it showed. We were always focused on relationships and meeting people and listening to their needs and ideas. That's what we want to continue to do. We're happy that (approach) turned into votes yesterday (Sept. 14)."
Like his mother and father, Cecil and Sharon Worrell, who worked multiple jobs without a break when he and his siblings were growing up, he doesn't plan on kicking his feet up until the finish line on Nov. 2.
"I'm my mother's child and both she and my dad worked two or three jobs at a time," he said. "I don't know if it's in me to take (a break). I was working late last night and went to bed at 3 a.m. That's what it's going to take. We're talking about changing issues in District 4 that have been here my entire life. I've knocked on doors and talked to people older than me and they're talking about these issues that have been here their entire lives.
He continued: "It's going to take a different level of commitment to make these changes. I want to applaud all of the candidates in the race. It's incredible the number of candidates that wanted to represent District 4. That was amazing. I hope all of the candidates stay engaged and we all work together to make the changes we were all talking about regardless of what happens on Nov. 2."
Worrell will go head-to-head on Nov. 2 against former state Rep. Carvalho, who once represented the Fifth Suffolk district in the House of Representatives. He left that post to run for Suffolk County DA in 2018.
Carvalho's supporters gathered on the patio at the Blarney Stone in Fields Corner to await results on Tuesday evening. Around 10:20 p.m., over two hours after voting closed, Carvalho arrived to a round of applause from a small group.
"You can count on me," he said, "because I have no other way of living. You are a part of my team, you are my clan, and my people."
Morgan McFarlane, Carvalho's campaign manager, said that Carvalho knocked on over 3,000 doors over the course of his campaign.
"We're excited to see what comes, but also with low [voter] turnout, we're cautiously optimistic," he said.
Added Sean Curran, who supported Carvalho's campaign: "We are really happy with Evandro's results, and it's a platform to build on," "He is focused on opportunity for this community, and that is what is going to give us fuel for the final race."
Earlier in the evening, as residents of Mattapan and Dorchester were still headed the polls to cast their votes, the Reporter spoke to voters and volunteers outside the Mildred Avenue Community Center, a triple-precinct polling location.
Vanessa Mason, 56, came to vote because of the impact candidates can have on the community — and she'll be coming back again in November.
"I believe that they can make a better community, a brighter future for our youth and a promise in education," Mason, a Mattapan resident, said.
Mohammad Liban of Dorchester came in support of Mayor Kim Janey for her work in recent months and support for hotel workers who were fired during the pandemic.
"I think she's the only one who can handle the job," Sinclair, 57, said.
Mattapan resident Angie Dickerson, 50, was canvassing for city council candidate Leonard Lee. She said she has seen his work in the community for more than 35 and he has been a mentor for her throughout her life.
"He's the candidate that picks up the phone and makes noise and gets results," she said. "His goal is … paying it forward."
Nick Vance, candidate for city council at large, stood outside of the community center to engage with voters. He said his platform has focused on a lot of key issues the city is facing and making sure he is visible and available for the community.
"We really need to come together to fight some key issues," he said. "We're all on the same page but it's really about bringing all of these camps together. "
Above, Linette Carvalho campaigned for District 7 candidate Tania Fernandes Anderson at the Kroc Center polling place near Upham's Corner Tuesday morning. District 7 featured an empty seat and a plethora of candidates vying for the November ballot.
In the contest to replace Kim Janey as councillor in District 7, Tania Fernandes Anderson was the top vote getter in a field of eight candidates. She won 2,014 votes— or 27 percent of the total vote, according to unofficial city results. Anderson will face off against Roy Owens Sr., who earned 17 percent of the vote.
Grace Mayer and Colbi Edmonds contributed to this report.
COUNCILLOR for DISTRICT 4 (Vote for 1)
DISTRICT 4: Precincts reported: 32 of 32 100.00%
Ballots: 10,614
Undervotes: 741
Overvotes: 48
Double Votes: 0
JOSETTE K WILLIAMS 1,171 11.92%
TROY A SMITH 423 4.31%
JOEL G RICHARDS 1,315 13.38%
DEEQO M JIBRIL 455 4.63%
JACOB JALEEL URENA 183 1.86%
WILLIAM EDWARD DICKERSON III 947 9.64%
BRIAN J WORRELL 2,498 25.42%
EVANDRO C CARVALHO 1,835 18.68%
LEONARD LEE SR 974 9.91%
Write-in 24 0.24%
Total 9,825 100.00%