By Gintautas Dumcius, Managing Editor
February 7, 2022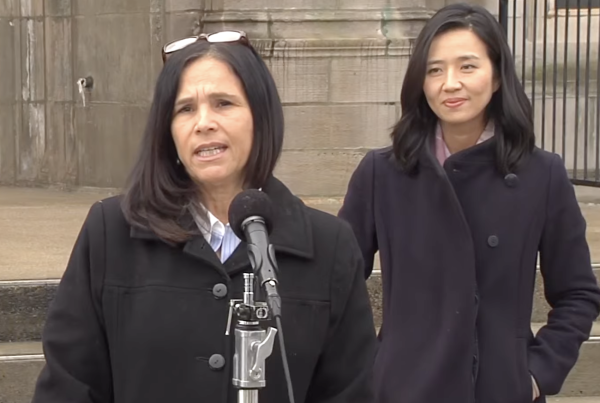 The search for a new Boston Public Schools superintendent – the fifth in the last 10 years – will get underway formally at next week's School Committee meeting as Dr. Brenda Cassellius, who took the job in 2019, readies to step down by the end of the school year in June.
With the search for a permanent police commissioner ongoing, Cassellius's leave-taking opens up another top job for first-year Mayor Michelle Wu to fill.
Wu called Cassellius's impending departure a "mutual decision" reached after "careful deliberation" between her, Cassellius, and Jeri Robinson, chair of the Boston School Committee.
At a Tuesday morning press conference outside Brighton High School, Wu acknowledged additional open cabinet posts, including chief of planning to reform the Boston Planning and Development Agency, chief of human services, chief information officer, and chief of the climate change office.
Robinson, the school committee chair who lives in Dorchester and served as a Boston Children's Museum vice president, said the Feb. 15 meeting of the committee will offer additional insight into the search for a new superintendent.
"We look forward to beginning this process," she said at the press conference. For her part, Wu said, "We need someone who can truly hit the ground running immediately."
Cassellius used the press conference to offer some insight into what moved to her to leave the $311,000-a-year post. "Nobody could've anticipated a pandemic and three mayoral changes and just an incredible amount of headwind," she told reporters.
After being hired by Mayor Marty Walsh, she saw her contract renewed for two years in June under Acting Mayor Kim Janey. She is now set to depart months after Wu won the November mayoral election.
Asked if she was pushed out, Cassellius said, "Nothing's pushing me out of the door. I'm still here for five months."
Another reporter turned to Wu and asked if she had asked Cassellius to leave. "No," Wu said, adding that Cassellius led the district through three of the most challenging years "we have ever seen in Boston."
The mayor called the Boston Public Schools an "incredible district" and an "incredible place to build a career." It's not a silo, she added, saying the next superintendent will partner with the city's various sectors and members of her cabinet.  "This is not about creating the expectation that any amazing individual is going to step in and save the world."
Wu stressed that the School Committee will be handling the search. "For my part, we are ready and are starting from a very strong place to launch this transition process."
Added Robinson: "It will be a community process."
In a Monday morning message to parents announcing Cassellius's departure, Wu said she is focused on early childhood education expansion, "reimagining" Boston schools to "advance learning," and "ensuring excellence across the district," including the high schools. The next superintendent will also face the task of reversing a decline in student enrollment.
Casssellius came to Boston after holding education leadership jobs in Tennessee and Minnesota, where she served as commissioner of education.
In her own message to parents, Cassellius wrote that she remains "fully committed to BPS until it is time to pass the baton" in June.
Referring to her tenure, Cassellius said, "It is nothing short of remarkable that in the midst of it all we also developed a community-wide vision for equitable and excellent schools in every neighborhood of Boston; made historic steps forward in expanding access to our nation-leading exam schools; implemented a rigorous set of high graduation standards for every high school in the district with adoption of the MassCore; and put in place more just and transparent attendance, code of conduct, student privacy, and grading policies."
The timeline for Cassellius's departure means there won't be an interim superintendent.
After Dr. Carol Johnson, who served between 2007 and 2012 under Mayor Thomas Menino, John McDonough served as interim superintendent before Mayor Walsh tapped Dr. Tommy Chang of Los Angeles. Laura Perille then served as interim before Walsh hired Cassellius in 2019.