By Reporter Staff
May 31, 2023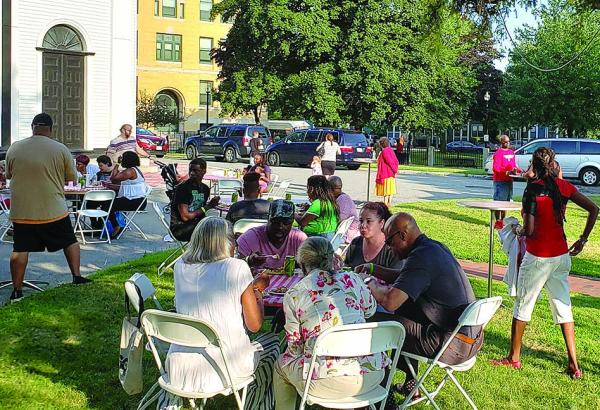 The Caribbean Jerk Festival will return to the grounds of Second Church in Codman Square this Saturday (June 3) for the fifth installment of the popular eating extravaganza.
Codman Square Neighborhood Development Corporation (CSNDC) will present the festival from 1 p.m. to 5 p.m., with a rain date of Sat., June 10. This year's event will feature award- winning restaurants exclusively from Dorchester, including Murl's Kitchen, Taste of Eden, Irie Jamaican Style Restaurants, Island Style Jamaican Restaurant, and Blue Mountain Jamaican Restaurant.
Guests are encouraged to sample delicious tantalizing jerked chicken, tender oxtail, sweet plantains, vegetarian options, and more delicious flavors from the Caribbean.
There will be music from Branches Steel Drum Orchestra and the electric mixing of DJ KEEF. Admission to the festival is free and open to all. Food tickets to sample food from participating restaurants can be purchased ahead of time or on the day of event. Tickets are $25 for adults (five sampler plates) and $10 for kids (three sampler bowls).
"The Jerk Festival celebrates community members throughout Dorchester who make Codman Square a great place to live, work, play, and shop," said Gail Latimore, executive director at CSNDC. "There has been a lot of excitement to bringing the Jerk Festival back."
There will also be a variety of free kid's activities and lawn games. Visitors can shop with local Caribbean vendors and are invited to patronize participating brick and mortar businesses in the district that will be offering exclusive promotions that day and during the week following.
The Codman Square Caribbean Jerk Festival is sponsored by the Second Church of Dorchester, Neighborworks America, Rodney Realty, Thumbprint Realty, Rockland Trust, the United Way, and Mass Cultural Council.