By US Sen. Ed Markey and EPA Administrator Michael Regan
September 14, 2023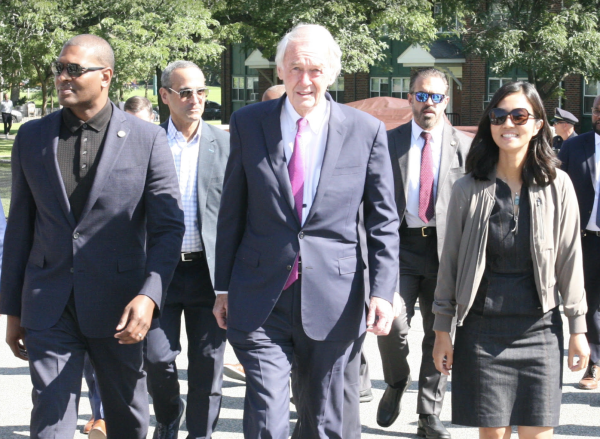 It has been one year since President Biden and Democrats in Congress passed historic clean energy and climate justice legislation that has the power to reshape the future of our nation—from our environment to our economy. As part of the Biden-Harris Administration's Investing in America tour, we are here in Massachusetts—a national leader in the fight for climate justice and a source of boundless green innovation—to bring home the promise of the Inflation Reduction Act and show what this legislation can mean for communities across our Commonwealth, if we are prepared to take advantage of it.
The Inflation Reduction Act is projected to save American families up to $38 billion on their electricity bills through 2030, but it's so much more than that – it's a jobs act, it's a manufacturing act, it's a health care act, it's an environmental justice act, and most of all, it's an act of hope for a livable future for communities, from Lawrence to Lahaina, who are suffering from the devastation wrought by the climate crisis.
Right now, we are working in partnership to deploy the dollars in this legislation to the underserved and overburdened communities who need it most. The Environmental Protection Agency's Greenhouse Gas Reduction Fund, a first-of-its-kind national clean financing network, is based on Sen. Markey's National Climate Bank Act. We fought to include $20 billion for this climate financing provision in this legislation, because that funding will jumpstart efforts to deploy climate solutions in communities across the country—solutions that will forge the future of our nation's economy and safeguard the safety of our planet. This national clean financing network, grown out of our decades-long fight for a national climate bank, will support new union jobs, create climate-resilient communities, and deliver affordable clean technologies in sectors from energy to transportation.
We toured Franklin Field, a public housing complex in Dorchester that is already investing in upgrades that will deliver better air, cheaper bills, and lower emissions, and sharing how clean financing can change lives. America's clean future will be built much closer to home than some might think—in fact, much of that future will be built inside our homes. By getting appliances that don't depend on fossil fuels and upgrades to improve air quality, residents of Franklin Field will see lower energy costs, breathe more easily, and have housing units that are more resilient in the face of extreme weather.
It's not just at Franklin Field. Across the nation, families have taken advantage of local climate banks to weatherize their home against the freezing cold or install rooftop solar panels, resulting in hundreds of dollars a year in savings on their utility bills, as well as to replace damage caused by extreme weather.
As a result of the historic funding included in the Inflation Reduction Act, Massachusetts – under the Healey-Driscoll administration – has an opportunity to explore the ways that climate bank funding can benefit our communities, from the governor's office to local nonprofits.
The application periods are currently open for the National Clean Investment Fund and the Clean Communities Investment Accelerator competitions, which together make up the $20 billion national clean financing network. Just as the National Climate Bank Act aimed to do, this network will leverage an initial infusion of public funding to bring potentially hundreds of billions in private capital off the sidelines. These unprecedented resources will invest in clean technology projects that will improve people's lives, protect public health, and tackle the climate crisis, an incredible opportunity to bring new capital to the fight against climate change, especially in low-income communities that have been historically locked out of clean investments. When President Biden talks about investing in America, this is exactly what he means.
The national clean financing network will reduce energy bills, reduce our climate footprint, and reduce the cost to homeowners, municipalities, non-profits, and community lenders who want to make smart, sustainable investments in our future. From its start in climate bank legislation to its eventual passage in the Inflation Reduction Act, the EPA's Greenhouse Gas Reduction Fund is a climate solution that communities can bank on.