Little Miss winners represent Dot with confidence, poise
By
Elizabeth Murray, Special to the Reporter
May. 31, 2012
Young Miss Dorchester 2012 MyChalia Sanfilippo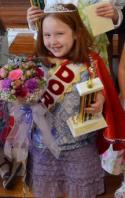 Little Miss Dorchester Delia O'TooleIn a competition of confidence, girls from all over Dorchester turn out each year before Dorchester Day in hopes of being crowned Little Miss Dorchester or Young Miss Dorchester.
Out of the 30 girls who competed on May 5 for the coveted titles, Delia O'Toole, 7, of Cedar Grove and MyChalia Sanfilippo, 12, of Ashmont, were crowned Little Miss Dorchester and Young Miss Dorchester, respectively.
This traditional competition is by no means a beauty pageant, coordinator Annissa George said. Each contestant must write a small speech and either read or recite it in front of the audience. The judges look at stage presence, confidence, and the contestants' responses to questions during the question-and-answer portion, George said.
"Some people are under the presumption that it's cuteness and who's the most dressed up and who's sort of the sweetest girl on stage," she said. "We had one girl a few years ago who came from a soccer game and just came in her uniform, and I thought that was awesome because that really represented who she was. It's not Toddlers in Tiaras."
The judges, community members who are not allowed to be affiliated with the contestants, deliberate in private at the end of the competition. The winner of the Little Miss Dorchester category, which features girls ages seven to nine, receives a bicycle and helmet donated by State Rep. Marty Walsh.
In the Young Miss Dorchester category, featuring girls ages 10 to 12, winners receive an iPod nano donated by Murphy Funeral Home. Both winners also receive a tiara and a sash, and in the case of Little Miss Dorchester, a cape with the names of past winners embroidered on the inside. None of the contestants leave empty-handed, however, as local businesses donate items to be handed out at the end of the contest.
The most rewarding thing for George, she said, is seeing some of the same girls return and grow up year after year.
"I think it attests to how much fun they have and they enjoy the contest," George said. "How many opportunities do young kids get to speak on stage with a response that they've developed and alone? Most adults couldn't do it."
Little Miss Dorchester winner Delia O'Toole is a first grader at Neighborhood House Charter School. She enjoys Irish step dancing, playing softball for Cedar Grove' Baseball's T-Ball, and reading.
Delia's father Stephen O'Toole said Delia was so excited about the Little Miss Dorchester competition that she immediately started picking out outfits and practicing her speech for the big event. At the competition, Delia had to read a speech she prepared answering the question "What is your favorite place in Dorchester?" Delia explained that her favorite area in Dorchester is the Cedar Grove Cemetery, right across the street from her house, where she rides her bike and takes long walks with her family.
She said she especially enjoyed Memorial Day when a parade goes through the cemetery, and she likes that she gets to spend that day with her family and friends. Delia's father said the victory came as a total surprise to her.
"She didn't take that cape or crown off for the whole weekend at all," he said.
O'Toole added that the competition is not a beauty pageant in the least, and it really instilled confidence in Delia.
"She walks down the street now and then, and when someone congratulates her, her face lights up," he said.
Young Miss Dorchester winner MyChalia Sanfilippo is a sixth grader at Richard J. Murphy School. She enjoys reading, gymnastics and playing volleyball. MyChalia has been doing the contest every year she has been eligible.
"I think it's just really fun to do," MyChalia said. "I was really determined on winning."
Her mother Amy Sanfilippo said MyChalia was a little nervous she would not win because this was her last year of eligibility. She was extremely excited when she was crowned in the end.
In her speech, which answered the question, "What ways can young people improve our community and celebrate the true spirit of Dorchester?", MyChalia spoke about recycling and "having a nice attitude toward other people."
"To answer the question, I looked up the meaning of spirit so that I could get a better understanding on how to answer the question," MyChalia said. "It was much easier to think about."
Tags: