Essay contest asks students: What's your advice for Mayor Walsh?
By Bill Forry
Mar. 12, 2014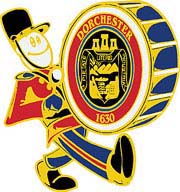 Dot Day Parade set for June 1, 2014: Essay contest deadline is March 20The Dorchester Reporter is once again pleased to sponsor this year's Dorchester Day Parade Committee Essay Contest. The contest is open to students in grades 6-8 who live in Dorchester or attend a Dorchester school. The deadline for the contest is March 20. Two prizes will be awarded to the two best entries.
This year's topic relates to the historic election of Mayor Martin J. Walsh: "Please write an essay that gives the Mayor your advice on how to make Dorchester a better place for young people to live, learn and play. Please give at least three specific action steps that Mayor Walsh should take to make life better in your neighborhood."
The essays must be between 500-600 words in length. For full instructions— and to download a registration form— go to the website: dotdayparade.com.
The two prizes — $200 and $100 gift cards —will be awarded during the annual Dorchester Day Meatloaf Dinner at the First Parish Church on March 27 at 6:30 p.m. The winners will also be invited to take part in the 2014 Dorchester Day Parade— which will take place on Sunday, June 1.
-Bill Forry
Tags: