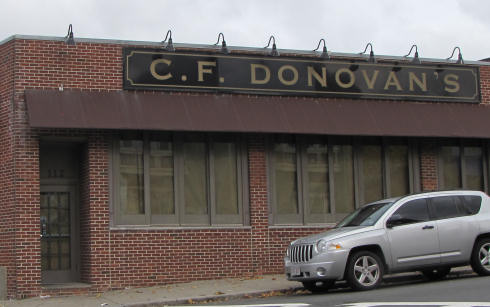 C.F. Donovan's: Shuttered today
C.F. Donovan's, the popular Dorchester neighborhood restaurant and bar on Savin Hill Ave. across from the T station, was shuttered this morning and appears closed.
At lunchtime, all the doors are locked, and all the windows were covered with brown paper. A neighbor reports visiting the buiilding and seeing two small trucks backed up to a rear door off the kitchen. Three workers were seen moving what appeared to be kitchen equipment onto the trucks. Phone calls to the business went unanswered, and owner Arthur Donovan could not be reached for comment.
The Hyde Park Bulletin recently reported that Donovan was in default on $300,000 in loans from the Boston Redevelopment Authority for a branch location in Hyde Park that was planned to open for business in 2007, but was never completed.