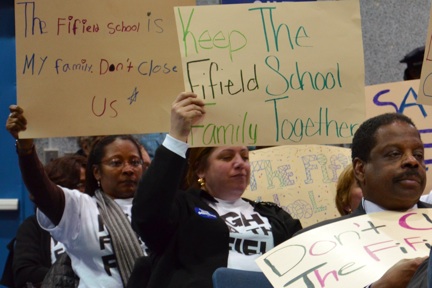 Fifield Parents Object to Closing: BPS Superintendent Carol Johnson's plan to close the school prompted these signs of protest at a Wednesday meeting in Jamaica Plain. Photo by Chris LovettThe scene on Tuesday night in Fifield Elementary's Room 204 was familiar: Emotional parents and staffers, some 30 in all, wearing "Fight for the Fifield" t-shirts and surrounded by pictures of the solar system and the animal kingdom sitting intently as Boston Public School officials clicked through a PowerPoint presentation explaining why they had proposed the closing of the Codman Square school.
"You all can't close the school," said Denise Ormsby, the mother of a ten-year-old student, before tearing up and pointing to the several pages of signatures she had gathered in support of keeping the school open. "They care," she said later. "Teachers, they work with the children, they work with the parents. It's a family. They care here. And we need more schools like that."
That scene had played out earlier this fall concerning proposals for the Clap Elementary School and at the Lee Academy Pilot School. The latest department proposals, tweaked from earlier versions and released to the public at a meeting of the school committee in Jamaica Plain last week, will have the Clap staying open as an "innovation school" while Lee Academy will still merge with the Lee Elementary School, which is in the same building.
And schools like the Fifield and Middle School Academy have been added to the closing list as part of a district-wide plan to cut costs and offer a "stronger" academic plan, school officials say.
The plans for fall 2011, up for a vote by the Boston School Committee on Dec. 15, come as the district faces a $63 million budget deficit in the next fiscal year and 5,600 empty seats across the school system amid a competitive education market that includes charter schools.
"There is no joy in closing schools," Superintendent Carol Johnson said. "No joy. Our hands are tied, though."
Schools in Roxbury, East Boston, Mission Hill, Jamaica Plain, Hyde Park, and South Boston are also slated for closures or mergers, under Johnson's plan. A total of nine school buildings would be closed and four schools would be merged.
The expanded list of school closures is based on parents choosing schools and the conditions of the buildings; this on top of the student performance issues that officials primarily focused on in the original list of possible school closures.
"We used a broader set of criteria than we did the first round," said Johnson, who is hoping to wring out savings through reforms to the teacher contract and new student assignment zones that will be developed in the spring and aimed at tackling transportation costs, which figure to about $70 million a year, or $300,000 every school day.
Plans for Dorchester's East Zone Learning Center are unchanged with Johnson expected to continue to propose the school's closure. School officials say the East Zone school, originally the central kitchen for the entire school system, was never meant to be a long-term early learning center for children.
The McLellan Street building of Middle School Academy, which has fewer than 10 students, will be closed and the students will be moved to the new UP Academy in South Boston, an in-district charter middle school serving grades 6 through 8. UP Academy is being created through the closing of the Gavin Middle School.
Officials are continuing to push a merger between the Lee Academy Pilot School and the Lee Elementary School. Lee Academy will be a school that covers K-0 through first grade and remain a pilot institution. Lee Elementary, which is in the same building and is currently a kindergarten through fifth grade school, will include grades two through eight.
Wearing a "Fight for the Fifield" t-shirt under his tan suit, the principal, Norman Townsend, said he is hoping for a delay to allow teachers and staffers to absorb the news and propose potential alternatives. "I was surprised because I just got here," he said, noting that he had been there several months.
"I'm still reeling from the other proposals," said City Councillor Charles Yancey. At other meetings, City Councillor At-Large Felix Arroyo and City Council President Michael Ross, who represents Mission Hill, have also expressed concern about the timeline between the announcement of plans for more school closures and the expected Dec. 15 vote.
Together, the closures and mergers are expected to save $10.6 million, according to school department officials. The closure of Fifield alone would save $1.08 million, according to a Boston Public Schools presentation.
Parents at Lee Academy say merging their school would not bring about the savings that the department anticipates, citing little communication between them and the department and decrying the decision to put the two schools under one principal.
"They're forcing us to the Joseph Lee [Elementary]," said Lower Mills resident Ann Walsh, one of the parents lobbying to keep the pilot school separate. The parents have asked for time to come up with their own alternative models for the school and have submitted proposals to the school department.
Johnson maintains there will savings from cutting administrative costs. "I think that whenever we've talked to parents, whether they're talking about central office or whether they're talking about schools, they're more interested in making sure we have field trips and technology and arts and music programs than they are whether we have another administrator," she said. "While I know that they're concerned about sharing an administrator, we have a number of schools that share an administrator."
She said the department is reviewing the parents' proposals, but added, "We're very committed to creating a K-8 program at the Lee building, and that's because the Lee Elementary parents have been asking for that for several years; it's a theme we've heard from many communities."
Separately, under Johnson's latest plan, the Clap would become an "innovation school," operating similarly to a charter school and providing more administrative flexibility at traditional public schools. It would be the first such school in Boston.
Johnson said she reversed course on her recommendation because of the meetings with parents, the "sizable" number of students who walk to school and the school's diversity. "It is one of our more integrated environments and we want to make sure we continue to support having diverse populations of students in the same school," Johnson said. And I think that we believe it has the capacity to educate all children."
Johnson's plans also include expansions at Dorchester's Holland Elementary, Trotter Elementary, and King K-8 schools.
Dorchester Academy, located at the Dorchester Education Complex, will move to the building that currently houses grades 6 through 9 of Tech Boston Academy, while TechBoston will become a Grade 6-12 program at Dorchester Education Complex.
The parents at the meeting last week at English High included grateful parents from the Clap, among them Sandy Moran, who works as a lunch mother at the Clap. "I didn't believe it," she said, on learning via a text from another mother that Johnson was proposing to keep the school open.