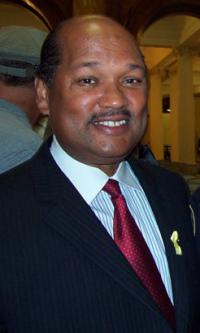 City Councillor Charles Yancey renewed his push for a high school in Mattapan at a well-attended hearing Tuesday night in the room in the Mattapan branch of the Boston Public Library named after his mother.
"I know I sound like a broken record even to my constituents, but our children deserve and need this school," Yancey told an audience that had dwindled from 75 attendees to about 40 people by the end of the three-hour hearing. "Our first-class students deserve a first-class school."
The hearing was the latest step in Yancey's quest to build the city's first new public high school in 35 years, and Mattapan's first ever. The 14-term councillor was careful to note that while the school would be located in Mattapan, it would serve the entire city of Boston.
More than 45 members of the community signed up to testify in support of the high school, although only about half made it to the podium to speak. At-Large City Councillor Ayanna Pressley, District 7 Councillor Tito Jackson, District 9 Councillor Mark Ciommo, and District 5 Councillor Tim McCarthy attended the hearing. Yancey told the Reporter that the other councillors' absence "doesn't mean that they won't support this."
Pressley and Jackson said they would continue to support the high school and McCarthy recounted how "no more than 10 minutes after I was elected, Councillor Yancey called me up and asked if I had heard about the high school in Mattapan he wanted to build."
The loan order was brought before the council on Wednesday only to have the matter sent to committee, which effectively tabled the proposal. Councillor Frank Baker, who represents Dorchester, said he wanted to see the city's district-wide BPS facilities study, currently in process, according to Interim Superintendent John McDonough. McDonough said at Tuesday's hearing that the study, ordered by Mayor Martin Walsh earlier this year, would take 18 months to complete once it begins.
In January of this year, Yancey filed a $120 million loan order with the City Council to finance the building of a state-of-the-art high school on the former Boston State Hospital grounds between Harvard and Walk Hill streets in Mattapan. The "21st century school" would accommodate 1,250 students and feature a large library, cafeteria, and gymnasium, green architecture, an Olympic-sized swimming pool, the latest technology, along with zoning for community use.
Siting a high school in Mattapan has long been a Yancey crusade. In 2000, he managed to get a unanimous vote from the council approving a loan order for a school to be built there only to have Mayor Thomas Menino veto the proposal. "It's been difficult ever since to get the critical mass on the city council to make this pass," Yancey said.
Every community member who testified spoke in support of the Yancey proposal. Speakers included the head of the Boston Teachers Union, a number of former BPS teachers and administrators, Cynthia Lewis of Mattapan United, and radio host and former mayoral candidate Charles Clemons. And a letter of support from the Boston's NAACP chapter was put into the record.
A handful of people called out Mayor Martin Walsh for not attending the hearing. "Where is our mayor here?" asked Curt Rollins, a Dorchester resident. "Where was he? When he was out here trying to get our vote, he promised the world. Where is he now?"Walsh was not invited to attend or testify at the hearing, according to his spokesperson, Kate Norton. The proposed loan order requires two readings in front of the City Council before being signed or vetoed by the mayor.
One community member, Rudy Cabral, used a comparison to make the case that the city should assess its priorities when considering funding a new school in Mattapan. "If you guys go forward with the Olympics and you can't build a high school," he said, "that's terrible."