By Jennifer Smith, News Editor
December 9, 2017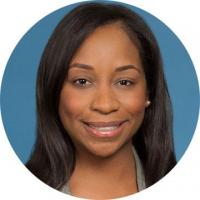 District 4 City Councillor Andrea Campbell announced last Saturday that she has secured the support of all of her colleagues to be the next president of the Boston City Council.
When her fellow councillors vote her into the presidency in January, Campbell will take up the post in her sophomore term, becoming the second ever woman of color —after outgoing Council President Michelle Wu — and the first African-American woman to hold the post for this legislative body, which was established in 1909.
"I am humbled and honored to serve as the next council president," Campbell said in a phone call with the Reporter, "and extremely grateful to have the support of all my colleagues."
Speculation over a new president started swirling in mid-November, as Wu's two-year term was inching to a close. Campbell's was an early name in contention and she said the other councillors coalesced around her on Saturday.
The presidency was an open question after the November election, which ushered in three new councillors and brought the number of women of color on the council to six, up from a previously historic four. With the re-election of District 4 Councillor Campbell; at-large Councillors Wu, Ayanna Pressley, and Annissa Essaibi-George; and the addition of newcomers Kim Janey and Lydia Edwards, the council took a big step toward reflecting the demographically diverse city its members represent.
"As the first African-American woman to serve in this role, I am especially humbled and proud to lead the most diverse Council in this body's history, with a historic six women of color," Campbell wrote in a statement. "The progress we've made would not be possible without the commitment every member of this body has shown to achieving justice, providing equitable services in our diverse communities, and increasing opportunity for all our residents."
Pressley, elected in 2009 as the first woman of color on the council, has seen the council transform, gaining diversity and engaged new representatives over the past eight years.
"Councilor Campbell has been a tremendous partner with me in advancing the causes of access to early education and care, an equitable trauma response protocol, and reforming school discipline policies to eliminate the school to prison pipeline," Pressley said in a statement. "I am excited to see her elevated as the first African-American woman to be City Council President, and even more excited to see the critical oft-ignored issues we've partnered on, elevated."
Campbell, 35, swept into office in 2015 after unseating 32-year incumbent Charles Yancey to represent District 4. The Boston born-and-raised councillor lives with her family in Mattapan, serving a district covering broad swaths of Dorchester and Mattapan, as well as parts of Roslindale and Jamaica Plain.
A stalwart advocate for equity in criminal justice and neighborhood investment, she chairs the council's Public Safety and Criminal Justice committee.
In a statement on Saturday, Mayor Martin Walsh said, "Andrea is a tireless advocate for her constituents and for Boston, and I congratulate her on becoming City Council president. As a smart, passionate, leader, Andrea will continue to propel Boston forward, and I look forward to working with her and the City Council."
City Council presidents hold a largely symbolic role as the heads of the 13-member body, although duties include presiding over council meetings, overseeing administrative duties and coordinating facilities projects. But there are perks, like a bigger office budget with more staff and final say over council committee and office assignments. And, in the event that a mayor cannot serve or leaves office before the term is up, the council president becomes acting mayor.
The new council will be sworn in on Mon., Jan. 1, at 10 a.m. at the Cutler Majestic Theatre, where Walsh will be sworn in for his second term. Council members take the vote for their new president at their first meeting later that day.
Campbell thanked Wu for her "tremendous leadership" over the past two years.
"I am thrilled," Wu said in a phone interview Saturday afternoon. "She is going to make a great leader for the council. In just her first term she has proven herself to be someone who understands the issues and has done the work through her committee of thinking about how to incorporate residents and communities into the city."
The job can be challenging, Wu said, and working to leverage each councillor's skills, interests, and expertise bolsters the work of the body as a whole.
"When we're all working together, we get more done for our constituents," she said, "so it's really worth the time to understand each councillor's priorities and how it aligns with what other colleagues want to do."
Campbell says she will focus on bringing constituent support to the city through her role, prioritizing innovating tools and new technologies with the council and continuing to seek increases in transparency.
"There is still much work to be done," she said. "I look forward to supporting the goals of each of my colleagues and ensuring we do it with transparency, accessibility, and equity at the forefront."