By Jennifer Smith, Reporter Staff
May 25, 2017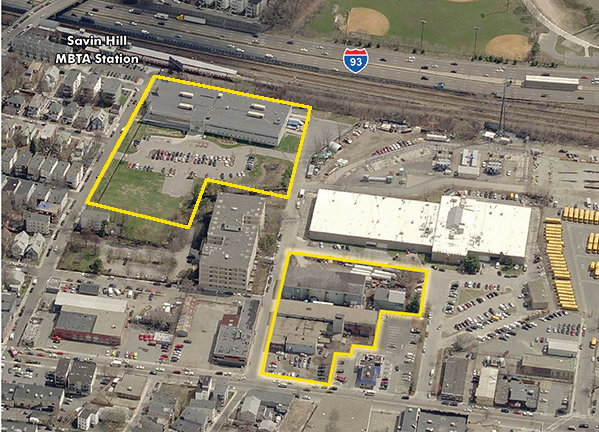 Hong Kong billionaire Gerald Chan has purchased another sizeable chunk of property in Dorchester, acquiring the Spire Printing Company site last Friday, according to city records.
Gadoni LLC, an arm of Chan's Morningside Group, closed on a $17 million deal for the 4.7-acre Spire Printing Company site, just south of Savin Hill station.
The property joins other Chan holdings in the area, including the 2-acre Russell Engineering property on Dewar Street, and parcels on Dorchester Avenue, Pleasant Street, and Hancock Street intended for the 362-unit mixed-use Dot Block site.
The Dot Block project has been approved by city planners and is moving toward permitting, a spokeswoman told the Reporter. City officials say neither Chan nor the Morningside Group have been in contact with any vision for the nearly-adjacent Russell and Spire sites.
Representatives from the Morningside Group did not respond to Reporter request for comment.
Chan is a substantial behind-the-scenes force in Greater Boston real estate. Following a large donation to his alma mater, now named the Harvard T.H. Chan School of Public Health, Chan set down investments in the area around Harvard Square — amounting to roughly $120 million in commercial property acquisitions.
His expansion into Dorchester comes as the Boston Planning and Development Agency (BPDA) begins a planning study for the Glover's Corner area in earnest. All three of Chan's investments are within the planning radius.
Studies in South Boston and Jamaica Plain led to zoning recommendations encouraging more housing, in line with the city's goal to add 53,000 units by 2030. Chan's new industrial purchases, located so near a critical transit hub, stand to benefit from any new approvals for mixed-used transit-oriented development.
Lara Mérida, BPDA deputy director for community planning, said that though Chan "does have a good amount of ownership in the area, there's still quite a variety of stakeholders."
Spire, a graphic design and printing company, has occupied the 65 Bay Street property since 2002. The company later purchased the site from Dorchester Bay Economic Development Corporation in 2013 for $7.1 million. Dorchester Bay bought the then-abandoned five-acre site in Savin Hill in 1990. At the time it was one of the most prominent "brownfields" in Dorchester, the former home of Boston Insulated Wire and Cable. The community development corporation spent $14.5 million to clean up the property and restore it to commercial use.
Neither Chan nor his representatives have filed any plans with the BPDA nor reached out to local community groups. Chan rarely speaks publicly and his holding companies maintain a similar radio silence about their dealings.
Mérida of the BPDA said, "We usually see a good amount of the companies and owners of the land come to the meetings. We'll definitely be reaching out to them via emails, making sure they're on all of our contact lists, seeing all our materials."
The city makes "a concerted effort" to bring in any stakeholders into the process, she noted. The planning discussions already underway with the immediate community will move forward even without direct input from all landowners, she said.