By Clara Hudson, Special to the Reporter
January 12, 2017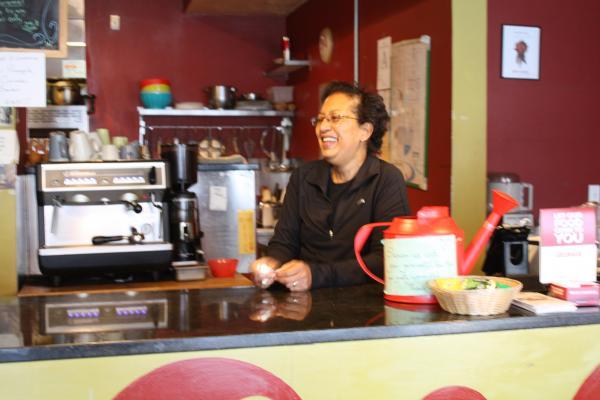 Karen Henry-Garrett's soulful Dot2Dot Cafe has been running for nine years as a bright spot at 1739 Dorchester Ave. It not only serves excellent homemade food, but is a hub of community initiatives that include art, music, and books.
With the building that houses the café now on the market, the business faces a race for time as Henry-Garrett, a Cordon Bleu-trained chef from London, looks to buy the building and secure her location over the next month.
"We don't want to see this place turned into condos," like so many of Dorchester's properties, Henry-Garrett said one patron told her.
She agrees. "It would be a shame if this became a soulless part of Dorchester Avenue," she said.
Henry-Garrett recently launched a Go Fund Me account to raise the money to purchase the building. Her request, entitled 'A permanent home for Dot 2 Dot Cafe' reads: "Dorchester often gets a bad reputation for gun violence, drug abuse and only ever seems to hit the news when the story is negative." She added, "I could see no reason why we shouldn't have just as much choice on our doorstep as, say, Jamaica Plain or South Boston, the 'trendier' parts of Boston."
Although she could end up leasing from a new owner, Henry-Garrett believes this might be her only opportunity to own the building and secure a permanent spot. The cafe needs between $50,000 and $60,000 for the 20 percent down-payment on the space that Henry-Garrett is currently renting. Since Jan. 5, the account has raised just under $2,000.
When Dot2Dot opened in May 2008, Henry-Garrett knew no one in Dorchester.
"It took a long time to win over the neighborhood, like the people who have been here for twenty years," she said. But with homemade bread, exotic juices from pomegranate to mango, "perfect pancakes" and "vegan victuals," she's now the good-humored home cook of Dorchester's diverse extended family.
Everyone feels comfortable under this roof, she said, with her clientele ranging from the Vietnamese, Irish, and West Indian communities.
"People just jump in," she said. "Even recently, if we're slammed people just get up from their table and help," she said, noting a local professor that used to lend a hand — even washing dishes. "It's got that feel to it, people feel invested" she added, mentioning the children that she's watched grow up as they've come into the cafe over the years.
The cafe is known for more than just its breakfast food, as regular performances by actors, authors and musicians keep Dorchester Avenue vibrant. Henry-Garrett allows artists to hang up their work for free — "they get a wall, we get art" — and offers a free performance space for musicians and actors who need a platform. Next Friday— Inauguration Day— the café and On the Dot books will host an event with legendary Boston civil rights leader Mel King, who will read from his book "Chains of Change."
"We've done everything: open mics, art openings, theatrical events, and we have a knitting group. We have a permanent home here, and I think people would like to know that it wasn't going anywhere," she said.
In contrast to the hoards of folk or country nights held in Boston, Dot2Dot recently hosted a soul night — dubbed "Soulstice Open Mic." Performances like these allow Henry-Garrett to get more creative with the food she serves and also get friends, family and neighbors involved.
"It's local — very local," she said.
A Caribbean night is planned for Friday, Feb. 3 at 7 p.m., featuring Charleston Sarjeant playing the steel pan.