By Jennifer Smith, News Editor
December 28, 2017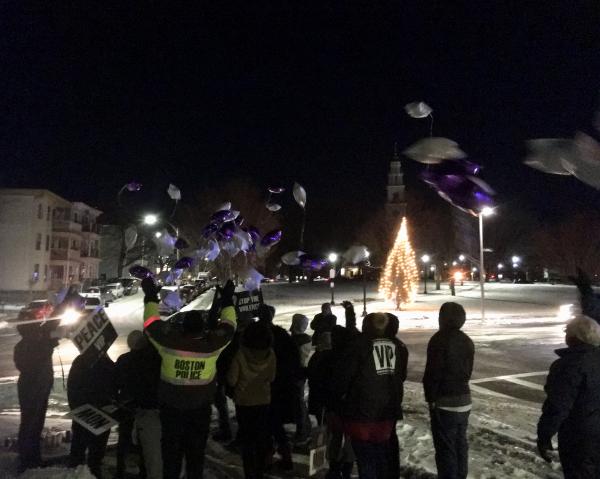 Violence and its related traumas remain a daily reality for many Bostonians, with several dozen fatal shootings every year. On the whole, police note that the most serious crimes are on the decline, but areas like Dorchester, Mattapan, and Roxbury continue to bear the brunt of homicides and serious assaults, bringing community members out in force on peace walks to encourage everyone to play a role in making their villages safer spaces.
Overall Part One crime – homicides, rapes, robberies, aggravated assaults, burglaries, larcenies, and automobile thefts – was down six percent between Jan. 1 and Dec. 25 this year compared to the year before. The most dramatic drop was by 21 percent in Jamaica Plain's district E-13, and the highest jumps at 10 percent in A-15, Charlestown, and C-6, which includes South Boston and some of the northern edge of Dorchester like Columbia Point and the Polish Triangle into Newmarket.
The year was marked by 56 murders through Dec. 25, up from 47 the year before and well up from the 15-year low of 39 homicides in 2015.
Listen to the story on NPR's Morning Edition through WBUR
Although Dorchester and Mattapan sprawl across the police district boundaries, the predominantly Dorchester C-11, Roxbury B-2, and half Mattapan, half Dorchester B-3 offer a sample of crime patterns across the neighborhoods. According to the department's yearly crime review, districts B-2 and C-11 both saw jumps in homicides: 17 from 14 and 15 from 10, respectively. Areas B and C together accounted for 48 of the year's 56 homicides by Christmas.
Community health and safety advocates braved harsh cold for a Bowdoin Geneva Community Healing Walk on Wednesday evening, to "pay homage to those we have lost through the city in 2017."
"We have to stop the cycle of violence," said Marcus Lewis, who lead the dozen or so marchers on a half mile walk along Bowdoin Street. "Even though it's cold, our loved ones are lying in cold grounds before their times. So we need to make sure our community respects and loves our youths, our families, our home, to make sure this circle of violence stops."
The number of homicides is heavily outweighed by the other Part One crimes. The Charlestown district A-15 saw no murders in 2017, though the overall crime rose by the same percentage as the South Boston/Dorchester district C-6, which counted six homicides up from one the year before.
C-11 commander Captain Tim Connolly notes his district saw a 9 percent drop overall, even as homicides rose by five.
"Even one life is too many," Connolly said on the march. As to his outlook, "I'm confident that as a police department, the Boston Police Department, we've done very well if you want to compare us to other cities, with our tactics and our strategies, to use alternative sources to get kids into different [diversionary ] programs."
At least three of the six C-6 homicides took place in Dorchester – a Sept. 24 shooting near Newmarket Square, an Oct. 17 shooting in a Holiday in on Boston Street. and an Oct. 29 shooting near Harbor Point. Several of the Dorchester homicides occurred in the predominantly-Roxbury district B-2, including a March 7 stabbing on Hartford Street, a double-shooting that left one young man dead in Grove Hall on July 6, and a Sept. 21 stabbing on Bradshaw Street.
By Dec. 25, police had reported 46 fatal shootings, 211 non-fatal shootings, and 441 firearms-related arrests. The shootings are up from 2016, which had 35 fatal and 189 non-fatal shootings but 474 firearms-related arrests.
Unlike 2016, this year had no shootings with four or more victims, but every other measure rose: 28 more single-incident shootings, four more double-shootings, and one more triple shooting.
A spike in violence in July left three dead in Roxbury and Dorchester in less than 24 hours in the course of two double-shootings and a fatal stabbing, prompting a meeting with clergy, city and police officials, and community anti-violence activists. About 200 people— including Cardinal Séan O'Malley and Mayor Martin Walsh— participated in an hour-long walk through the streets of Bowdoin-Geneva on an evening peace walk that week.
The common refrain after a shooting, by police and city officials alike, is the problem of too many guns on the street.
Police closed out the year with a gun buyback program on Dec. 16, coordinating with the mayors of Worcester, Hartford, and Providence to allow city residents to anonymously turn in firearms in return for a $100 gift card funded by Massachusetts General Hospital for Children and the Massachusetts General Physicians Organization, Boston Children's Hospital, and Boston Medical Center. In the six hours the buyback was available, 64 firearms were turned in to the police department.
"I consider today a success," Commissioner William Evans said in a statement. "Taking sixty-four firearms off the street in one day is a huge step in making our city a safer place to live. But whether it was one gun that was turned in today or a thousand, that's at least one less gun that a child could get his or her hands on, and that's really what this is all about."
Three people were murdered in Dorchester and Mattapan since the buyback concluded, two of them over the holiday weekend: 17-year-old Phillip Demings on Dec. 19 near the intersection of Bowdoin and Adams streets, a man in his 20s on Dec. 23 on Hill Top Street in Neponset, and a 19-year-old man on Dec. 24 on Wellington Street in Mattapan.