By Jennifer Smith, News Editor
September 7, 2017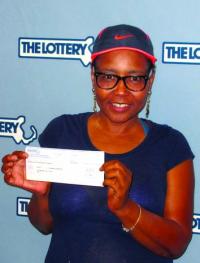 An analysis of lottery payouts in Mattapan and Dorchester in 2016 found relatively few big-ticket winners, although a number of stores paid out millions in prizes over the course of the year.
The massive $758.7 million Powerball jackpot payout last week and two smaller $1 million prizes scooped up in Massachusetts, including one ticket sold at a store in Dorchester, has once again raised the profile of a game of random chance with the potential to transform lives— though odds of a very big win remain laughably improbable.
In the context of statewide payouts and ticket sales, Mattapan and Dorchester barely register. Lottery payouts in 2016 in Mattapan's 02126 zip code amounted to $15,238,586, from 21 stores. Across Dorchester, 172 cafes, markets, bodegas, and other stores paid out $78,133,299.
Compare this to the statewide payout in 2016 – over $4 billion from $5.3 billion in sales.
Wins in Dorchester included four MassCash payouts in 2016, all in January or February. Ticket-holders walked away with $100,000 each from slips bought at Hollywood Liquors II, Tedeschi in Peabody Square, Smoke Shop & More, and Sandy's Variety.
Those payouts accounted for a fraction of the total winnings from those sites over the course of 2016. Hollywood Liquors II, on Blue Hill Avenue, paid out $399,014; the Tedeschi, also identified as a Dorchester Avenue 7-Eleven, paid out $177,064; Smoke Shop & More, on Adams Street, paid out $2,209,094; and winners collected $666,166 from Sandy's Variety on Washington Street.
Standard gambling logic applies to lotteries, said David Degras, assistant professor in UMass Boston's mathematics department. "Some people will win and win big," he said. "But on average, the house wins. In the long run, the house will win because if the house did not win, they would be out of money. It's the same thing as the lottery."
The five biggest annual payouts in Dorchester and Mattapan in 2016 were: Sunny's Cigar Store, on Blue Hill Avenue, with $3,558,008; New Store on the Block, on Dorchester Avenue, with $2,798,097; River Street Premium Petrol, on River Street, with $2,787,985; Brothers Wine and Spirits, on Bowdoin Street, with $2,530,841; and Four Provinces Market, on Dorchester Avenue, with $2,471,019.
A Mattapan resident, Alourdes Lapommer, won $200,000 from the relatively new All Or Nothing game at Sunny's Cigar Store. The Lottery, which pays out over $9 million a day in prizes across the Commonwealth, does not list any other major ticket wins coming out of those stores in 2016.
Two Dorchester locations did divvy out some substantial winnings this year. A Roxbury woman, Felecia Belim, won the $1 million Lucky For Life drawing in April at the Brothers Wine and Spirits Location. Although the number pales in comparison to the $758.7 million Powerball jackpot won last week in Chicopee, Elsie Campbell Beckford of Dorchester won a $1 million Powerball prize from a ticket purchased at Sandy's Variety.
Massachusetts consistently has the highest payout-per-dollar ratio of all US state lotteries. In a February review, state lottery officials reported a 71.4 percent payout in January 2017, down from 73.6 percent in January 2016 and well below its four-year high of 76.1 percent in July 2015.
That ratio is just an average, of course, and can fluctuate significantly by year and neighborhood. With $21.7 million in sales and $15.2 million in payouts, Mattapan in in 2016 paid out about 70 cents to every dollar players put down. Dorchester, however, was significantly below the average that year. $127.2 million in sales paid out $78.1 million, or only 61 cents to the dollar.
State profits go toward administrative costs and vendor incentives, as well as the bulk of the state's aid to cities and towns, which has been averaging about $1 billon.
The lower payout for fiscal year 2016 helped offset lower sales in early 2017, especially compared with a surge in ticket sales prompted by a record-breaking $1.5 billion Powerball jackpot drawing in January 2016.
"The trend was our friend on this one, our payout has been lower than last year and that resulted in ... the gap could have looked like this on the charts and rather than that it looked like this," Treasurer Deborah Goldberg said at a briefing in January, using her hands to demonstrate a large gap and then a smaller gap, "which gave me a sigh of relief."
Payouts are driven by the number of sales and the set odds of winning any given lottery game. Over the last five years, Massachusetts has paid players back between 70 and 76 cents to every dollar gambled.
Degras points out that that is still a loss on average. "If you play the lottery, than your expected gain is, well, you're going to lose a little bit."
If players keep the bets small — and economists note that lower-income players tend to purchase lower cost scratch tickets, despite the lower return and the lower probability of a win — they may recoup a few dollars here or there. But on the whole, the longer a person plays, the law of large numbers says things will shake out to a mild net loss.
Playing the lotteries comes down to psychology as much as statistics, Degras said. The odds of winning Powerball are a mere one in 290 million, and one in 258 million for Mega Millions.
"More generally, what's interesting about lotteries is, on the one hand you have chances of winning that are so small, and on the other hand prizes that are so big that it is really hard to juggle those numbers in our minds," he said. "We're sort of not hardwired for such big numbers and such small numbers. It's hard to have an accurate sense of the odds."
Players can try to "game" the system by tracking recurring numbers or monitoring locations with consistently high payouts, but that leans into "magical thinking," Degras said. "There's no reason that one store should be more lucky than others on average."
Material from the State House News Service was used in this report.