By Daniel Sheehan, Reporter Staff
May 17, 2018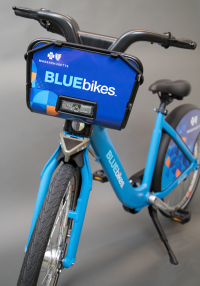 The Metro Boston public bike share system formerly known as Hubway began the process of rebranding as Blue Bikes last week, rolling out new bikes across the city and launching a new website and mobile app. The move comes as Blue Bikes says it plans to open up to seven new locations in Dorchester in the coming months.
The rebranding and accompanying expansion – 1,200 new bikes and 100 new stations in Boston, Cambridge, Brookline, and Somerville by 2019 – is a result of the program's new partnership with Blue Cross Blue Shield of Massachusetts.
The new bikes feature reworked seats that fit all adults, improved handlebar grips, and an innovative "infinity shifter" that allows for continuous shifting across a wide range of gears. Kathy Klingler of Blue Cross Blue Shield said the changes reflect community responses pointing to previous design drawbacks.
"There was a lot of focus on feedback," she said. "We made adjustments to lighting reflectors as well as to the durability of the tires, adding yearlong traction and making them more puncture resistant."
The rebranding will also feature a Free Ride Day on May 18 in celebration of National Bike to Work Day."Anyone who downloads the app can register for a free ride," said Klinger. "Each ride lasts two hours, and you can use as many free rides as you want throughout the whole day."
Of the 100 new bike share stations planned, at least four, and up to seven, will be located in Dorchester. Klingler said the organization is still assessing sites from a list of 12 locations in the neighborhood, including the Fields Corner T stop, the Ashmont T stop, the intersection of Talbot Avenue and Washington Street at Codman Square, and the intersection of Bowdoin Street and Geneva Avenue. Blue Bikes hopes to make a final call on these locations and begin expansion as soon as July.
There is a noticeable lack of bike share stations in Dorchester today as compared to other parts of the city. "That's one of the biggest reasons why we wanted to get involved," said Klinger, "expanding access to underserved communities. Our hope is that Blue Bikes are another way to provide healthy living and affordable transportation."