By Jennifer Smith, News Editor
November 20, 2018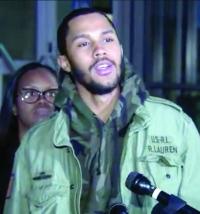 Prosecutors have dropped charges against Kevin Williams, the 21-year-old Dorchester man who was recently released after five weeks in custody for the murder of a 67-year-old man in Codman Square last month.
Initially citing video evidence and an eyewitness account of the Oct. 6 shooting of Jose Luis Phinn Williams in an apparent robbery at the Fabian Gas Station on Washington Street, police arrested Kevin Williams — no relation to the victim — later that night.
The Suffolk County District Attorney's office called for Williams's release on his own recognizance on Nov. 9 after they said new evidence had surfaced in the case. One week later, prosecutors "concluded that the evidence was insufficient to establish guilt or innocence" and filed to withdraw the charges.
In a statement released on Friday, Suffolk District Attorney John P. Pappas said "the ethical step was to withdraw the charges prior to the first scheduled court date as that investigation continues."
Williams's family has pressed for an apology from the police and district attorney's office and an explanation for why he was arrested and charged in the first place. They say he was at home with his mother packing for the family's move the next day at the time of the shooting. He was arrested, they said, when he left the house to visit his girlfriend a few blocks away.
"They took my child, they arrested him, blasted his name in the media, they crucified him," said Regina Hunter, Kevin Williams's mother, at a press conference on Friday on the steps of the Dorchester courthouse within view of the murder scene.
After offering her respects to Jose Williams's family, Hunter said of the authorities, "They're refusing to admit they're wrong. They're refusing to apologize to my son, saying they don't have enough evidence to prove that he is innocent." She added that Williams has been "traumatized" by the experience.
Kevin Williams also spoke at the press conference, which featured remarks from former NAACP Boston chapter president Michael Curry, a relative of Williams.
"I'm happy, I'm very happy," Kevin Williams said, adding that he did not doubt that he would be vindicated. "I'm innocent, an innocent gentleman. I knew it and everyone knows."
Jose Williams was gunned down around 11:30 p.m. during an apparent robbery at the gas station at the corner of Melville Avenue and Washington Street.
Prosecutors said that Williams's arrest that night was supported by a detailed description of the assailant by an "independent percipient witness at the scene"; a positive identification of Williams as the gunman; and corroborating video footage – circumstances that Pappas's statement also said "clearly supported probable cause" for the initial charges.
But, the district attorney's office said, "in the weeks that followed, detectives continued to seek and gather evidence from multiple sources, and prosecutors fought in court to obtain potentially exculpatory evidence from Williams's attorney and were forced to send grand jury subpoenas in order to obtain alibi testimony."
Pappas said that "expedited forensic testing" had also informed the decision to withdraw the charges. "We don't force the evidence to fit the case," he said. "We follow the facts wherever they lead, and today they led us to this decision. The investigation remains open; it remains active; and it remains a priority for us."
The nolle prosequi (abandonment of the charges) filed by the district attorney's office does not mean the charges could not be brought again against the same person or someone else.
According to a district attorney spokesperson, "investigators are exploring every possibility and haven't ruled anything in or out." Given the ongoing probe, the office could not classify any individual as suspect or non-suspect on Monday.
In a statement on Friday, Police Commissioner William Gross said: "I agree with the decision made by Suffolk County District Attorney John P. Pappas to withdraw the charges against Kevin Williams in the homicide of Jose Luis Phinn Williams. The Boston Police Department continues to work closely with the Suffolk County District Attorney's Office to solve this case and hold those responsible accountable for their actions.
Community members with information are strongly urged to contact the Boston Police Homicide Detectives at (617) 343-4470 or the CrimeStoppers Tip Line at 1 (800) 494-TIPS."
"In this case, there is a violent, armed and dangerous killer that is essentially getting away with murder, and empowered to do it again," Michael Curry said as Williams's family and friends stand by their account that Kevin Williams could not have been at the scene of the shooting that night.
They were vocal throughout the process, which Williams credits with some of the turns the case took. With the charges dropped, and advocates at his back, Williams told reporters, "There's plenty of cases like mine, and everybody doesn't have a powerful network or people behind them. So, I'm one of many people."