By Jennifer Smith, Bill Forry, and Reporter Staff
September 5, 2018
Voters in the 12th Suffolk district chose to re-elect incumbent state Rep. Dan Cullinane over his repeat challenger, Jovan Lacet, on Tuesday, while Roxbury activist Liz Miranda scored a decisive primary victory in the four-person race to succeed Rep. Evandro Carvalho in the 5th Suffolk.
Cullinane defeated Lacet by 467 votes, according to his campaign staff, who gathered to review returns, and, eventually, to celebrate at their Adams Corner headquarters. Lacet topped the ticket in 9 of the 15 Boston precincts that make up the seat. But his winning numbers were marginal compared to Cullinane's lopsided precinct wins in Cedar Grove, Adams Corner, and Milton.
The challenger won his own home precinct (17-14), one of two precincts at the Lower Mills Library, by 36 votes, 234 to 198. Cullinane won the other precinct (17-13) by 42 votes, 216 to 174, and piled on with lopsided wins at Florian Hall, Adams Street Library and in the two Milton precincts that are part of the district.
At Florian Hall's 16-11, where Cullinane voted on Tuesday morning, he beat Lacet 321-84. His margin was even wider at Adams Street Library: 349-74. In Milton, it was 687-437 in the incumbent's favor.
Critically, Cullinane topped Lacet at the busy Ward 18 double-precinct based at the Chittick School on the Mattapan-Hyde Park line. He spent most of the election day greeting voters as they entered the school and was rewarded with wins in both precincts, a combined 511-450.
For his part, Lacet spent election day outside the Lower Mills library shaking hands and urging his candidacy on voters. His best performance was at Mattapan's Mattahunt School (18-3) where he outpaced Cullinane by 99 votes.
As of Wednesday morning, Lacet has not called to concede defeat, but by 9 p.m. on Tuesday it was clear that Cullinane had won re-election. According to his campaign's count, the final tally was 3,663 to 3,196.
"This win was all across the district, but we have work to do," Cullinane told a group of about 30 supporters who had gathered at his Adams Corner campaign office. "This election and the turnout across the board is a wake-up call for everyone. I think the price of winning is getting right back to work. And that's what we will do," he said, adding, "We may have been a smaller army this time, but we showed a lot of fight. That's what this district deserves."
"We have two years of work ahead of us. We won by 467 votes. Each and every day if you look across the district... people know that when they reach out to our office, they get a response," Cullinane said.
In the Fifth Suffolk, the final results were more decisive.
Miranda, a first-time candidate for office, earned 59.4 percent of the vote, according to unofficial City Hall returns, defeating her closest rival, Darrin Howell, by 1,307 votes. Howell finished with 31 percent. Two other men— perennial candidate Roy Owens and Brad Howze, a Level 3 sex offender, finished far behind.
Miranda won all of the 16 precincts that make up the district, which includes parts of Fields Corner, Meetinghouse Hill, Bowdoin-Geneva and the Blue Hill Ave corridor.
"They said I wasn't ready," Miranda told supporters at her Bowdoin Street headquarters just after 9 p.m. "They said I didn't have the experience, but I beat a machine. We beat a machine."
She thanked her mother — who said she was "crazy," but still wrote the campaign's first check. "Tonight in Boston, we just made history," said Miranda, who will eventually replace Rep. Evandro Carvalho— who did not seek re-election this year, opting to run for DA instead.
Earlier that evening, just a short walk down Bowdoin Street to the Pasciucco Apartments, the last dozen voters had scrambled into the Ward 15, Precinct 4 polling location before it shut down for the day.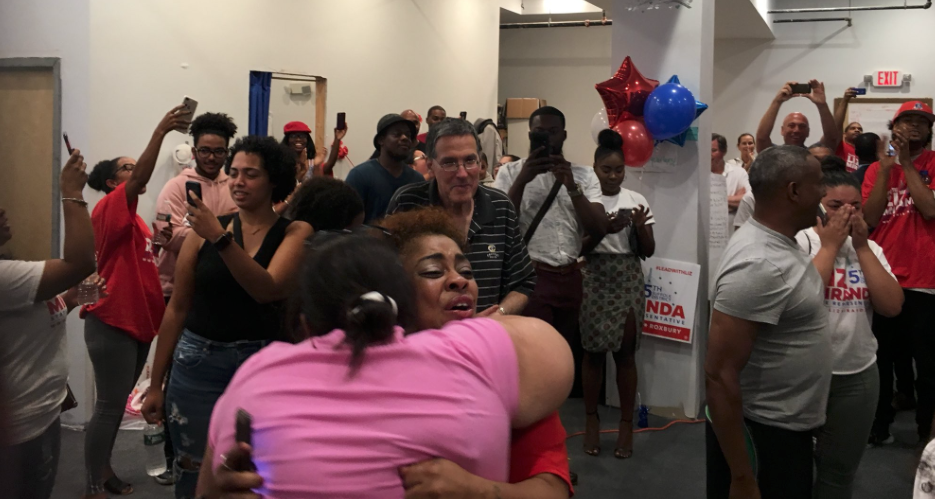 Sylvia Lopes, 51, originally from Cape Verde, has never missed an election in her 11 years as an American citizen. "I already had my idea on who I was going to vote for," she said, "and for me I came out here especially for Evandro. Because that's my people, and I'm supporting him, even though I know he's fighting for a good cause, too."
She did not vote in the Fifth Suffolk race. There was considerable overlap between Carvalho support and Miranda support at the election watch party, especially among Cape Verdeans.
Even without Lopes's vote, Miranda took the 15-4 precinct with 244 votes to Howell's 89, followed by blanks at 43.
This was Howell's second run for office; previously he had lost to current 6th Suffolk District state Rep. Russell Holmes, who endorsed Howell in this race. After the stunning losses of Ways and Means Chairman Jeffrey Sanchez and Assistant Majority Leader Byron Rushing, Holmes conceded that the will of the voters was clear.
"I feel the people have spoken and clearly there was time for change, and the winds and the currents were clear," he said. "Whether that was at the State House or at the federal level, we have to listen to the voters, and the voters say it's time for a change."
This report was assembled by Reporter editor Bill Forry, news editor Jennifer Smith, with additional reporting by Reporter co-founder and publisher emeritus Ed Forry.