By Jennifer Smith, News Editor
May 3, 2018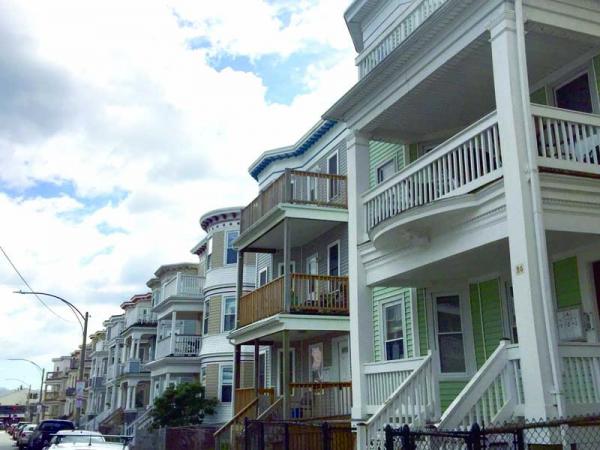 They can be found peppered throughout the city, lined up in neat rows or standing alone on Boston's winding streets. Maybe they house several generations of relatives, offering a measure of physical and financial security for family members. Maybe two graduate students live on the middle floor, slotted between lifelong residents and a young family.
With their curved or angled turrets, simple or elaborate trim around the classic flat roofs, wooden three-deckers are a ubiquitous feature of the Hub, points of architectural pride in neighborhoods like Dorchester and East Boston.
Related reading: The glorious three decker
As Boston builds up and out, the balance between their preservation and replication and the pursuit of alternative housing styles will shape the future of these New England icons.
At a day-long conference on housing hosted by Historic New England last Friday, speakers, including historians and economics experts, traced the history of the three-decker and pondered its potential applications in the midst of the region's dramatic housing crunch.
The classic wooden three-decker is an "instantly visually recognizable icon," said Jacob Wegmann, assistant professor at the University of Texas School of Architecture. They proliferated for several reasons, he said. They are: land efficient but low-rise, easily packing densely on limited acreage; family friendly, often with attached yards and situated in communities of other such homes; mixed tenure, with renters and owners alike living in the same buildings; small scale; and formulaic yet varied, recognizable by a distinct structural features but with great diversity in appearance. This made them ideal forms of multi-family homes serving what Wegmann calls the "missing middle" in housing density.
While working on his thesis at MIT, Wegmann said, he was fascinated by the three-decker. "There's this wonderful housing form with so much to recommend it," he said. "Why did that stop?" he asked, and what can three-deckers teach urban planners about the "intractable problem of affordability?"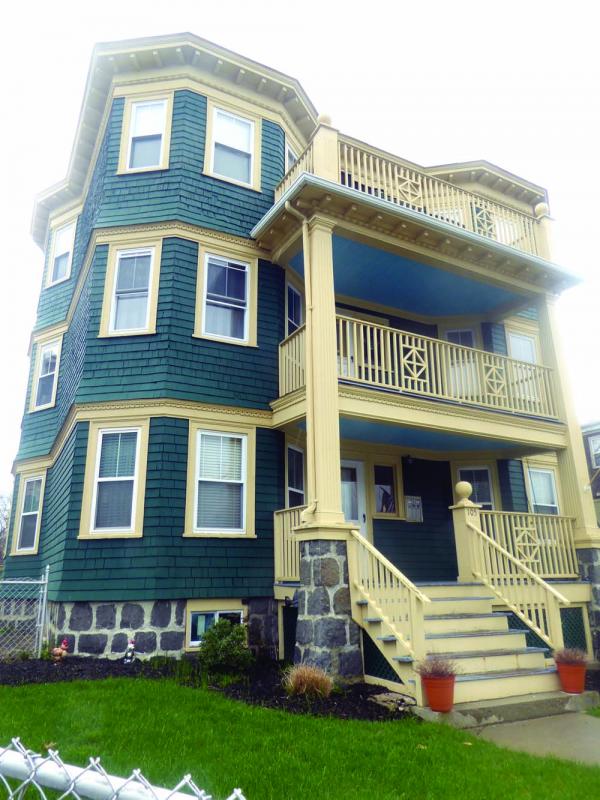 Three-deckers, like this distinctive and beautifully maintained house at the corner of Thelma Road and Neponset Avenue, were built by the thousands across Boston's neighborhoods in the early 20th century. Today, the three-decker remains a vital part of our housing stock and are increasingly valuable for homeowners and investors.
That problem, Barry Bluestone of the Boston Foundation explained, is tied to the ever-increasing desirability of Massachusetts in general, and Boston specifically. "The challenge of a strong economy is that it brings lots of people," he said.
There has been some recent stabilization in rents, Bluestone noted, although the citywide average hovers just below $3,000 a month (and they have risen faster than condominium prices and single-family home sale prices.) In the month of March, the median condominium price was higher than the median single-family home price.
Three-decker unit prices are up 127 percent since 2009, Bluestone said, an increase four times faster than that of single family home prices. A three-decker stabilization program was declared a success by the city in 2013.
Tom Callahan, executive director of the Massachusetts Affordable Housing Alliance, said that few of the program's prospective first-time homebuyers can afford a three-decker now. "We need more subsidies to bring down costs" for them, he said.
A pressing question before the forum was the three-decker's place in the Boston housing ecosystem. They have a strong history of owner-occupancy, said museum consultant Deedee Jacobsohn, with the second and third units rented out as an additional source of income. Multiple generations of families can live in the same house, in separate units.
Locally, these three-deckers were originally havens for immigrant families during Boston's population boom from the late 1880s into the early 1900s, although across the city they offered a wide range of styles and class accommodations and were often used as speculative housing, Johnson said.
"Every time we've had a demographic revolution, we've created a housing style to meet it," Bluestone added.
The modern demographic revolution is being spurred by a surge of Baby Boomers and millennials absorbing multi-family housing stock, he said. Creating new housing for these populations, like "21st century villages" with smaller personal housing units within compounds with shared amenities, might be a way to divert them into housing more suitable to their lifestyle and free up the middle-range stock, Bluestone said.
"Part of the challenge around our housing supply is that we haven't been building housing that's keeping up with our population growth," said Chrystal Kornegay, executive director of MassHousing. "We're having to balance the changing of how people want to live with the way people have lived."
There are some modifications that could be made to three-deckers to expand their interior living spaces, said Daniel Bluestone, professor of the history of art and architecture at Boston University, if zoning changed around it. They could include dividing one of the three-decker units into two apartments and using the basement as livable space as well.
Can the city allow landowners to subdivide their own lots into smaller parcels? Wegmann wondered.
Marcy Ostberg, director of the city's Housing Innovation Lab, said creative uses of space and materials could open the doors to innovations like the Plugin House. On display at City Hall Plaza starting this Friday, the Plugin is an easily assembled house that can make use of small backyard spaces by turning them into housing.
Several panelists pushed for more allowances on Accessory Dwelling Units, additions or separate units built on already occupied parcels of land to provide more living area and up the unit count. More flexibility with as-of-right zoning could speed the process by which conversions take place, another suggested.
A panel on preserving neighborhood character and affordability grappled with skyrocketing prices for three-decker housing across the city. Another panel, which included Boston City Councillor Lydia Edwards, discussed policies such as a "flippers tax" that could be implemented to discourage flipping entire three-deckers by purchasing and condo-izing them.
Considering the affordable housing problem across the region, said Boston Preservation Alliance executive director Greg Galer, "historic buildings are a necessary part of the solution, not part of the problem."
Related reading: Experts agree: It was 'three' before 'triple'