By Jennifer Smith, News Editor
May 10, 2018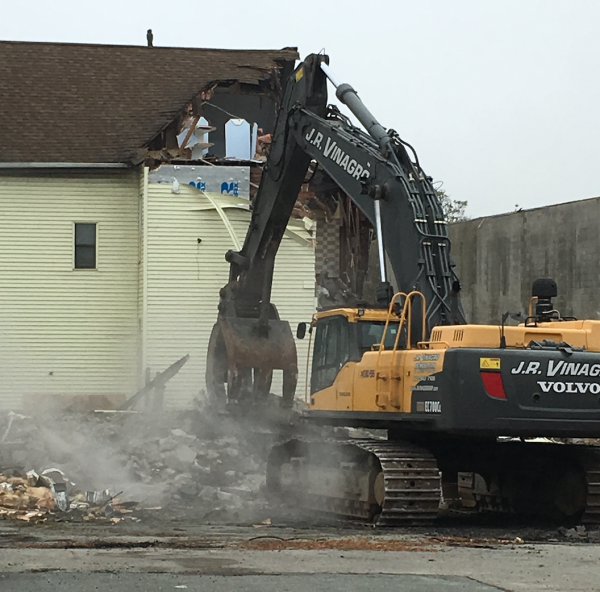 Demolition work at Dot Block has begun, with workers knocking down buildings in preparation for a mixed-use project that will transform the Glover's Corner site. Some changes to the design will come back before the community for input, likely in the fall, spokeswoman Catherine O'Neill told the Reporter.
The Dot Block team pulled demo permits this week and planned to begin taking down the predominantly industrial structures on Wednesday, O'Neill said.
There are more public meetings planned for the project. With developers Demetrios Dasco and Sean Gildea no longer involved in the project, property owner Gerald Chan is in charge of its direction.
Wintergold LLC, a subsidiary of the Hong Kong billionaire Chan's Morningside Group, purchased the Dot Block land for $19.1 million in December 2016. The development team said in late 2017 that the plans, already approved by the Boston Civic Design Commission, were largely unchanged. Five buildings between four and six stories will include 362 rental units, about 37,000 square feet of ground floor retail space, and a five-story garage holding 450 parking spaces.
The project site covers about four acres within the bounds of Dorchester Avenue and Greenmount, Pleasant, and Hancock streets. There have been no reported changes to the parcels involved, which sit inside an ongoing city planning study area for Glover's Corner.
Architectural team Stantec began re-assessing RODE Architects' initial design in 2017, with O'Neill saying at the time that they would be going through the design and materials "with a fine-toothed comb."
City Councillor Frank Baker told members of the Columbia Savin Hill Civic Association on Monday night that as he understands it, there will be an additional community process with the changes. He has seen a "concept" of the new design, "nothing that spoke to units, but the concept that I saw looked like a better plan to me," he said.
The new concept has better connectivity through a different design for the main cut-through public roadway, Baker said, that would be able to service the businesses from the interior.
"From my understanding," he added, "they will be back in front of us… and what I've heard is probably around next year is when the actual project will get started."
O'Neill has been with the Dot Block project for about five years, and is the only remaining member of the original team. She said Tuesday that she would have a better sense on the design timeline soon, but it should come back before the community by the fall.