By Jennifer Smith, News Editor
March 8, 2018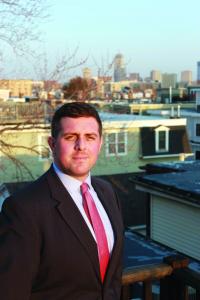 The field of candidates hoping to succeed Suffolk County District Attorney Dan Conley continues to expand. Gregory Henning, a 38-year-old Dorchester resident who has worked as a prosecutor in Conley's office for more than a decade, hopped on the campaign trail on March 1.
"Experience is really important for a role like this," Henning told the Reporter in an interview this week. "Chief enforcement officer in Suffolk County is a critical job, and having someone who knows how to run the office, who knows how to investigate crimes, who knows how to organize and structure the resources, to keep the community safe is something that's very, very important."
Henning, the son of the late iconic Boston newsman John Henning, is a native of Boston who has settled in Dorchester's Polish Triangle neighborhood. He has worked in the district attorney's office since 2006, with a break in the middle to teach. He said his knowledge of the office's inner workings make him the best suited to implement progressive changes while respecting the processes in place.
The prosecutorial system can account for the full scope of defendants' lives, and serve a role to divert and better support those who interact with it, Henning said.
"We do want to have a district attorney's office that understands there are people who are deserving of a second chance, to avoid having a choice that they make negatively affecting their life for the rest of their life," he said. "Having people work in and run the DA's office who have seen throughout their career the full context of cases and understanding what causes people to commit crimes and also what leads them to these choices, helps us to assess who should get those chances and who can be considered to be more of a concern for the community."
Henning grew up on Beacon Hill with his father, mother, and older brother. After receiving his bachelor's in government at Harvard, he earned his law degree from the University of Virginia before returning to Boston.
He held a summer job at a Boston law firm for one year while in law school, and another at the Suffolk district attorney's office. The summer at the district attorney's office was formative.
Reviewing prior convictions and working as an intern in the homicide unit put him in court watching cases play out. "You saw victim's families who were affected by violence, and it grabbed me," he said. "It was also a stark contrast set in relief to the law firm. Going to the law firm, it was paperwork, beautiful offices, beautiful view, great paycheck, but not for me very compelling as a reason to do the work."
After getting his law degree, Henning returned to Conley's office as an assistant DA working in Boston Municipal Court, then moved up to chief of the gun prosecution task force, and on to the major felony bureau. He then took the break to teach, and returned to the office to work in the senior trail unit. Since October 2016, Henning has been chief of the office's gang unit.
He has lived in his Polish Triangle three-decker for about ten years, sometimes with a roommate, sometimes using the space as a temporary shelter for the young people he has mentored, and now with his girlfriend.
While in the major crime unit, Henning started volunteering with College Bound Dorchester at the Little House on East Cottage Street in 2009. One of the young men on the College Bound basketball team was a defendant whom Henning's unit prosecuted while he was in the gun unit.
"We ended up getting a chance to talk, and he and I ended up coming to an understanding about what happened in his life, what happened to get him there, the choices he made, and what the outcome was," Henning said. He coached and tutored the young man that year, "but it stuck in my mind as something that I wanted to focus on down the line."
After his first five years as a prosecutor, he wanted to "try to get to the guys like him before they got caught up in the system." He took a job teaching at Boston Preparatory Charter School in Hyde Park from 2011 to 2012, then worked as a senior advisor to Joe Kennedy III during the latter's successful run for Congress in 2012 before returning to the district attorney's office in the major felony bureau.
"Before that experience, I think I was cognizant of what the impact of my job was on people, but not as cognizant as after I started doing the volunteering," he said. "You become more aware of the impact of what you're doing but also of the consequences of the choices of the person made leading up to it. So when I came back to prosecuting I had, I wouldn't say a different lens, but  a better understanding of what I wanted to accomplish and we could accomplish as prosecutors, completely different than when I had started in 2006."
Along with the evolution in his thinking about prosecution, Henning left teaching but held onto his role as a support structure for several of his students. He has mentored more than 20 young people, whom he calls his "kids," including former students and criminal defendants upon their release from custody. He has supported them by teaching them how to pay bills and taxes, take driver's tests, work on resumes, and apply for jobs.
The system paints prosecutors as the opposition, Henning said, and trying to change that impression with some of the defendants was important to him. He made time to visit and talk with about a dozen defendants in custody and work with them when they were released, coordinating with attorneys and social workers to help the defendants get into job training.
"It's emotionally difficult to do, because it's a lot of work you put in, in personal time, it's not one work time," Henning said. "One of them got murdered a couple of years ago, one of them is in state prison now, some of the guys that are out are having difficulty but they're still fighting and struggling. But I think it's a start and it's something that kind of demonstrates my vision for how we can do our job better, to make our role as prosecutor to be part of the transition to them coming out of custody if they are in custody, but also giving someone the opportunity to get a second chance prior to being incarcerated or a second chance instead of incarceration would be to the benefit of everybody."
A program Henning put in place during his time at the gang unit can be a "model" for changing prosecutorial practices to the benefit of defendants and the community, he said. It allows prosecutors to consider additional life context in mandatory minimum cases and possibly work with defendants to find options with reduced or no incarceration in return for diversion and additional support.
If they have the capacity, Henning said, prosecutors can help assess defendants' needs and direct them to appropriate resources.
He is familiar with the other two openly seeking the seat in the Sept. 4 primary — state Rep. Evandro Carvalho and defense lawyer and youth services manager Shannon McAuliffe. He and Carvalho, a former prosecutor, did not overlap for long in the district attorney's office, but Henning has directed some defendants to Roca, the program with which McAuliffe works.
Like anyone who has worked in the same office for a decade, Henning says he can identify numerous areas for improvement in the Suffolk County district attorney's office. There is a bandwidth issue because of the sheer volume of information to assess in an era of security cameras, social media, video, and other digital records. He sees the potential for a unit focused on cyber crimes.
"I have lots of different ways where I want to change how we do things, and having a vision for how we want do it is important," he said, "but I don't think that vision is valuable unless you have the context of experience."