By Jennifer Smith, News Editor
August 8, 2018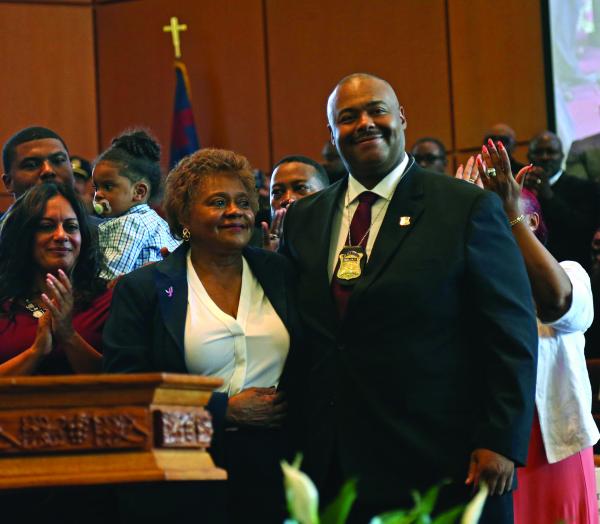 On his first day as Boston's police commissioner, just hours after his historic swearing in as the city's first black top cop, William Gross already had a full schedule ahead of him.
National Night Out, an annual day or two of festivities meant to connect the police and the communities that they serve, kicked off Monday afternoon.
Gross, Mayor Martin Walsh, and other members of the police command staff wound their way through the city from Brighton to Roxbury, stopping in at sprawling neighborhood parties with pulsing music, bounce houses, and the wafting smoke of a cookout in the air.
"So it's a national night," Gross said as the muggy day wound down and the sun set over Almont Park, "but you are out here for each other in Mattapan every day, so we appreciate National Night Out to celebrate the community and how we stick together … you do it each and every day, and I'm proud to have been a resident of Mattapan."
Above, Commissioner Gross greeted friends and neighbors who turned out for National Night Out at Almont Park in Mattapan on Monday evening. Jennifer Smith photo
Officers from the B-3 police district, which splits between Mattapan and Dorchester, where Gross grew up, mingled with residents on the grassy field and the basketball courts. The evening, Walsh said, is for "honoring the community for the work that you do to make your neighborhood safe."
"Because this community is active, one of the stats that is amazing is that shootings in this neighborhood are down 60 percent from this time last year," the mayor added. "We still have more work to do, which we're gonna work."
Their day started in the heart of Mattapan, at the church that Gross's mother, Deanna, has belonged to since he became a Boston police cadet in the 1980s. The 1,500-seat Morning Star Baptist Church was near full capacity on Monday morning as Walsh read Gross the oath of office in front of a large delegation of uniformed police officers and an array of local dignitaries.
Those who had gathered for the swearing-in and later in Mattapan expressed high hopes for their new commissioner.
"This is my community; I love being part of the community," said resident Nicole Donnell at the Monday night festivities. With Gross's familiar, friendly face at the helm, Donnell said, "hopefully he will continue doing what he's been doing, as far as being a part of the community and not detaching himself, which I already know that he won't." She looked forward to "his continued blessing us and helping the smaller children, younger children, and just, you know, being here."
Vivian Ortiz, a Mattapan resident, said she wants to see the policing model evolve and expand into a better rapport with adults in communities of color, even as the force works to make inroads with children through their schools.
"[I hope] that we have more community policing," she said, "that folks are not like, 'Oh my god, the police are here, the helicopter's flying overhead!' but that we have more daily interactions, that we see folks driving around at night, and that you can have a relationship with them and they know who you are."
Her hopes seem to jibe with what Gross listed as a chief priority in taking the helm this week – stepping up the department's community policing. "I got a promise for you," he said. "That our community policing model will continue… we have the top community policing model in the country, for review we're gonna make sure it's bigger and better. I come from the community. I thank you, the community, for putting me here as the 42nd police commissioner."
Gross tipped his cap to the local seniors who waited patiently on the warm evening and thanked the mayor and the outgoing Suffolk County district attorney, Dan Conley. "We always pay respect for who looks out for our communities," the commissioner said.
City Council President Andrea Campbell, who was at the Mattapan night out, said in an earlier interview with the Reporter that she is excited for Gross to take on his new post. "I'm an optimistic person anyway," she said, "so although we have issues in the city of Boston that are serious and that we have to address and to solve, I absolutely believe we have the human capital, the resources, to get these issues resolved.
She knows that Gross cares about a number of the issues her district has called for her to champion, Campbell said. "Now the question is: What is the action plan to resolve unsolved murders, to get the body camera program quickly implemented, to make sure the agency is diverse and representative of the demographics of the city of Boston, and the list goes on," she added.
Gross was born in Maryland and raised in Dorchester. He joined the police department in 1983 with hopes of becoming a detective, a rank he earned and then some: nearly five years ago he was promoted to superintendent-in-chief.
For most of his 35 years on the force, he has worn Boston Police garb day in and day out.
Laughing in a maroon short-sleeved button-down shirt Monday night, Gross said, "Somebody's gonna have to help me buy some suits! I'm used to being in uniform."
Simon Rios of WBUR and Reporter correspondent Kevin Perrington-Turner contributed to this report.