By Rowan Walrath, Special to the Reporter
August 16, 2018
Framed under a dusky purple sky and sandwiched between three-deckers near Four Corners, the vacant lot was out of place in the urban landscape surrounding it. Mounds of dirt and woodchips created rolling hills. Raised beds, fanned out like rays of sunshine, were spilling over with parsley and greens. The city seemed to fall away as all around neighbors became gardeners, clearing trash and making the soil suitable for growing food.
The lot, at 103 Ellington St., is Boston's latest "food forest," an urban garden set up and cared for by the nonprofit organization Boston Food Forest Coalition. On a Sunday in late November last year, the coalition organized a "garden raising" there, where volunteers gathered to plant trees and prepare the site for winter.
Orion Kriegman, the coalition's executive director, zigzagged around the site late in the afternoon. Bearded, with flyaway brown hair and round, clear-rimmed glasses, he had the appearance of an urbanite-turned-woodsman. In some ways, he is. Now 43, he grew up in Newton, attended Haverford College in Pennsylvania, traveled internationally, picked up a master's degree from Harvard's Kennedy School and moved around as a consultant at a few think tanks.
But that's all in the past. His main focus now is trees.
"The best time to plant a tree is 10 years ago, and the second best time is today," Kriegman said recently in an interview. "It takes 10 years for a fruit tree to really produce for you, so we're planting for the future."
Kriegman's crew planted about 50 young trees in November. Now, in mid-summer the following year, the saplings are steadily growing after surviving a brutal New England winter. As of mid-July, Ellington Community Food Forest was also home to a water house for irrigation, a community bulletin board, a stone patio, and mature peach and pear trees. In the coming months, the Coalition and the neighbors-turned-gardeners on Ellington Street will add a gazebo and a medicinal mandala, transforming the once-vacant plot of land into a community space.
"It's not just the food, right," Kriegman said. "This then takes us into the whole mission, which is like, we're learning together, we're growing together, we're healing ourselves with proper diet. We're healing our neighborhoods by coming together and repairing the social fabric and getting to know each other again, and seeing each other, and having our kids play with each other and all the stuff that makes a community go."
Kriegman and the Boston Food Forest Coalition team seem to have ignited something on Ellington Street. Carolyn McGee is a resident there who serves on the project's stewardship team. In late 2015, when Kriegman first approached her about creating a food forest on the street, the lot was full of cars, trash, and "all kinds of waste," she said ,adding that the coalition was instrumental in galvanizing residents to help clean it out and build something new and positive on the site.
"It was like turning over a new leaf, like a new awakening for me," McGee said. "Everybody kind of comes together, and you form this kind of common bond, and you gain friendships over food and helping your community and helping the world. Once you start, you can't stop."
And while it would be easy to overstate the credit due to Kriegman — the food forest is a collaborative effort — McGee said his eagerness is clearly the driving force. "He can grow anything," she said. "There's a really great group of people who work together at the Boston Food Forest Coalition that I've met, and their team and energy are very contagious."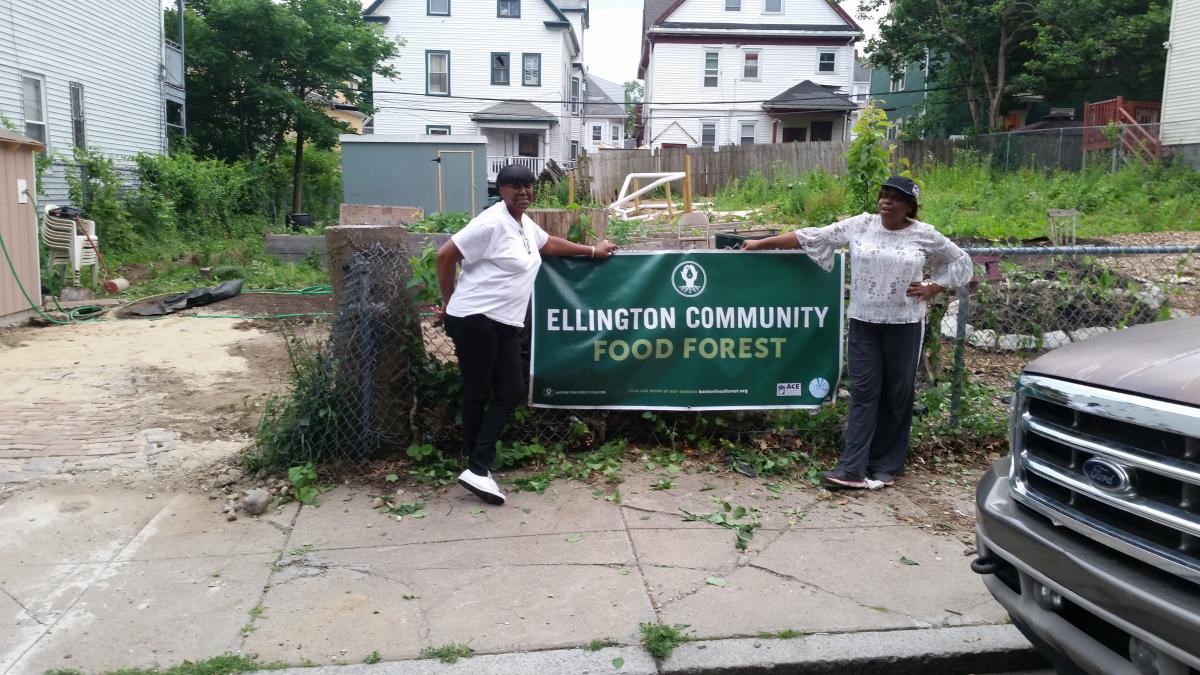 Carolyn McGee, right, is helping to create a "food forest" near her Ellington Street home. She is shown with Ms. Gloria, left. Photo courtesy Orion Kriegman
Microcosm and the macrocosm

Kriegman's work wasn't always so locally based. Born on Oct. 29, 1974, attended public schools in Newton throughout his childhood. He called the city "sort of a little bubble." Demographic data provided by the City of Newton boil Kriegman's words down to "mostly white and affluent." He wanted out.
In high school, he was service-oriented, volunteering in local hospitals and spending a summer in Montana, where he helped to build? a teen center and baseball dugouts on a Native American reservation. In 1992, he entered Haverford to study political science and travel internationally on academic projects. For the first time, he came face-to-face with world-changing historical conflicts: in Israel, in South Africa at the end of apartheid, in post-civil war Guatemala. The last of those brought Kriegman's attention to power disparities in civic life –
between tenants and landlords, between urban administrators and residents – and to how relationships among ethnic groups shape conflict and policy, and sparked an interest in urbanism.
"In Guatemala City, it was this horrible city. Horrible urban planning," Kriegman said. "How do we, as small individuals, have control over what takes place around us? Who plans these neighborhoods that we spend all our time living in, walking around through?"
Energized, he returned to Massachusetts and joined the Collaborative for Development Action (CDA) in 2000. After a brief stint learning about "action research" — that is, participating in what you're studying — he entered the Kennedy School. Two years later, armed with a master's degree in public policy and urban planning, he joined the Tellus Institute in Cambridge, which defines its mission as "advancing the transition to a sustainable, equitable, and humane global civilization." As Tellus president Paul Raskin tells it, Kriegman had endless enthusiasm, even as the institute dealt with such "apocalyptic" problems as climate change and economic inequality.
"A lot of people succumb to despair," Raskin said. "If you don't feel a little despair, you just don't know what's going on these days. Orion had a dose of that. Sometimes the reaction is to be very pessimistic. His reaction is not that. His reaction is to try, nonetheless, to make change with the hope that he can galvanize people for change."
But Tellus didn't offer Kriegman the opportunity he was looking for. Now in his mid-30s, he was getting tired of being "10,000 feet up in the air" — he wanted to be on the ground. Just before he left the think tank, he co-founded the Jamaica Plain New Economy Transition (JP NET) through the Institute for Policy Studies, marking the first time that he was working in his own neighborhood. But at the end of the day, global and local communities aren't that different, Kriegman believes. "We're in an ethic of interconnectedness, and people are only getting more and more interconnected," he said. "We're all in this together. We can't just go local and forget about the fact that it's all one big system these days."

Garden bends at the Ellington Community food forest. Rowan Walrath photo
Building community at home

Orion Kriegman's first urban gardening project, undertaken long before the Boston Food Forest Coalition was established, was begun in 2009 as a partnered project between him and Hannah Thomas, now his wife of seven years. The couple, who live in Egleston Square, noticed an abandoned, city-owned lot on Boylston Street spilling over with filth like "car parts, needles, TVs," Kriegman said. They went knocking door to door, asking their neighbors if they'd be interested in cleaning it up and turning it into something useful—a precursor to how the Boston Food Forest Coalition would approach the Ellington Street site. The rundown lot was transformed almost overnight.
The Egleston Square Community Orchard, as it's now called, was an early success story. Today, it features a compost bin, flower beds, and a rainwater catchment system, as well as fruit-bearing trees and bushes for harvest. It has also served as a community gathering space since its creation and "bridged a divide" in the neighborhood, as Thomas put it, becoming a de facto memorial in times of tragedy, resurrecting parades, and, in all, serving as a staple in community events.

A formerly vacant lot on Ellington Street in Dorchester is well on its way to becoming a food forest this year. Rowan Walrath photo
Dan Bensonoff, now a Boston Food Forest Coalition board member, lived near the Egleston Square Community Orchard at its inception and donated his time and gardening expertise to the budding food forest. "It became a space for us to practice new permaculture techniques," he said. "It also became an experiment on how much we can do with no budget. People would be like, 'Hey, I dug out some of my raspberry bed. How much do you want me to transplant here?'"
The Orchard was a collaborative effort, one that would guide how Kriegman saw the creation of food forests over the next decade. Bensonoff, who now lives in Roslindale, frequently comes by his old neighborhood, where he sees people harvesting from the orchard. Apple trees, currant bushes, raspberries, and mushrooms grace the garden. And residents can feel the energy. Last month, hundreds of people convened there for the June Bug Community Celebration; in July, local poets performed there as part of JP PorchFest.
The Egleston Community Orchard was personal for the community, but for Kriegman, it also signaled a shift. How could he apply his peacebuilding work and environmentalism to his own home? "People came together because of this work that we were doing, and that, for me, was really profound and moved my heart and made me realize: This is what I want to help do," he said. "This is healing work." Just a few years later, the Boston Food Forest Coalition began to embody that.
Kriegman has been executive director since 2015. In just three years, he has taken on the role full-time, overseen the outreach to (and retention of) an army of volunteers, and officially incorporated the organization as a nonprofit. But it has been a struggle to find volunteers and supporters who can stay committed. Even now, Kriegman is the coalition's only full-time employee; the other paid position is a part-time program coordinator, just hired in March.
"There have definitely been months where he's just felt like giving up," said Bonnie Rovics, a longtime friend of Kriegman's. "Don't think in any way that this has been easy. I think it's been an amazing amount of commitment, often under duress. You know, he's been clear-sighted enough to understand at times that he is so close to having this whole thing really succeed. … The food forest was something that was like, 'I'm going to do this. It might fail. I might lose everything.' And really just pushing forward with it every day."
So far, that pushing has succeeded. The group's flagship site at Mass Audubon's Boston Nature Center in Mattapan, where volunteers broke ground in April 2014, now boasts herbs, vegetables, and several varieties of fruited trees and bushes. Another food forest flourishes at the Old West Church in the West End. Kriegman is in discussion with residents across Boston, including in the Jones Hill and Savin Hill neighborhoods in Dorchester. The Boston Food Forest Coalition, now counting seven people including Kriegman on its board of directors, has collaborated with the Jones Hill Neighborhood Association to create a design for a food forest on Everett Avenue. Kriegman initially hoped to break ground on the site this summer, but staff turnover in the Boston Planning and Development Agency has put the Request for Proposals process on the back burner.
In Savin Hill, the coalition is working with residents to convert what Kriegman calls an "urban wild" into a garden that brings together a community space with nature. "[We'll be] making it a real wildlife habitat, adding some native wildflowers, adding some trees that could grow in that space," Kriegman said. "Not specifically making it a garden for food, but more making it a garden for walking and sitting under the trees and having community events, just making it a beautiful space." He hopes to start on the project next year.

Herbs and vegetables on the march in the Ellington Street food forest.
Cultivating the next generation
Whether in Dorchester or at his home in Jamaica Plain, for Kriegman, the food forests always come back to community. That includes his own family—his two young daughters, he says, are very aware of the realities of living in a changing city: Trees go down, buildings go up, and the toddling girls want to know who's helping the animals. "It's nice to be able to say, 'Oh, we are,'" Kriegman said. "'That's what I do. I go out there and create spaces in the city where we do plant trees, where we do connect to nature, where we do create habitats for animals.' That feels really powerful to me, the fact that it's tangible and visible."
Sylvia and Brighid, at 2 and 5, are already miniature urban gardeners. They help their father plant trees. They walk with him and pick blueberries. Brighid, who spent the last school year in kindergarten in the Boston Public Schools system, previously attended Boston Nature Center's Pathways to Nature Preschool, and Kriegman and Thomas plan to enroll Sylvia when she's old enough. "Up until age 6, kids learn more from play than they do from any formal classes," Kriegman said. "They're discovering; they're interacting; they're exploring."
To that end, the Boston Food Forest Coalition leads educational programming for whoever wants to learn. The last time this reporter spoke to Orion Kriegman by phone, he said hello just as he stepped away from a swirl of excited chatter – "I'm just orienting volunteers to a blueberry bush," he explained – before launching into an energetic review of the Ellington Community Food Forest's recent "food as medicine" event. The Mattapan-based Urban Farming Institute, a mobile clinic known as the Family Van, Alternatives for Community and Environment, and the Greater Four Corners Action Coalition were all on deck, he said, to teach locals about the medicinal properties of the plants they'd helped grow.
Carolyn McGee, of the Ellington Community Food Forest stewardship team, loves using the garden as an educational space. A Dorchester resident for more than 45 years, she now sees young kids, especially around 7 and 8 years old, learning about soil and plants – "and growing," she said. "This is really why I am volunteering."
Said Kriegman: "It's so much more than just putting a tree in the ground. It's so much more than even just creating a garden. It's more than just repairing the urban environment and dealing with the rainwater runoff and carbon sequestration. It taps into the real human connections that we need and the way that has ripple effects in the community and bridges across divides of race and class. … We can take action. We can feel our agency. We can feel our power."