By Isabel Lord, Reporter Correspondent
June 21, 2018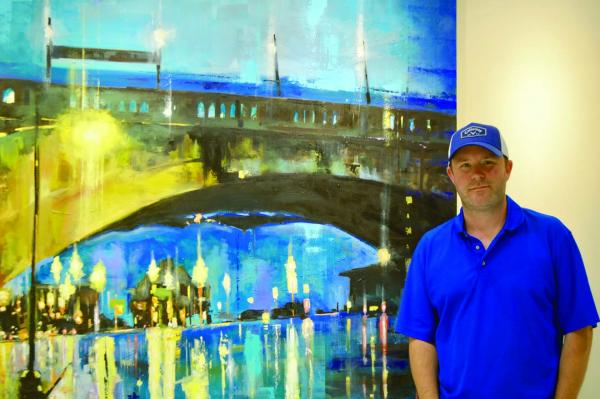 The next time you find yourself near the Strand Theatre, go inside and enjoy the moment; what you see there may surprise you. The Dorchester-based artist Chris Plunkett is using the theatre's newly-renovated gallery space to display his collection of cityscapes and landscapes that, he says, are meant to "capture the moment."
The Strand, an Uphams Corner establishment since 1918, is featuring Plunkett's work as part of its celebrations of its gallery's reopening. His paintings, many of which will be familiar to Dorchester residents – Gallivan Boulevard, Fields Corner, and Adams Street (to name a few) –are for sale, but, says Plunkett, "I didn't put this show up to sell."
"The Strand Theatre is so historic," he said, "It's so cool that it is refurbished to the point where they have a gallery space, and to be able to say that I hung my work as a solo exhibition at the Strand is awesome. It was an opportunity that I wasn't going to pass up."
When Plunkett, 37, isn't painting, he may be teaching (he has been a visual arts teacher for the past 11 years), or vending at Fenway Park, where he has worked for the past 20 years. The exhibit at the Strand is one of two exhibits he has going on right now; the other, at Milton's Coffee Break Cafe, features mostly his still lifes and en plein air paintings. His studio, for the first time, is empty, but not for long; his next project, currently titled "Tunnel Vision" (though that's subject to change), is inspired by his time with his co-vendors at Fenway. Some of the first pieces are already online.
After a decade spent creating abstract art, looking closely at Boston's architecture only to warp it and coat it in heaps of color and paint on canvas, an approach inspired by the work of the New Orleans-based artist Michalopoulos, Plunkett created his most recent works after a decision to take a step back. He is still fascinated with architecture, but he wants to capture the scenes around it, too, in a style that he describes as a blend between realism and impressionism. He drives around, snapping thousands of photos of Boston, especially on rainy days, until his phone runs out of space. From these grainy snapshots he finds a scene that speaks to him, through which he tries to convey the beauty of the everyday, the beauty of the blue-collar way.
"With the rainy day paintings, it's less about the reflections and more about the scene that we take for granted everyday," he says. "I feel strongly that you can make an interesting composition about anything. Everything is worth painting."
See Chris Plunkett's art at the Strand Theatre Gallery (543 Columbia Rd., Dorchester), or at the Coffee Break Cafe (24 Central Ave., Milton). See his work and contact him online at chrisplunkettstudios.artspan.com.