By Jennifer Smith, News Editor
December 5, 2018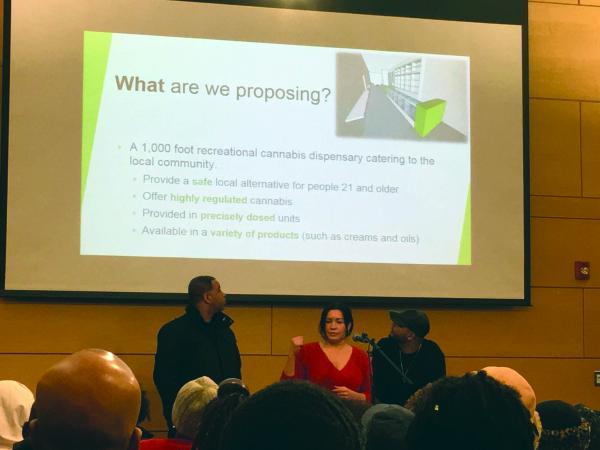 A recreational marijuana shop may be coming to Mattapan, with a new proposal for a Blue Hill Avenue storefront aired at a packed public meeting on Tuesday evening. Jody Mendoza, who told the Reporter she has been a small business owner in the Boston area since 2005, and her husband are planning to open the shop, "Mojos."
Mendoza joked that the name does call to mind a reference from the Austin Powers movies. Its location at 1292 Blue Hill Ave. is a 2,945-square foot commercial lot two blocks from the Mattapan Public Library.
She, her husband, Grammy-winning music producer and entrepreneur Richy Peña, and their partner Carlos Castillo hope to open a roughly 1,000-square foot shop inside an existing building.
This is a "mom and pop" type of store, she said. "Just me and my husband. We're from Boston. We have no outside financiers. It's us."
Mendoza said at the meeting that they expect it to be a "safe and regulated alternative to what is out there," and taxable.
In a brief presentation to allow room for questions, they reviewed their proposal at the Mattapan library. They hope to be open 11 a.m. to 7 or 8 p.m. Sunday to Thursday, and 11 a.m. to 9 or 10 p.m. on the weekends, with 24-hour surveillance. A face-and-ID-scanner would register all customers at the door. They anticipate hiring 20 to 30 employees, at wages ranging from $15 to $25 an hour.
The reception at the meeting was largely unwelcoming in public comments, though there were pockets of vocal support in the back of the room. Attendees said they were concerned about the impact on children, that the building was troubled before and could be robbed — "people have battery powered tools that can cut through your roof," one man said — and questioned the community benefit. "Mattapan has a lot of problems with a lot of other things," said resident Shirley Leslie.
The proponents said they would plan a soft opening with limited access to stop a flood of arrivals immediately. Mendoza said a "green discount" would be available for those who take bikes or public transit. They pledged to offer scholarships and support for initiates like urban farming, and noted that they customers would go on to patronize other nearby business as well.
Mendoza said she and Peña paid attention when marijuana was first legalized in the Commonwealth.
"It was a little bit interesting me," she said. "I kind of followed what was happening, and the more I looked into the social justice component of it, the more I realized it isn't fair. if you look into who the players were in the medical [marijuana] field, and where the industry is headed, I believe there should be people from Boston who benefit. We're the ones who voted for it to become legal, but the big money's coming in from out of town. I think we're the best positioned to help the community and involve the community."
Mendoza's initial application was approved on April 18, among the earliest rounds. The ownership team is designated as a priority applicant, meeting several criteria: the majority of ownership has held one or more previous positions where the primary population served were disproportionately impacted, or where primary responsibilities included economic education, resource provision or empowerment to disproportionately impacted individuals or communities; at least 51 percent of the current employees or sub-contractors reside in areas of disproportionate impact and will increase to 75 percent by first day of business; majority minority ownership; and demonstrating significant past experience in or business practices that promote economic empowerment in areas of disproportionate impact.
Mendoza and Peña currently live in Egleston Square in Roxbury, but have lived across the city, she said. They opened Mojitos, a Latin club and restaurant, in 2005 in downtown Boston, and worked with the Boston Music Conference. They now own Mojitos Country Club in Randolph. Castillo grew up in Roxbury and Dorchester.
"We're 100 percent minority owned," Mendoza said. "We've been with the community, helping the community for many years now and hiring from the community. This isn't new to us — well, this side of the business is."
Some residents who spoke made it clear that they hope there will be further opportunities for public input on the proposal. State Rep. Russell Holmes, who attended the meeting, indicated that there would be further meetings and opportunities for public comment— which city officials on hand to moderate, agreed was the case.