By Daniel Sheehan, Reporter Staff
September 13, 2018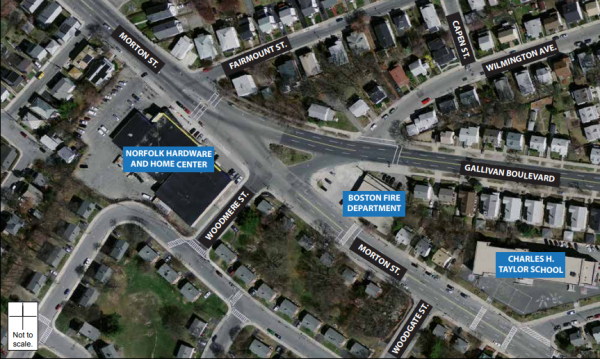 The long-awaited improvement project planned for the intersection of Morton Street and Gallivan Boulevard will be put out to bid this fall, according to state Department of Transportation officials who have been under increasing pressure from neighbors and elected leaders to get the $3.5 million project under way.
Final design plans for the notoriously dangerous intersection, which has long been classified as a high crash location, that were displayed at a community meeting early last year call for improved signalization and pedestrian access.
An initial Road Safety Audit that was completed in 2014 led to expectations that the project would begin as soon as 2015.
The most recent timeline on the MassDOT project page still projects construction to begin by "Winter 2018/2019," but with the bidding process for construction yet to begin, city representatives and civic leaders have expressed doubts that that deadline will be met.
Barbara Crichlow, of the West Selden St. & Vicinity Neighborhood Association (WSSVNA), sent an email to city officials last week citing two recent non-fatal accidents at the intersection that, she said, could have been prevented by proper traffic signaling.
"The community has not received an update on the RFP [Request for Proposal], the new date of expected construction or what the delay is…. Now that school is back in session, how do we protect the students coming into the area?" Crichlow asked.
State Rep. Dan Cullinane, who represents the 12th Suffolk district, is also looking for answers. In an emailed statement, he expressed his frustration about the delays and the lack of explanation from state transportation officials.
"I am personally beyond frustrated with the lack of progress on this project," wrote Cullinane. "This is one of the most dangerous intersections in the entire city of Boston. There are accidents here all the time. On the state level, we have allocated approximately $3.5 million for intersection upgrades, signalization installation, and safety improvements extending all the way down to a dedicated left turn signal on West Selden Street." He added, "There have been public meetings, and MassDOT has had the plans finalized for some time now. So, we have the money, we have the plans, and everyone agrees this is a priority. Why then, at this point, is the project not further along? Whatever may be slowing this down needs to stop. This project needs to be put out to bid and the work needs to start. The community deserves to see visible evidence of this public safety project moving forward as soon as possible."
MassDOT responded to a query from the Reporter with the following statement: "Please note that this project is continuing to move forward and MassDOT expects to advertise the project for construction bids this fall. After bids are received, a contract will be awarded for construction, and then work-related activities would begin in 2019."
A previous statement from MassDOT had indicated that complications regarding "the securement of property rights necessary to construct the project" and "the Right of Way process" were in part responsible for the delay.