By Bill Forry, Editor
November 1, 2018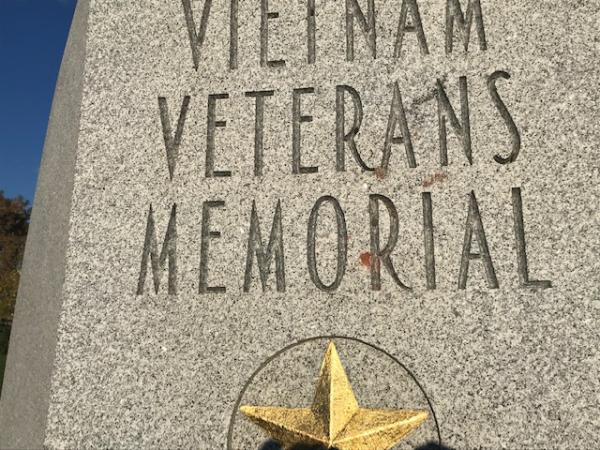 A vandal caused thousands of dollars of damage to the Dorchester Vietnam Memorial on Morrissey Blvd. last week, but veterans and their allies have already begun amassing the funds to make repairs. State Police are investigating the crime that probably happened sometime in the overnight hours of Oct. 24-25, according to one of the men who helped to build and maintain the  site.
"It was done with a purpose. Someone went down there with the intent of doing it," said Joe Zinck, a Vietnam veteran and former Boston Police detective who, along with a committee of men and women, created the memorial in the 1980s. The granite obelisk in the center of the site includes the names of 80 Dorchester men who were killed in action in the war. The site is sacred ground for both American and Vietnamese veterans, who gather there regularly to remember their fallen comrades.
Zinck said that the granite memorial was chipped by bricks that were thrown at it by the vandal — or vandals. Markings suggest that the culprit used red-colored bricks to damage the stone. Even more costly damage was done to the shrubs and turf that make up the bulk of the grounds around the memorial. The vandal also took aim at the flags that fly from a pole on the grounds. A US flag was found torn into pieces at the scene.
"It's disheartening," said Zinck, one of a handful of volunteers who regularly maintain the site. "It seems that someone came out with a power chain saw to do this."
Zinck's daughter Lisa quickly launched a GoFund Me page to raise money for the landscaping work that will be needed to restore the site to its original glory. He expects that the near-term clean-up of the mess left by the vandal will be done quickly. A longer-term fix will likely wait until the spring. So far, the online fundraising effort has generated nearly $10,000.
"A ton of people have called and reached out to offer help— from Home Depot and landscapers to people who live in California and Florida, but are originally from Dorchester," said Zinck. "There's been a tremendous amount of outpouring from the community."